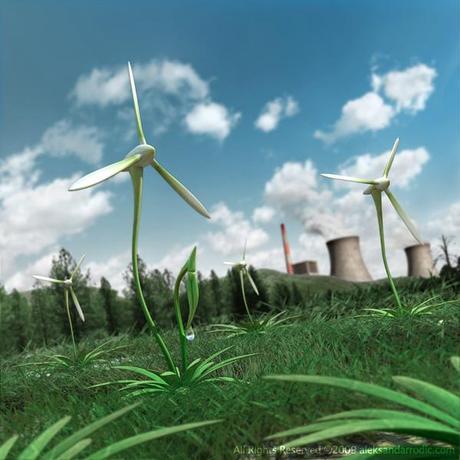 Despite a down day in the world stock markets yesterday, clean energy saw gains of ten percent or more in some cases. Yesterday we wrote about renewable energy's appeal in the wake of the tragedy now facing Japan. Beyond the devastation wrought by the earthquake and tsunami, the nuclear power concerns rage on. Investorideas.com reported yesterday that clean energy stocks benefited from the recent troubles of nonrenewable sources. "From the BP oil spill, to Middle East turmoil spiking oil prices, to the pending nuclear meltdown in Japan; investors have to ask was cheap energy every really cheap? Clean energy may be the best bet for the long run- and the short term spike may just be the beginning of a bull run for green investors."
While the market fluctuates and reacts to daily, and often instantaneous reports, the stability of clean energy presents an added bonus to investors. Here is a list of select solar and wind power companies that experienced a jump in their stock price as of midday yesterday (via investorideas.com):
Wind and Solar Stocks Snapshot; Morning Trading

Canadian Solar Inc. (NasdaqGS: CSIQ ) trading at $11.80, up 1.05 (9.77%) 12:34PM EDT
China Ming Yang Wind Power Group (NYSE: MY ) trading at $ 9.33, up 0.13 (1.41%) 12:28PM EDT
China Wind Systems, Inc. (NasdaqGM: CWS ) trading at $ 3.55, up 0.05 (1.43%) 11:26AM EDT
Clean Wind Energy Tower, Inc. (OTCBB: CWET) trading at $0.24 0.00 (0.00%)
First Solar, Inc. (NasdaqGS: FSLR ) trading at $156.23, up $ 9.32 (6.34%) 12:38PM EDT
Juhl Wind Inc. (OTCBB: JUHL) trading at $1.10
Suntech Power (NYSE: STP ) trading at $8.95, up 0.67 (8.09%) 12:35PM EDT
Yingli Green Energy (NYSE: YGE ) trading at $12.0, up 0.76 (6.75%) 12:31PM EDT
Western Wind Energy Corp. (TSX.V: WND) trading at $ 1.43
[Image source]
Full disclosure: Members of 2nd Green Revolution own stock(s) listed in this post. Please exercise due diligence when investing. Do not purchase stocks merely because they are mentioned here. Research and make informed decisions.