Asked to think of an English Football club signing an Argentine and names like Sergio Aguero & Carlos Tevez will, in all likelihood, come to you fairly quickly. Ask a West Bromwich Albion supporter that same question and chances are, he'll instantly respond with 2 words, 1 name – "Claudio Yacob".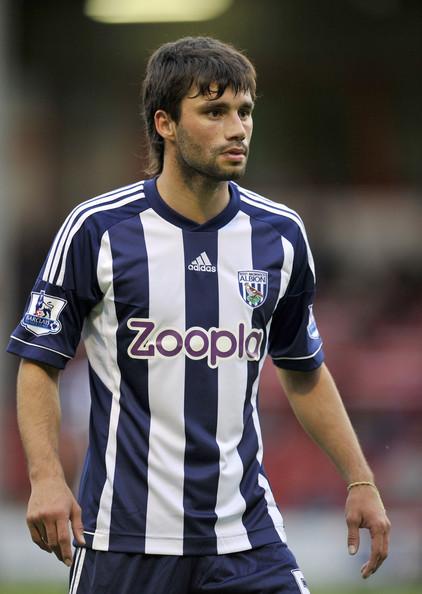 A central midfielder in the classic Argentine "Number 5″ mould, Claudio Yacob has caught the eye in English Football and has been 1 of the bargain signings of this current 2012/13 season.
Background: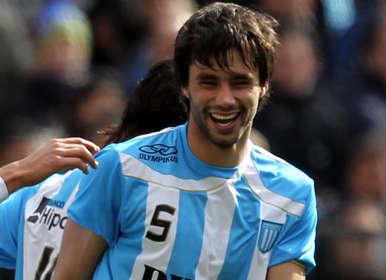 Claudio Yacob, born in Carcarañá in the Santa Fe province of Argentina, began his Football career with at Boca Juniors' famed youth academy at the age of 12, but had to return to his family due to homesickness.
After a short break from Football, he proceeded to join the academy of Racing Club de Avellaneda. Dubbed "La Flaca" upon joining Racing due to his shoulder-length hair and thin body, Yacob's talent was evident, and he was part of a crop of Racing youngsters – including the likes of Atalanta livewire Maximiliano Moralez and current Argentina international goalkeeper Sergio Romero – dubbed "La Sexta Especial". Progressing through Racing's youth ranks, Yacob made his 1st-team debut in an away defeat to Club Atletico Banfield in November 2006.
After impressing at 1st-team level, Yacob was called up to represent Argentina at the South American U20 Youth Championship and FIFA U20 World Cup, both held in 2007. Yacob asserted his credentials as another promising "Number 5″ at the U20 World Cup, playing 6 matches and scoring once in Argentina's triumphant campaign. After a period of steady development in Racing's 1st-team, Yacob was made captain at the ripe old age of 21, before the start 2008/09 Primera Division season in Argentina. While Racing ended that season's Apertura in 14th place, they did much better in the Clausura – finshing 5th. The same inconsistency followed in the following seasons, high or above average placing in 1 half and a below average finish in the other.
The high point in Yacob's time at Racing came in the 2011 Apertura, with La Flaca leading Racing to 2nd place. Another good moment in 2011 was Yacob's first goal for La Albiceleste in a 2-2 draw with Ecuador. Sadly, it was to be downhill after the Apertura. Into the 2012 Clausura, Yacob's involvement in a controversial incident – swapping shorts with his friend(an Independiente player) – in the Clasico de Avellaneda meant that he never featured for Racing again. While that will sound ridiculous to most fans, we have to note the intensity that exists in South American derby matches.
"I swapped shorts with a friend who played for the other team. But it wasn't a big deal. It's just that in Argentina [a derby match] means that it's your biggest enemy and you shouldn't exchange, a bit like with Aston Villa and Albion here. The press made it into a problem."
Claudio Yacob on the "incident"
Despite a sour end to his time at Racing, the ex-captain of Racing probably couldn't have predicted how well he'd do after joining English Premier League outfit West Bromwich Albion. After 7 goals and more than a century of appearances at 1st-team level and 3 international caps, Yacob left Racing Club with no hard feelings against them. He was ready to test himself on the big stage.
"The reason I didn't play again was because I didn't want to renew the contract because I was not happy with what they were offering. But Racing will always be in my heart because it was my first professional club."
Claudio Yacob on his Racing departure
Claudio Yacob's maturity and leadership qualities stood him in good stead for a move to Europe.
Step up – West Bromwich Albion:
After impressing on trial, during the Baggies' pre-season training camp in Malmo, Claudio Yacob was signed on a Bosman free on 24th July 2012. He was a virtual unknown to the his new team-mates and manager. WBA goalkeeper Ben Foster had never heard of him, while Steve Clarke had never watched him play before. However, giving Yacob his favoured number 5 shirt says it all about the important role he had in manager Steve Clarke's plans for the coming season.
"I saw Albion playing when I was living in Argentina, even before I knew I was going to sign. And then, when I knew about the interest, I found out more. What I really like is that it is an old club with a lot of history."
Claudio Yacob's interest in WBA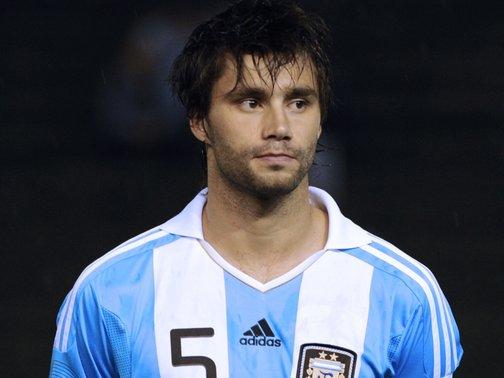 "He is an Argentina international with a real desire to prove himself in the Premier League"
WBA Manager Steve Clarke upon signing Claudio Yacob
"I'm really pleased we've been able to recruit a player of Claudio's calibre. He's been a one-club man in Argentina up to now, having broken into Racing's first team at 17 and being appointed as their captain while still in his teens. To achieve that at Argentina's third or fourth biggest club, and then break into the national team with the wealth of talent his country have to choose from, is no mean feat."
WBA Sporting Director Dan Ashworth on his new signingAfter a 
man-of-the-match performance in a shock 3-0 home win over Liverpool
 on the 2012/13 campaign's opening weekend, Yacob hasn't looked back. After consistently impressive displays in the Premier League, with the exception of an inconsistent 3-game spell when Mulumbu was out, Yacob won the award for West Brom's Player Of The Month for March 2013. Again, he spoke like the team-player he is – "I'm really happy with this award – it is my first here and very important to me. But most of all I want us to finish as high as possible and get used to being one of the top teams in the league."
Having gone on to form a strong midfield partnership with Youssouf Mulumbu, the tenacious Argentine has been 1 of the key players in the Baggies' brilliant season and a top half finish looks likely, with 2 league matchdays remaining.
Overview: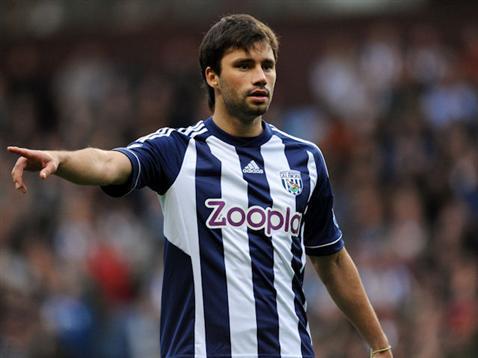 (Statistics from WhoScored.com – "minimum appearances". Accurate at the time of writing)
181cm tall and weighing 77kg, Claudio Yacob is of a decent size for a holding/defensive midfielder. What first stands out about his game is his game-reading ability and tenacity.
Though he's not one for the "flashy" long-range "Hollywood pass", Yacob is technically proficient on the ball. The Argentine's 87.5% passing accuracy, placed 34th in the league, is only 0.6% lower than Michael Carrick's 88.1% and is better than the likes of Arsenal star Jack Wilshere, Yacob's midfield partner Youssouf Mulumbu, Manchester City's Gareth Barry and Newcastle's Cheick Tiote.
Strong in the tackle, Yacob can sometimes be too aggressive, which is evident in his joint-4th highest yellow card count thus far – 7. That said, Yacob has good tackling ability and, at 3.6 tackles per game, is placed 6th in WhoScored's list. That's a higher figure than the likes of Arsenal's Mikel Arteta, Tottenham duo Sandro & Ramires, Newcastle dynamo Yohan Cabaye and Chelsea's "Blue Kenyan" Ramires.
Other than being good in the tackle, players in Yacob's preferred defensive midfield position need to have good game-reading ability – ie the ability to make timely interceptions. While the tenacious Baggie has shown flashes of being a good interceptor, that is something he does need to work on. At 1.5 per game, he's currently placed 96th on WhoScored's "interceptions" list. That value is on par with the likes of Nigerian international John Obi Mikel and the aforementioned Barry and Dembele, as well as being slightly better than Spain international Javi Garcia, Liverpool stalwart & captain Steven Gerrard and West Ham star Mohamed Diame. However, Yacob should improve on his interceptions over the course of next season, as he'll have 1 season in English Football under his belt.
On the bright side, Yacob isn't easily beaten in 1-on-1 situations, with that occurring on an average of only once per match.
"Claudio's a typical Argentinian No 5. In his homeland, that is someone who breaks up play and keeps the ball."
WBA Manager Steve Clarke on Yacob
Yacob's game-reading ability and selflessness allows West Brom's fullbacks to get forward and join the attack. Yacob shifts slightly over to either flank when a fullback pushes forward, so as to provide cover against a potential counter-attack from the opposition. The added security at the back has given his team-mates more confidence in attack.
On the whole, Yacob plays a key role at the Hawthorns, being both a key screen in front of the defence and also a link in the transition from defence to attack after WBA have regained possession. With his adeptness at short passing, Yacob is able to hold the ball and start attacks by effectively releasing the ball to his athletic central midfield partner Mulumbu or his more attack-minded team-mates – James Morrison, Chris Brunt & Graham Dorrans, to name a few.
International objectives: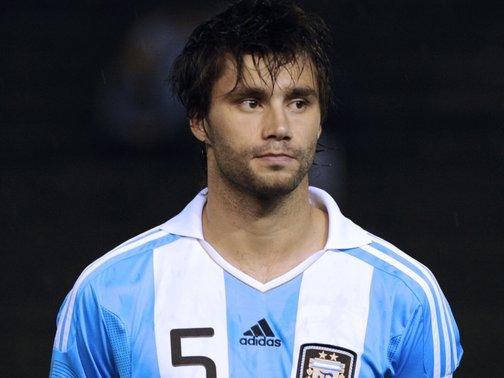 Yacob's next target will be to get himself in Argentina Head Coach Alejandro Sabella's plans for the 2014 FIFA World Cup in Brazil. Playing in England has certainly boosted Yacob's visibility. Conversely, the competition for the holding midfield spots in Sabella's 4-2-3-1 system is stellar – such as Valencia playmaker Ever Banega, Argentina's ex-captain Javier Mascherano, the enigmatic Fernando Gago and veteran Pablo Guiñazú. Sabella might look at a formation change as the Albiceleste defence has had problems.
Long story short – Claudio Yacob needs to focus on his club Football and at least replicate his performances of this season. Do that and he'll have no regrets. Do that, and he might get a seat on the flight to Brazil next year.
"It's a difficult job to get into the Argentina side but he can do it if he produces performances consistently."
WBA Manager Steve Clarke on Yacob's international prospects
Look to the future at West Brom:
Where his future at the Hawthorns is concerned, La Flaca has been talked about as a possible future captain at the Midlands outfit. He has shown that he has leadership qualities, as seen in his time at Racing, and he'll gradually assert himself(in a good way) in the squad as each week passes.
"I can see sometimes in training that he's really wanting to say some things and he can't quite communicate that at the moment, but he is working really hard at his English and I think within six months he will be able to get his ideas over a lot better. I do think there is a possibility of a future captain there. Having been captain of Racing Club, I think he's got ideas and leadership qualities about him that will progress even more when his English becomes even better."
WBA Assistant Manager Kevin Keen on Yacob's prospects
Transfer front:
With his Spanish roots, he wouldn't count as a non-EU player. That makes him an attractive target for European clubs who are looking for a holding midfielder, as the Argentine wouldn't take up a non-EU spot on the squad list. Valued at €4.5m on Transfermarkt, at the time of writing, that would be a probable transfer fee interested clubs would have to pay.
That said, the precarious financial situation in most major European leagues, coupled with the bumper new Premier League TV deal(which takes effect in 2013/14), makes it unlikely that most interested parties will meet the Baggies' demands. Financially, WBA do not need to sell.
"I just think I'm doing my job. It's easy to play for the Albion because I'm happy and I'm at home here."
Claudio Yacob's opinion on WBA
Quite clearly, Claudio Yacob is happy to play for West Brom. However, the opportunity to play UEFA Champions League Football is sure to entice Yacob to leave The Hawthorns. The Argentine has been linked with a move to Atletico Madrid, who will be in the Champions League next season(2013/14). Furthermore, Atleti's Head Coach Diego Simeone has built up such strong foundations at the Vicente Calderon that Atleti are likely to be a fixture in La Liga's UCL spots for at least the foreseeable future. There's another angle to this link. Diego Simeone has managed Yacob before, when the former had managerial spells at Racing Club in 2006 & 2011.
With Yacob's aforementioned hopes of wearing the Albiceleste colours in next year's World Cup, a move to Atletico Madrid and the prestigious stage of the Champions League will definitely increase his chances.
If Los Colchoneros do indeed formalise their interest in La Flaca, no one can begrudge him making a step up.
Regardless of whether he stays, Claudio Yacob has been a bargain buy for the Baggies.
"Claudio joins us with a great CV and is a terrific passer of the ball. He's a holding central midfielder who sits in front of the back four and controls the play. Claudio's also good at breaking things up. I believe he will be a great asset for us." -
 Steve Clarke couldn't have been more right.