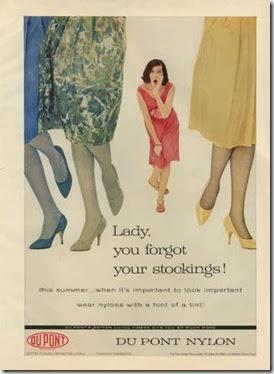 If you were ever told as a young lady never to leave the house with bare legs this one's for you. 
Oh but also if you're anti-pantyhose maybe stick around a bit and check out what I have to say about the awesome tights that are available to us ladies these days. I promise, these are not your Grandma's pantyhose!
Also, I will discuss cats wearing tights. Why? Well I have no idea why.
Last week while doing some serious blogger research procrastinating I discovered a new social phenomenon. Cats in pantyhose! Yes, that is a real thing, cat owners force a pair of pantyhose onto their cats hind legs, snap a pic and share via social media. It appeared as if poor, deformed Whiskers legs had grown 3 feet and she was sprawled out on the floor paralyzed.
This had me thinking about tights and pantyhose. You can see how I made that correlation right? 
Personally I love my tights way too much to let them near anything with claws. But I wasn't always that big of a supporter.
I'll never forget being a teenager and witnessing one of my girl friends get blasted by her mother for attempting to leave the house bare legged. 
My own mother had never barraged me with this obsession of hiding one's leg skin from the world. As far as our legs were concerned in winter you wore tights to stay warm and in summer you skipped tights to stay cool. The old school mentality that a bare leg was tabu did not exists in my house hold.
This worked for me since I hated pantyhose. I didn't see the value in wearing something that was the exact same color as my skin anyways and made bathroom trips nearly impossible.  When I moved to the UK my tone quickly changed. Over there everyone wore tights, at all times of the year, and not because their mother told them they had to. Brit's are really into tights because of what they contribute to their wardrobe. A nice pair of tights is just the same as a perfect pair of pants, they make a seriously fashionable statement and are real easy to pull off.
I curated a large collection of tights during my time across the pond and I still have about 20 pairs which I still wear. Most of my collection came from Topshop because as I discovered very quickly they have the biggest and best selection. Not only do they have an almost unfair selection of patterns, colors and textures, they are also the best quality I have ever found. They last forever, through years of washes and wear these things can survive the Zombie apocalypse. They also make a mean opaque tight in every color under the sun. You can be unshaven for MONTHS and not to worry, just throw on a pair of Topshop tights and you're golden.

So, in short, if cats can wear tights (click here click here muuuahah) so can you! And winter is the puuuurfect season to try on a pair for yourself.
Here are my top picks, available in stores and online now.
Topshop Gold Glitter Spot Tights $10
Topshop Dip Dye Opaque Tights $8.50
Wilfred DERNIER Tights $25
Kate Spade Scalloped Tights $30
Anthropologie Shimming Tights $24
Anthropologie Argyle Tights $24
Do you have a favorite brand or type of hosiery? Are you pro bare leg or anti bare leg?

Shop more TIGHTS and STOCKINGS here...