Andrew Dickson White famously wanted Cornell University, unlike what would become known as the other Ivy League schools, to be non-sectarian. Most Ivy League universities were founded as seminaries or with the strong influence of churches. On farmland gifted by Ezra Cornell, in Ithaca, New York, the school became one of the first truly secular world-class universities. As I approached Ithaca over the weekend, my wife told me that the town had once been briefly known by the name of Sodom because the remote location's reputed notoriety for sabbath breaking, horse racing, and profanity. It is now considered one of the most enlightened towns in the country. Famous for its waterfalls and gorges, one of the cascades is still rejects the biblical slur with the sobriquet "Lucifer Falls."
Many place names—indeed, much of American culture in general—reflect(s) the Bible. Ours is a culture in denial of just how formative religion has been for who we are. Because of our willful blindness on this point we sometimes run the risk of being entrapped by our heritage. Despite how much we've educated ourselves we still see what we want to see. Our religious heritage is often considered an embarrassing family secret rather than the path by which we came to be a civil society. Religion is so frequently portrayed as an evil force that it's easy to forget just how much we owe it for our evolution. Even education itself had a religious motivation since teaching students to read was often done with the intent that they should read the Bible.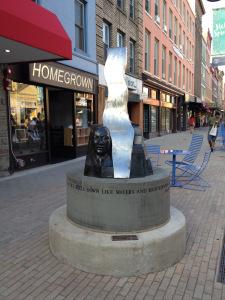 Like nearby Binghamton, Ithaca has a statue dedicated to Martin Luther King, Jr. It bears a biblical quotation from Amos without embarrassment. Ithaca today is a livable, socially conscious community. Recycling is strongly encouraged while cars are not. Hardly a hotbed of immorality, it is one of the great examples of an American college town. Ideas are welcome here. Befitting its classical heritage of education, the city is named after the island ruled by Odysseus, according to Homer. Indeed, Ulysses lies just down the road. Homer (and yet another town in the area bears that name) presented Odysseus as among the smartest of the Greek kings. Like most classical Greeks, Odysseus was only too conscious of how the gods could interfere with one's life. Instead of denying the obvious, however, religion was recognized as a necessary source of culture. Not that it always has to be taken too seriously. Maybe it shouldn't be completely ignored either.