&version;
This overnight yeasted waffles recipe is truly a classic!!!
Besides seeing this recipe in the book, My Kitchen Year by Ruth Reichl, I have seen this SAME recipe everywhere! It is known as Overnight Belgian Waffles by Ina Garten in Food Network Magazine, April 2015 issue or here or simple yeasted waffles at NY Times Cooking or just yeasted waffles at Epicurious, here and here.
You have to believe me that making these yeasted waffles is extremely easy!!! Like what the book says... "All you have to do is mix up the batter tonight... Leave it on the counter to rise. Then in the morning you just stir in a couple of eggs and heat up the waffle iron... " In less than 15 minutes, you will be amazed that you are enjoying a good amount of crispy feathery light fluffy waffles for your breakfast!
YUMMY!!! Wait a minute. Is this a dream? NO, it isn't ! LOL!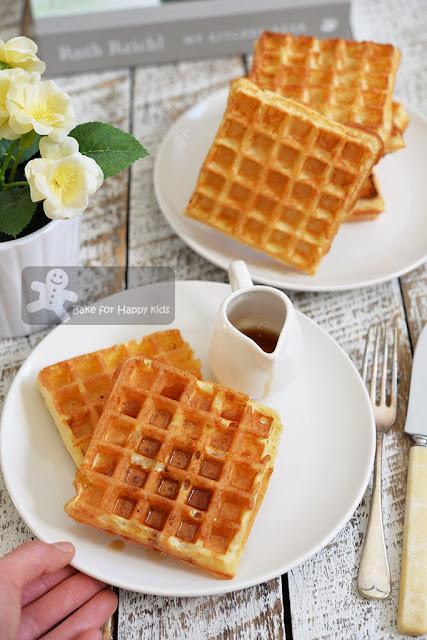 Fannie Farmer's Classic Yeast-raised Waffles
Believe me... This is not a dream! These waffles are crispy, light, fluffy and delicious!
Please allow me to show you how these yummy waffles can just magically appear on my breakfast table...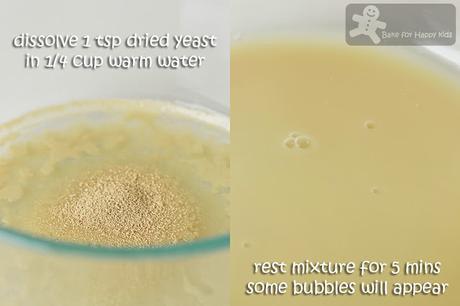 On the day or the night before, I did this...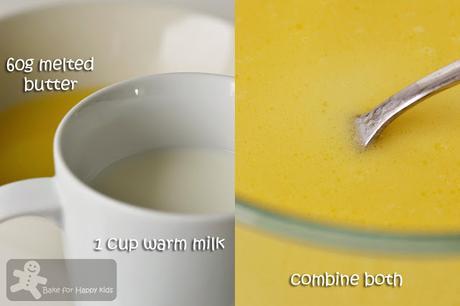 ... and add these into the yeast mixture.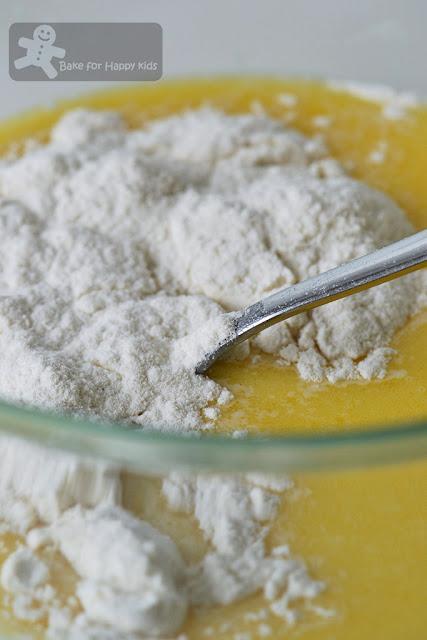 ... and added flour into the butter mixture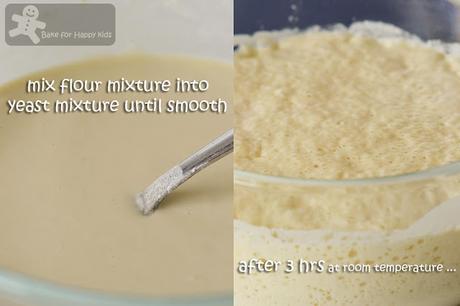 Then this happened!!!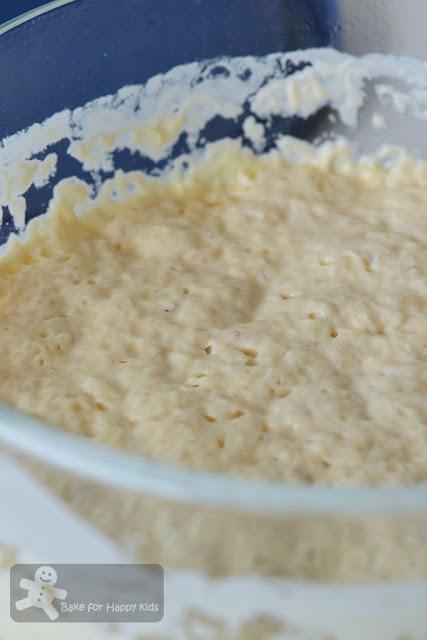 After 3 hrs of fermentation, the batter will start to collapse to look like this.
At this stage, you can either 1) store it in the fridge for the next day or the day after if you are afraid that the temperature at night is too warm for the batter to handle or 2) leave it at room temperature if you have made this pretty late at night and your place that you are living is nice and cool.
If you still don't know what to do... Don't worry too much! Just go to sleep! LOL!
On the next day when you wake up in the morning... If you are craving for warm waffles for your breakfast, you will need to do these...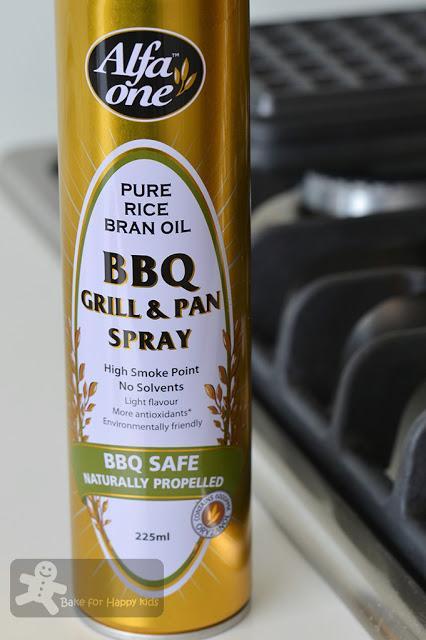 Grease your waffle iron with cooking oil spray.
I used Alfa one rice bran oil pan spray.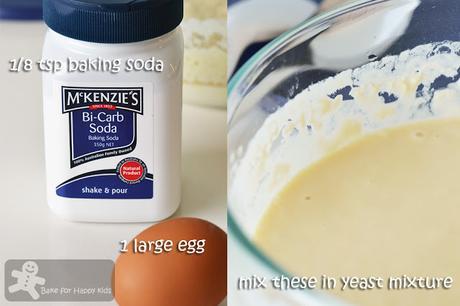 Then I did these...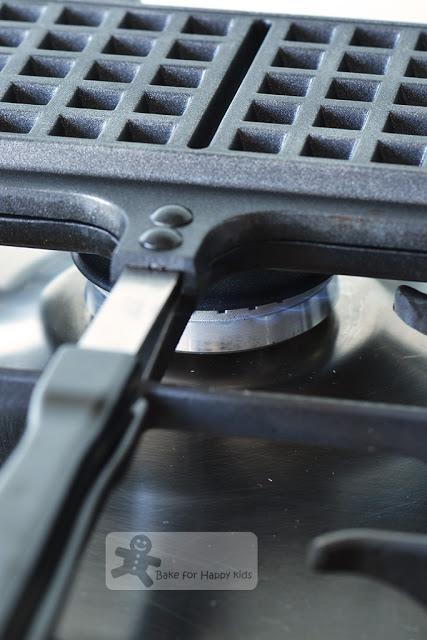 And I cooked the waffles...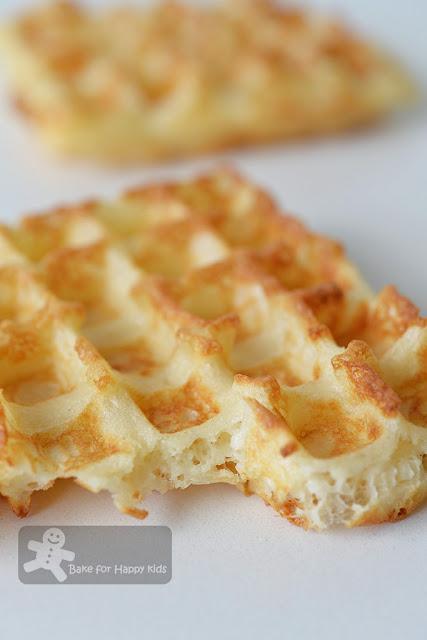 Munch and crunch!
I'm totally amazed when I had my first bite of these super light and crispy waffles. So delicious!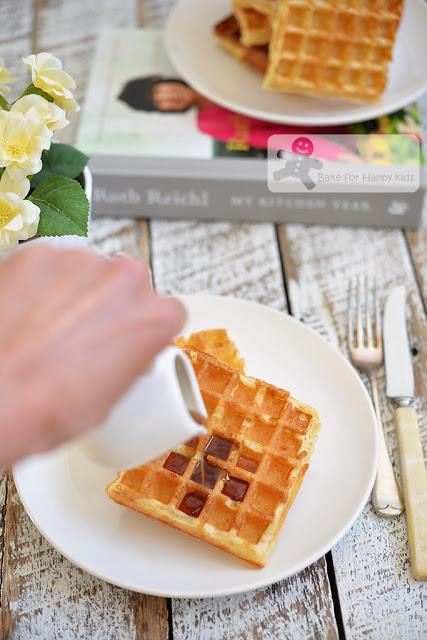 I'm so totally in love with these waffles!
This classic recipe makes a rather thin waffle batter and this is why the waffles are so feathery light and fluffy!!! However, if you prefer waffles that are heavier in texture, you can increase the amount of flour from 2 cup to 3 cup as mentioned in the yeasted waffles recipes at here, here and here.
As this post is specially written to review this book, I have agreed to the publisher not to replicate the exact text of the recipes in this post. However, I reckon that it is ok to share a "boring" do-this-and-that version of this recipe as the recipes in this book are never written in this manner and so this is "boring" recipe... LOL!
Makes ten 9 x 9 cm square waffles
1/4 cup (60 ml) warm water (43-45°C / 110-115°F)1 tsp instant dry yeast
60g (1/4 cup) unsalted butter, melted and slightly cooled
1 cup (250ml) lukewarm whole milk (90-100°F)
1 cup (150g) all-purpose flour
1/2 tsp caster sugar
1/2 tsp salt
1 large egg (70g each with shell)
1/8 tsp baking soda
cooking oil spray, preferably Alfa One rice bran oil to grease
maple syrup and fruits to serve
On the night, combine warm water and yeast in a very large bowl (to allow the batter to expand). Stir to dissolve. Allow mixture to stand for about 5 mins and a few bubbles starts appearing. Add melted butter and milk into the yeast mixture and stir to combine mixture. Then, add flour, sugar and salt into the yeast mixture and whisk with a fork until the batter is smooth. Cover the bowl with plastic wrap or container cover and allow it to sit overnight at a cool room temperature. If you are afraid that the temperature (even at night) is too warm for the batter to handle, you can let the mixture to ferment at the warm room temperature for 2-3 hrs and store it in the fridge afterwards.
On the next morning, preheat a waffle iron to its hot heat setting. Spray preheated waffle iron with non-stick cooking oil spray. Caution: If you are cooking waffles on the your stove, please do not spray cooking oil into direct fire! 
Add egg and baking soda into the yeast mixture and lightly whisk mixture until combined. Pour just enough of the thin batter (about 1/3 cup to 1/2 cup) onto the hot waffle iron and spread the batter to cover the grids. Cook for 3 mins with medium heat on each side or until the waffles are crispy and golden brown. Repeat this step until all the batter has been used.
Serve immediately but the waffles are pretty stable and can stay crispy for 15-20 mins after cooking. Otherwise, transfer waffles on a wire rack placed on a baking tray and keep warm in slow oven (120-140°C) until ready to serve.
These waffles are not sweet and they are nice to eat with maple syrup and fruits. These light and crispy waffles are simply delicious!!!
Just realize that 25th March 2016 is Good Friday and also Waffle Day!!! So why not cook these waffles for your Friday breakfast and have hot cross buns for your Friday afternoon tea! :) Happy CookingPlease support me and like me at Facebook...
------
Have you thought... when a food that is delicious is delicious, how do you normally describe it? Delicious? LOL!
To be able to describe a delicious food further in words is more than an art to me. Well, I would say that it's a talent! And this is why I admire food writers and critics who can thoroughly describe and express their views about the food that they eat, knowing writing about food is actually not an easy thing to do and might require many years of experience.
This is what I see in Ruth Reichl. Her book, My Kitchen Year has displayed her passion for food and years of experiences!!! I see many classic, fail proof, well-tested and treasured recipes in this book and please allow me to share some of them here...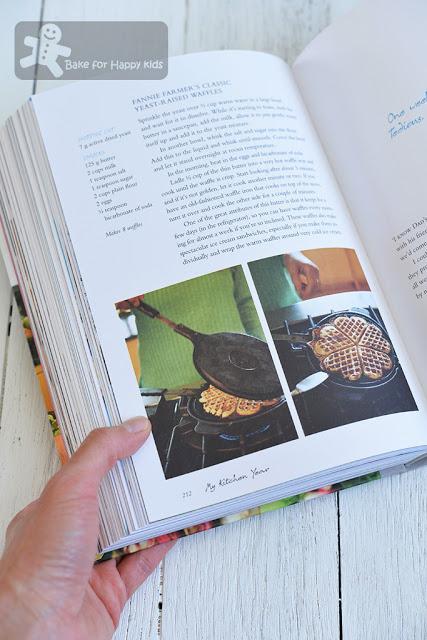 This is the classic waffle recipe that I have cooked.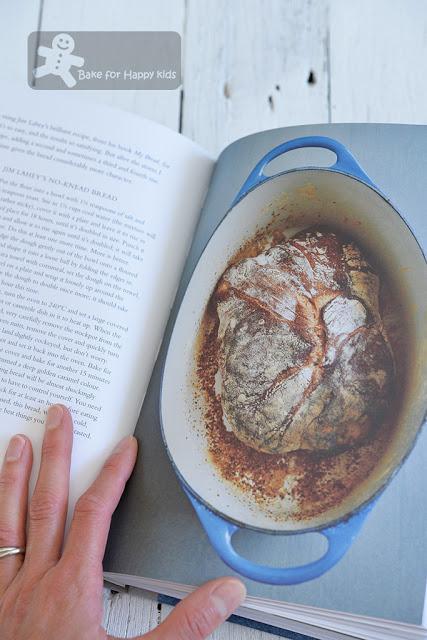 No-knead bread? I'm sure this must be a must-try recipe!!!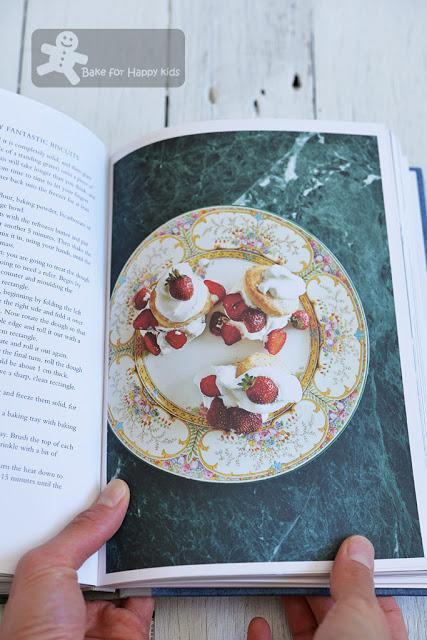 Buttery Flaky Fantastic Biscuits - Wow! It sounds like a perfect biscuit recipe!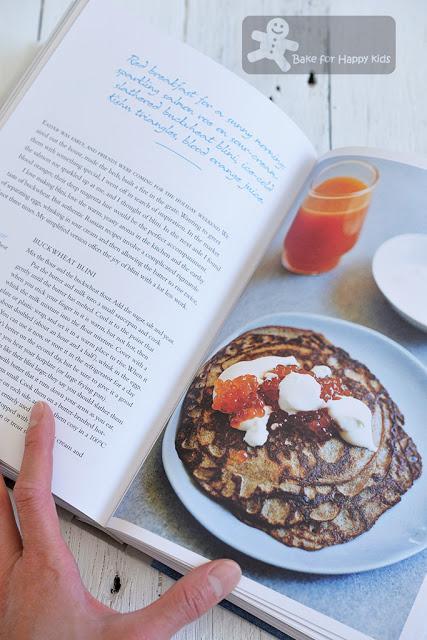 I have seen many great reviews about this classic buckwheat blini recipe.
After seeing this recipe in Ruth's book, I'm fully convinced that this is going to be GOOD!.
I LOVE this book because Ruth Reichl is simply awesome! Interested? If you are, you can see a few examples of her autumn and winter recipes in my previous post at here.
If you are interested to buy this fantastic book, you may wish to know this book is available now in most retail or online book shops at the retail price of AUD$45
Before ending this post, I like to thank Murdoch Books for giving me this opportunity to do this review. I like to make a disclaimer here that I'm not paid to do this and like to share my most honest opinions with everyone who read this review.
Due to the use of a selected cookbook, this post is linked at Cookbook Countdown #3 organised by Joyce from Kitchen Flavours and Emily from Emily's Cooking (Makan2) Foray