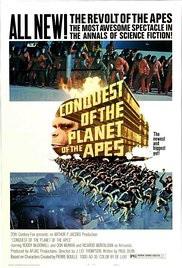 Director: J Lee Thompson
Writer: Paul Dehn (Screenplay) Pierre Boulle (Characters)
Starring: Roddy McDowall, Don Murray, Natalie Trundy, Jari Rhodes, Severn Darden, Lo Wagner
Plot: In a futuristic world that has embraced ape slavery, Caesar, the son of the late simians Cornelius and Zira, surfaces after almost twenty years of hiding out from the authorities, and prepares for a slave revolt against humanity.
There may be spoilers the rest of the review
Verdict: Continuing the Good Story Telling
Story: Conquest of the Planet of the Apes starts in the future of the last film, Caesar (McDowall) raised in the circus away from the world where domestic pets have been wiped out by a plague bought to the planet by Zira and Cornelius, humans now uses the apes as their domestic pets and slaves who are starting to rebel against this way.
When Caesar is captured he must become the leader of the apes as they start to become smarter, sold to Governor Breck (Murray) it isn't long before Caesar becomes the target of assassination from the humans but now, Caesar leads the uprising.
Thoughts on Conquest of the Planet of the Apes
Characters/Performance – Caesar is the son of Zira and Cornelius, he has been in hiding for years but now he finds himself learning the truth about how humans treat apes now. Caesar leads the uprising of the apes becoming their leader against man. Breck is the Governor that wants to keep the truth about Caesar being alive a secret before the apes take over, you know the typical villain. Lisa is an ape that Caesar takes a shine to, one of the smarter ones of the new wave.
Performance wise, Roddy McDowall returns to be a good in the leading role once again, the rest of the cast are fine without having to play any original characters.

Story – The story here is very similar to what we would know from the modern film 'Rise of the Planet of the Apes' because it shows on the one more intelligent ape that is good natured needs to rise up against humans. The story is easy to watch but does feel slow in places though.
Action/Sci-Fi – The action is simple fighting sequences nothing more with the sci-fi side that does look into the future where apes are now domestic pets.
Settings – The future world does what it needed to visually but the truth is, it isn't anything we haven't seen before.
Special Effects – The special effects are used when needed without being anything to make the film more important.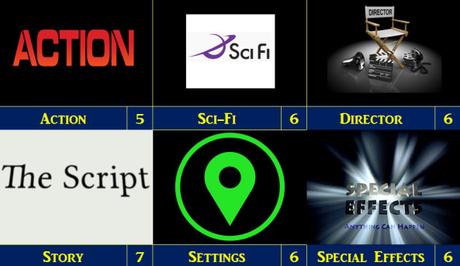 Final Thoughts – This is once again good story telling by continuing the franchise as we continue to learn how the apes came to rule Earth.
Overall: Nicely told story throughout.
Rating

Advertisements
&b; &b;