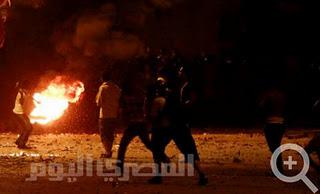 Clashes in Tahrir Square weekend of November 20th. Photo Credit Amr Abdalla.
 
If you are reading this blog, I assume you know that there have been clashes in Tahrir since Friday. The AUC campus at Tahrir is closed, and one AUC student is being held in police custody.
Short Version. The elections are coming up. They are scheduled on November 28th. On Friday the 18th, a large protest against the document regarding supra-constitutional principles was scheduled by Islamists. The protesters decided to camp out overnight. Riot police streamed into the square trying to break up the sit in. Police beat and arrested activists. More protesters poured into the square, supporting those who had been attacked. Police used tear gas and fired bullets. Protesters currently control Tahrir. The protesters are demanding the ouster of Field Marshal Tantawi.
Here is Al Masry Al Youm's (an independent paper) blow by blow. Second death reported in Alexandria, clashes continue in Cairo.
Here is Al Ahram's version. Al Ahram is owned by the government. Revolutionaries Recapture Tahrir in a Replay of January Uprising.
I was at Khan al Khallili yesterday, and we saw many many tanks drive by with armed soldiers on the way to Tahrir.