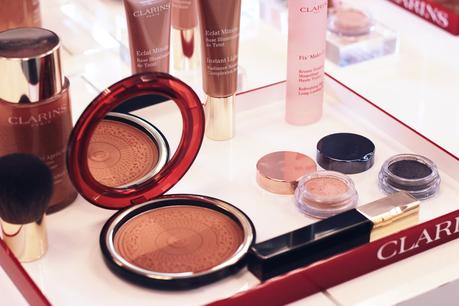 WHERE?
Clarins Headquarters in London 
WHO?
Clarins, the French brand best known for its luxury skincare and makeup collection. Often seen to target an older audience but I've now seen time and time again that this doesn't necessarily always have to be the case and that their ranges, especially the quarterly seasonal collections are also perfect for a younger demographic. They're the ones that I get most excited about, because the wearability of the brand and the luxe packaging mean I know I'm going to love everything, and the practicality means that it won't only be catered to editorial looks that I could never pull off. 
WHAT?
I was introduced to Clarins latest collection, Aquatic Treasures, a summer-perfect range of bronzed hues and smokey accents inspired by a glowing 70's glam look. For any type of summer plans, whether they be relaxing by the beach or dressing up for the races, Clarins have got the products to keep you covered here.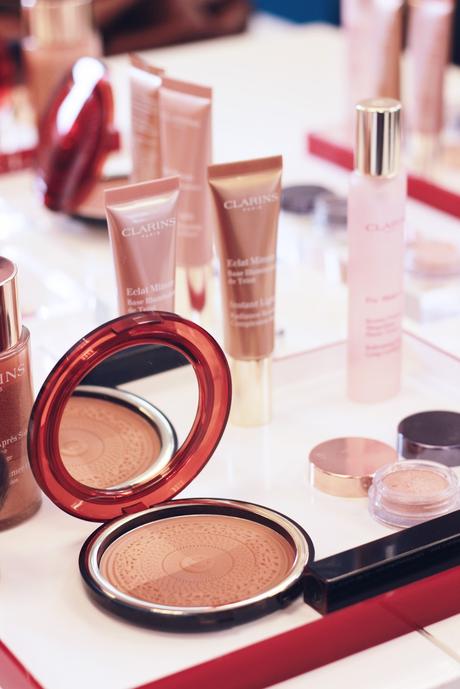 THE PRODUCTS :
Summer Bronzing Compact £30 - Released as a limited addition part of the summer collection, this is definitely one to get your hands on whilst you can. It's a beauty; embossed with marine inspired motives, and with a mix of four matte shades to get your perfect bronze, it's perfect for faking that tan or cheekbones, whatever your preference. You know how much I love their original bronzer, but I'm having a hard time deciding whether I actually like this more. With a super fine and bendable texture this is definitely going to be an everyday staple of mine this summer. 
Instant Light Radiance Boosting Complexion Base £26 - I've loved these primers for a while and am happy to now have two new shades to add to the collection. I like to use them under my foundation, but you can also mix them is, and they're the perfect way to fake gorgeous glowing skin. With added anti-pollution complex you're getting your skincare in there too. 
Ombre Iridescente Eyeshadows £19 - Another product I've been a massive fan of for a while and can't wait to experiment more with the new colours, Aquatic Rose and Aquatic Grey. Apply together for a smokey eye, or separately for a one wash color that looks a lot more impressive than it actually is. 
The mascara, eyeliner and the fixing mist are already part of the Clarins permanent line up and there's some sun care bits that I still have to show you so stay tuned for those! 
THE VERDICT :
Clarins have done it again. I was a tiny bit sceptical of the collection before, Summer ones always seem to be fairly predictable, but they've pulled it off well and included some really interesting products in there that not only will be amazing for summer but carry me through year round. The modern take on a classic seventies look that could easily be dressed down to suit the everyday is something that will appeal to everyone I'm sure, whilst there are still enough interesting products to push you slightly outside of your comfort zone. 
The Aquatic Treasures collection will be out from May so be sure to purchase quick and get your hands on those limited addition pieces whilst they are still available!
What do you think of this collection? Would you like to see me create a look from these products?