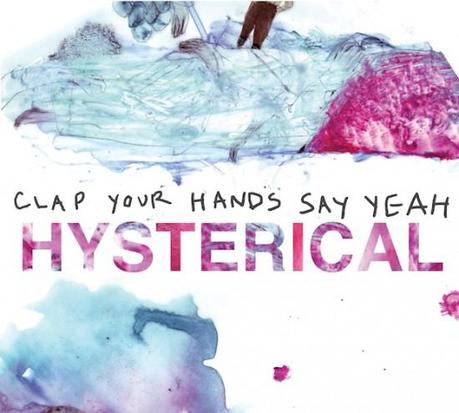 Same Mistake – Clap Your Hands Say Yeah
It's safe to say that Clap Your Hands Say Yeah have been around the block a few times. They're no longer the "new hip band" everyone's listening to, and it seems they would prefer it that way. Fortunately CYHSY doesn't need the hype to convince anyone they're worth it — the music speaks for itself. With their third studio album, Hysterical, this five-piece band has found a sound that makes the four-year wait since Some Loud Thunder feel completely worth it. After a few years of musical percolation, CYHSY have released an album that may not live up to their wildly successful self-released 2005 debut, but will certainly keep even the most diehard fans warm at night.
Hysterical opens with one of the hookiest, danciest tracks on the whole record. "Same Mistake" is exactly the post-debut CYHSY song that everyone's been waiting for and proves that a great string arrangement can turn a good song into an epic song.  "Hysterical", the title track and lead single, keeps the party going with driving bass, punctuated with spacey guitars and another huge hook from lead singer Alec Ounsworth.
As the record begins to settle into a groove, themes begin to manifest through Ounsworth's vaguely wounded ramblings. Images of death, longing and nostalgia pervade the latter tracks on the record, and give even the happiest sounding songs somber undertones. The wistful "Misspent Youth" recounts "glory" days of "trading sex for drugs" and "driving drunk in daddy's car". In the same vein, "In A Motel" is packed with plaintive images of long nights on the road, sitting in motel rooms and reminiscing about the past. On the wild and winding "Into Your Alien Arms" Ounsworth's fantastical side takes hold. As though he were describing some sort of haunting dream, Ounsworth sings of alien invasion and allows the guitars and strings to bring the song to a climactic finish.
After listening through all of Hysterical, it began to seem that the record was sequenced with vinyl in mind. The first half of the album is wrought with bombastic hooks, while the latter half has more of a "b-side" feel. Songs like "Siesta (For Snake)" and "The Witness's Dull Surprise" wander a bit, but "Yesterday, Never" and "Ketamine And Ectasy" quickly pick up pace. Some of the greatest lyrical moments come from the second half of the record, and it seems CYHSY has found a satisfying blend of ridiculously catchy melodies and poignant lyricism.
Hysterical closes out with "Adams Plane", a song with the words of a Jeff Mangum (Neutral Milk Hotel) opus but the true rock and roll spirit of bands like The Strokes or The Killers. The album certainly begins and ends on a high note, albeit a very different one. The pop sensibilities of "Same Mistake" and the pure rock nature of "Adams Plane" perfectly showcase CYHSY's versatility and ability to craft a great song no matter what the genre.
With their 2005 debut, CYHSY revolutionized the concept of how success can be achieved in the music industry and helped transform the way albums were being released and bands were being discovered. Although Hysterical may not be as idolized as Clap Your Hands Say Yeah, there is more than enough substance here to please even the most draconian skeptics.