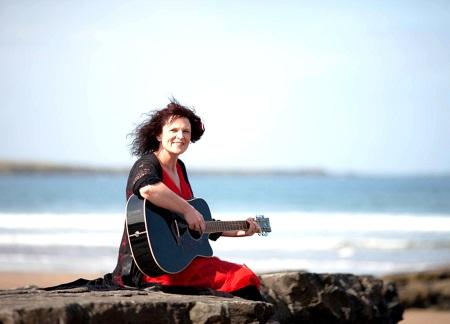 photo: David Olstrum
Irish folk singer Claire Watts is an avid fan of tradtitonal muisc and tis shows on her new album Landmark. The title track from her new album Landmark is a gentle heartfelt tribute to the love of her life, the man who is her "North Star"and "compass of my heart, featuring the acoustic guitar and the backing vocals of husband Gerry Hegarty. She understands the lure of the big city, but when push comes to shove she prefers the country side in My Heart Lies In Miltown Malbay, a sentiment that pops up again in A Life Beyond The Sea.
Her vocals range allow her to keep up with the luscious strings. Landmark is a mellow album that is quintessentially Irish. She is a singer who can tell intimate, personal tales about universal themes. Don't be surprised when fellow artist will decide to cover The Sand Is A Different Colour Here and Panda Eyes & Broken Skies, the lyrical high points of the album, tracks than can stand alone as pieces of intimate poetry.

Landmark is a self-released album. Buy it from her website.
Tracks:
Landmark
My Heart Lies In Miltown Malbay
Nature Of Love
Panda Eyes & Broken Skies
Aylan
Pirate Queen
A Life Beyond The Sea
Silver Lining
Lily
The Sand Is A Different Colour Here