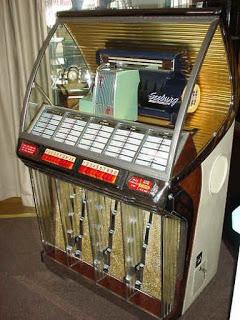 I got a bit mad recently. Not red and raging, just a niggle that exploded and set me off looking for answers Victor Meldrew style.
It started off with Radio 2's Pick of the Pops on Saturday afternoons. It fits just nicely between having lunch and watching the football – Blackpool FC on iFollow, home and away – and it is fun to guess what might be in the chosen Top Ten. I don't claim to be a pop music buff but I grew up with a jukebox filtering through from the pub downstairs and a mom who liked her records so I was drip-fed the hits of the time. Over a few Saturdays, I grew disappointed that the 'early hit-lists' were from the '80s. I became more dismayed upon looking up pre-arranged schedules to discover only music charts from the '80s onwards were included. Anything after about 1985 is lost on me, unless it is something specific which attracted me. Horrified, I emailed BBC Radio 2, which claims to be the most listened to music radio station in the UK, politely asking if the chosen years were random or hand-picked and also making them aware that I am familiar with Sounds of the Seventies, Johnnie Walker and Sounds of the Sixties, Tony Blackburn, before they point me in that direction.
My email failed to warrant a reply, but, around that time someone had aired a complaint to Points of View along the same lines, and the reply from the Beeb explained that the BBC Radio 2 playlist covered forty years, from 1980. A similar announcement was made in the papers and said pre 1980 recordings would still be occasionally included, but would not be part of the main play-list. This was for everything, not just Pick of the Pops. Well, cheers, thanks for that. I switched from Radio 1 to Radio 2 for a reason, and now it seems they are one and the same. I'm not ready for Radio 3 all the time and Radio 4, though excellent, isn't good for a morning sing in the shower.  I'm sure Zoe Ball is lovely, but I haven't latched on to her taste in music.
I think I will have to explore Greatest Hits Radio, Absolute Radio or something similar for the bathroom radio. Wait a minute, Pick of the Pops on Saturday, 7th May, features 1969, yippee, lucky me. If anything can calm me down, the hits from '69 can.
My Haiku poem

Where is the music?
Where have all the good songs gone?
Eliminated.
Taken, just like that.
BBC Radio 2
Made the decision,
All pre '80s out,
Off the regular play-list.
Claims lack of int'rest.
PMW 2021
Thanks for reading and if you're venturing into the outdoors, please take care, Pam x
Email This
BlogThis!
Share to Twitter
Share to Facebook