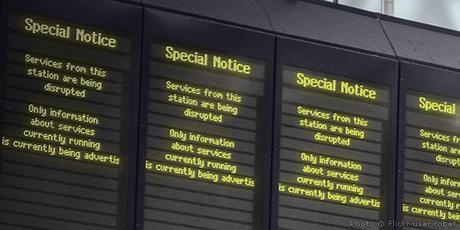 If you train is delayed or cancelled, you may be able to get a full or partial refund from the travel company. Read our guide to find out how.
Different train companies have slightly different rules about how and when you can get a refund, however they are all bound by the National Rail Conditions of Carriage which sets out the minimum amount of compensation you can expect.
Compensation for cancelled trains
If your train is cancelled, you are entitled to get a full refund if the rail company was responsible for the delay – e.g. due to engineering work or electrical problems.
If the cancellation was due to a problem beyond the rail company's control – e.g. severe weather – then they are not obliged to give you your money back. However some train companies may decide to give a full or partial refund.
Compensation for a delayed train – if you decide not to travel
Let's say your train is running late. Rather than hanging around waiting for the train to arrive, you leave the station and find another way to get to your destination. In this situation you will be entitled to a full refund for your train ticket.
Compensation for a delayed train – if you do travel
If your train is running late but you decide to wait around for it to arrive, you won't be able to get a full refund, but you will be entitled to some compensation – if you arrive at your destination over 1 hour late. Compensation is usually paid in the form of rail vouchers, not cash.

Remember it's the overall delay to you that counts. So if the train is late picking you up, but you still arrive at your destination on time, then you won't get any compensation.
Getting a refund if you don't use your ticket
What happens if you buy a ticket, but then you change your plans and you don't need it anymore?
If you return an unused ticket within 28 days of purchasing it, you will be entitled to a full refund. The train company may however deduct a handling fee of up to £10.
Specific train companies
Remember that the information above is the minimum of what you are entitled to. Different train operators may have slightly different policies, which you can read in their Passengers' Charter (usually available on their website).
A complete list of UK train operators along with their contact details is available on the Network Rail website.
How to claim your compensation
The easiest way is to do it there and then at the train station – either speak to a conductor or ask at the ticket office. Be aware that you won't automatically be given compensation, you have to directly ask for it. As the saying goes, if you don't as you don't get!
If you're not able to speak to somebody at the train station, you can contact the travel company and arrange to post your tickets to them. It may be a good idea to make copies of your tickets before you do this.
Remember:
You have 28 days to make a claim
Keep your tickets – no ticket means no compensation
You have to take the initiative and ask for your refund

Are your travel costs getting too expensive? See if you can reduce your monthly outgoings by getting your free financial review – call the Gladstone Brookes Money Club on 0800 142 2180 or find out more here.
Share this article: