On a hot summer day…what's more refreshing than having some cool, sweet lemonade? Or, how about some 7Up with a touch of lime? Even better…how about some SVM Fanfics that contain lemons and/or limes to tempt your tastebuds?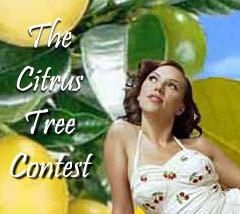 Good news! There's a
new
fanfic contest beginning soon that promises to quench your SVM lovin' thirst!
Our good friends, Rebellina and BlackDeadOrchids (a couple of great fanfic writers), are hosting a SVM fanfic writing contest called, "The Citrus Tree Contest"!
Here's how it works…
Write a citrus filled story starring your favorite SVM characters. Each chapter must contain at least ONE lemon or lime. Write it classy or trashy, either way, it should be filled to the brim with sex.
Sounds good? Wait! There's more!
For those who don't know what we mean by lemons and limes when it comes to fanfics, here are some definitions for you!
What is a lemon? Wikipedia defines a lemon as: Lemon features explicit sex stories, and they sometimes fall under the broader PWP distinction. The name derives from a term which comes from a Japanese slang term for "sexy" that itself derives from an early pornographic anime series called Cream Lemon.

What is a lime? Wikipedia defines a lime as: The term lime denotes a story that has sexual themes but is not necessarily explicit. Authors may call their stories "citrusy", indicating that their story is a lemon or lime to varying degrees.
For the sake of this contest and appropriateness, Limes can be anything from strong sexual tension to soft core but there should be attraction there from the first chapter.

What is PWP? Wikipedia defines PWP as: "Porn without plot" or "Plot? What plot?" are terms used to indicate that a story contains little or no plot, and instead contains little more than sexual interactions or pornography; PWP is also called smut.
Rules:
OPEN TO EVERYONE! Virgin and Experienced should take a shot! Participants from sites other than fanfiction.net are encouraged to enter!
100 – 100,000 words including Authors Notes and header. If you can't make it work with that much range then this contest might not be right for you!
There are two categories to choose One-Shot or Multi- Chapter Fic. No limit on the amount of chapters but do not forget each chapter must have some form of sexual theme.
Canon SVM, AU, OOC or AH! No Crossfics, please!
Open pairings but slash, BDSM, and other extremes must contain BOLD WARNINGS in the A/N.
Entries require a beta through the whole piece. If you know you need one, there are people to help you.
Maximum 3 entries. Collaborations welcome but each person can only have 3 submissions total.
Must be a new story. If we see it was posted before the submission date it will be disqualified and removed from the C2 and voting.
Include a disclaimer (on each chapter) that you do not own the SVM characters. Be sure to give credit to any media that influences you.
Must be 18 years old to enter this contest! Gratuitous violence or rape will not be tolerated. Pedophilia will not be tolerated. Just because it is labeled BDSM doesn't mean that if you create a rape scene to force the character into submission it will be allowed. Your story will instantly be pulled from the C2 and blogs. Please use good judgment when writing questionable themes in your story. Remember YKINMK "Your kink is not my kink" when writing.
Be sure to direct people to this blog for voting. We will be using polldaddy.com to tabulate votes as well as the polling on www.fanfiction.net/~TheCitrusTreeContest2011. Voting begins Oct 1st and ends Oct 23rd.
Send a direct link to your story when you enter.
Entries Dates and Requirements:
Submissions begin: Monday, August 1st, 2011
Final submission: Friday, September 30th, 2011 @ 10 pm PST, 12pm CST.
This contest requires your story to be marked complete by Midnight CST on Sept 30th. No exceptions. 
Public voting runs from October 1st- 23rd. 
Judges vote runs from October 1st- 23rd.

Please vote, it is the only way to make sure your favorite gets the recognition it deserves!
Winners Announced October 28th by Midnight CST!
Send entry location link in an email to [email protected].
Title the email Contest Submission By: (Pen Name).
All fics must contain the following info in it's Authors Note on the first chapter: Contest Name, Title of Story, Pen Name, Beta Name (Include all you use), and Disclaimer.
To keep yourself updated on the contest, follow them on Twitter: @LemonContest
For more info, news, updates and prize details – please visit them here: The Citrus Tree Contest
Hope to see lots of Eric & Sookie lemony goodness!