Here we are, November already!
     November is when your fruit will really start to take off and turn ripe.
That is why the Southeastern Cold Hardy Citrus Expo is usually held this month. (More on that in a minute)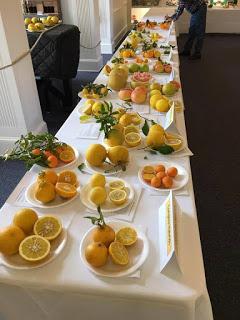 I stressed this somewhat in the earlier part of this year, but, it might not have reached all of the proper folks and it is coming to light now. I have had an increasingly alarming rate of phone calls and e-mails talking about how their citrus tree died back this past January, but it has come back stronger than ever, it just didn't flower, what is wrong? In almost every case, except a couple, it is because the tree that was once there is no more, the rootstock has taken over.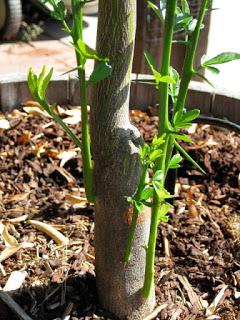 Rootstock Suckers
     Rootstock, in case you didn't know, is what a "good fruit" is grafted onto. The rootstock of choice is used depending on what the grafter is trying to overcome. Some of them are used to dwarf the tree, others are used for nematode resistance, some are to deter different diseases and many other things. Not all citrus is grafted, but many are.
     I also heard from a couple of folks that their tree came back, it was a grapefruit, but this year the fruit is so much smaller, what happened? Again, the rootstock has prevailed.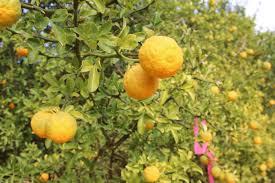 Poncirus trifoliata
     Typical rootstocks that are used are mainly trifoliate hybrids and have the "tri" number of leaves. There are other rootstocks out there, Cleopatra, Bitter Orange (a.k.a. Seville) and many others that do not have the "tri" leaf. Those can be a little harder to discern from the original tree.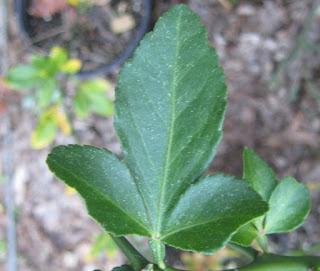 Swingle Citrumelo- Hybrid cross- Citrus paradisi x Poncirus trifoliata
     If you are uncertain as to what your tree might be now, feel free to e-mail me some pictures of the leaves, I can usually tell from those.
     Of course, if you have never seen how many different leaves there are on different citrus trees, take a look at this.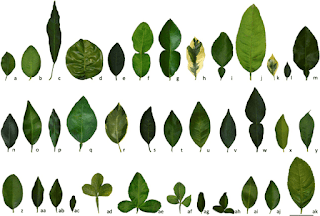 You can click on the picture to make it bigger.     Here is the key to what each of the 37 different leaves is:
a 'Nasnaran' mandarin (C. amblycarpa), b 'Galego Inerme Key' lime (C. aurantiifolia), c 'Narrow Leaf' sour orange (C. aurantium), d 'Bergamot' orange (C. bergamia), e 'Taiwan' mandarin (C. depressa), f 'Mauritius papeda' (C. hystrix), g C. hystrix hybrid, h 'Variegated' true lemon (C. limon), i 'Talamisan' orange (C. longispina), j 'Etrog' citron (C. medica), k 'Variegated' calamondin (C. madurensis), l 'Chinotto' orange (C. myrtifolia), m 'Star Ruby' grapefruit (C. paradisi), n 'Cleopatra' mandarin (C. reshni), o 'Fairchild' tangerine-tangelo [C. clementina 9 (C. paradisi 9 C. tangerina)], p 'Szincom' mandarin (C. reticulata), q 'Valencia Trepadeira' sweet orange (C. sinensis)\, r 'Variegated' sweet orange (C. sinensis), s 'Jaboti' tangor (C. sinensis 9 C. unshiu), t common 'Sunki' mandarin
(C. sunki), u 'Tachibana' orange (C. tachibana), v 'Mency' tangor (C. tangerina 9 C. sinensis),
w 'Papeda Kalpi' (C.webberi var. montana), x 'Jindou' kumquat (Fortunella hindsii),
y Fortunella sp., z 'Changshou' kumquat (F. x obovata), aa 'Jindan' kumquat (F. x crassifolia),
ab 'Wart Java' lime (Citrus sp.), ac Microcitrus papuana, ad 'Benecke' trifoliate orange
(Poncirus trifoliata), ae 'Coleman' citrange (C. sinensis 9 P. trifoliata), af 'Flying Dragon' trifoliate orange (P. trifoliata), ag 'Chinese box-orange' (Severinia buxifolia), ah 'Limeberry' (Triphasia trifolia), ai 'Cravo' mandarin (C. reticulata), aj 'Citros Processo' (Citrus sp.), ak 'Jeroˆnimo' lime (Citrus sp.).
COURTESY of https://www.researchgate.net
     I mentioned the Citrus Expo, it is in different places each year, The 2018 Southeastern Citrus Expo is being held in Valdosta, Georgia, on November 16 & 17, 2018
     If you are interested in growing citrus and want to learn more from other growers in the southeast, join them for this informative, once a year meeting of citrus growers north of Florida.
The Agenda is:
Friday, November 16th.Citraholics Banquet and optional tours
Banquet 6:30 PM
Mama June's 3286 Inner Perimeter Rd., Valdosta. 229-245-6062
Saturday, Nov. 17. Conference Sessions will be held at Raisin Cane, 3350 Newsome Rd. Valdosta. 229-559-2000
Registration 8 - 9:30 AM Registration $15.00 Includes lunch
Fruit competition entry 8 - 9:30,


Plant Sales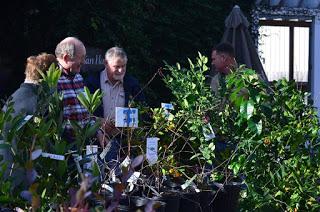 9:30 – 12 Noon Speakers
With raffles in between each speaker
Confirmed speakers
Cally Walker, University of Florida Citrus Budwood and nursery production in Florida.
Anna Jameson, Brite Leaf Citrus Nursery, Lake Panasoffkee, FL Citrus tree production at a commercial certified nursery.
Pete Anderson, University of Florida, Quincy Experiment Station. Citrus in North Florida
Dr. Jose Chaparro, University of Florida, Citrus breeding and new varieties.
11:15 Questions about growing citrus
11:30 Results of Fruit Contest.
12:00 – 1:00 Lunch Available at Raisin Cane included with registration
1:00 – 4:00 Tours
Lowndes County Extension Citrus Rootstock trial. Jake Price , Lowndes County Extension
Commercial Satsuma Orchard and Variety Trial. Brent Biles
Non-commercial orchard and Nursery. Mark Crawford, Loch Laurel Nursery
Tour sites are all within a few miles of Raisin Cane.
Mark your calendars and watch for updates on the Southeastern Citrus Expo Facebook page.
If you want to be a vendor please contact Mark Crawford [email protected] or call 229-460-5922
Preconference Private Gardens open to visitors on Friday, November 16th
Adel, Georgia 25 miles north of Valdosta directly off I-75
Garden of Kent Thomas. Acres of palms, Japanese maples, and citrus around a beautiful lake.
305 Kent Dr.  Adel GA 229-560-1544
Traveling south on I-75 exit at the Sparks exit 41. Go east into Sparks and turn right onto US 41 south. When you cross over the railroad bridge just before Adel turn left at the BASE of the bridge onto South Ave. Kent Dr. is the first right off this road. Garden is on the left. Driveway has an entrance sign.
Traveling from Valdosta, take I-75 north to the second Adel exit. Go east and turn left onto US 41 north. Just outside town US 41 has a bend in the road just before going over a railroad bridge, bare to the right onto South Ave. and turn right at the first road - Kent Dr. Turn left into the second driveway where it says Enter.
Valdosta, Georgia
Garden of JD Thomerson. An outstanding garden of camellias, citrus, gingers and a variety of other interesting plants.
111 East Alden Ave. Valdosta 229-244-1050
Nashville, Georgia approximately 30 miles northeast of Valdosta
Triple Bee Nursery. A new citrus nursery operated by Hershell and Ricky Boyd.
1128 Seaborn Boyd Rd., Nashville, GA 229-356-0074, 229-686-7287
Use GPS to locate this location
Should be a GREAT Expo!
     If you have any questions about this or any of my other articles, please feel free to send me an e-mail to [email protected]
Follow me on FACEBOOK
Or check out my bookstore on my WEBSITE
Happy Growing!
Darren