Citronella Berry Fragrance Oil – Fragrance Oil Spotlight
Citronella Berry Fragrance Oil from Nature's Garden is a refreshing fragrance that features the essential oil of Citronella blended with the aromas of berries and citrus.  Citronella Berry is sure to bring life to your product line.  The essential oil of Citronella is an incredibly diverse naturally occurring oil.  It finds a wide variety of uses in soaps, perfumes, and flavorings.  It can also be used as a natural insect repellent.  Research has shown that Citronella essential oil has strong antifungal properties.  It can be effective for calming barking dogs and has even been used as a spray-on deterrent to keep pets from destroying household items.  This versatile oil finds itself mingling with notes of mandarin, strawberries, and raspberries to create the vibrant Citronella Berry fragrance oil.
What Does Citronella Berry Fragrance Oil Smell Like?
Citronella Berry Fragrance Oil is a bright blend of Citronella essential oil with notes of strawberry, mandarin, and raspberry.
Top Notes: citronella, mandarin
Mid Notes: strawberry, raspberry
Base Notes: woods
How Do Our Customers Use Citronella Berry Fragrance Oil?
Citronella Berry Fragrance Oil is a perfect addition to your product lines. Our customers create room scenting products with this fragrance that are simply uplifting!  Room scenters can incorporate up to 50% of this fragrance oil in projects like incense and potpourri.  This fragrance oil is also strong in aroma beads.  Homemade candle crafters can use Citronella Berry Fragrance Oil up to 10% with vegetable waxes and paraffin wax.  This scent will perform perfectly in Joy Wax, Wow Wax, and is nice and strong in soy waxes.  If you wish to color your candles, we would recommend three drops of liquid candle dye per 4 pounds of wax.  You can also color your melted wax with a small amount of red color blocks.  Do not use crayons to color your candles as they will clog your wick.
Citronella Berry Fragrance Oil can also be used in your bath and body products.  Bath gels, bath fizzies, and bath oils were found to perform well when the recommended maximum of 5% fragrance oil is incorporated.  If you are making cold process soap, you may use this fragrance up to 5% of your total recipe.  Our Cold Process Soap Testing Results show that this fragrance oil had a good scent retention and did not discolor after curing.  The soap did not rice nor separate.  There was no acceleration. If you wish to color your bath and body products, we would recommend using red soap colorant in the amount that satisfies you.  Remember not to use candle dye in any of your bath and body products as they are not body safe.
Citronella Berry Fragrance Oil is a diverse scent that can be used in many types of products.  One such product is homemade perfume.  Homemade perfumes perform well with this fresh fragrance when a maximum of 5% fragrance oil is used.  Homemade lotions perform very well.  Homemade lotions should use no more than 5% fragrance oil maximum.  Homemade cleaning supplies also perform well with a maximum fragrance usage of 5%.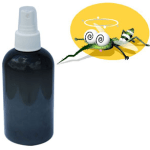 If you're looking to get a jump-start using Citronella Berry, check out this
FREE RECIPE
for Bug Repelling Body Spray! Enjoy!