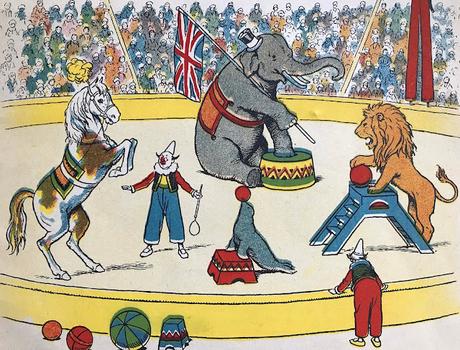 'For the benefit of Mr. Kite
There will be a show tonight on trampoline
The Hendersons will all be there
Late of Pablo Fanques Fair - what a scene
Over men and horses hoops and garters
Lastly through a hogshead of real fire
In this way Mr. K will challenge the world...
And of course Henry the Horse dances the waltz!'
Lennon & McCartney 1967
My sister was one of those lucky screaming teenagers who attended a Beatles concert at the Indiana State Fairgrounds in 1964. This was the very same venue that I went to see my first and only traditional circus a few years later around the time that For the benefit of Mr. Kite was being recorded. I was about five. If memory serves me correctly, the circus was a three-ringer and what an extravaganza, particularly the elephants and lions. I also remember coming home and standing in my parents' bedroom and vomiting from the sheer excitement of it all!
I have often wondered what circus this may have been, not what I might have eaten. Was it the Ringling Bros. & Barnum & Bailey's circus? To satisfy my own curiosity I went on a quest to find out. After spending way too much time on the computer going down various circus rabbit holes, I am now fairly certain it wasn't the really famous circus. I suspect it could have been Coles Bros., Rex Bros. or Murat's Shrine Circus, all good contenders. What was made clear as I trawled through cyberspace was that there was quite an extraordinary number of traditional circuses touring the United States and Britain in the 1960s, despite this being the beginning of the end of this popular form of entertainment due to animal rights issues.
Fast forward to 2009 when I was an artist in residence in Blackpool. I had been commissioned to make an artwork in response to researching the archives at the local library and creatively worked with various community groups about their memories of Blackpool. Many participants had memories of seeing elephants on the beach, and one person remembered riding an elephant in the ring.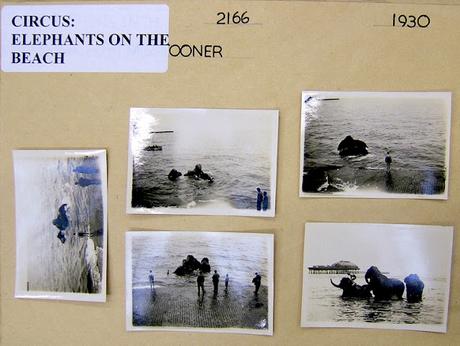 Elephants on the Beach - Blackpool Central Library Collection
During the residency I also had conversations with business owners, hoteliers, donkey proprietors and those who had been involved with Blackpool's Tower Circus sharing memories of the clown Charlie Cairoli and ringmaster Norman Barrett. However, they mostly chatted fondly of working with the animals, particularly in the circus' hey-day of the 1950s and 60s. 
Memory of riding on an elephant at Blackpool Circus circa 1960Drawing by unknown workshop participant
They also talked about what happened when animal rights bills began to be introduced and the changes that occurred. This led me down another rabbit hole. Here is what I discovered.
In 1635 the first known animal protection legislation was passed in Ireland. Laws were passed during the 1800s and early 1900s in Britain to address issues intensive agricultural issues and animal testing in the science and cosmetic industries.
Then in 1957 Irene Heaton founded Captive Animals' Protection Agency hoping to bring about change in the attitudes and practices within the entertainment industry. This organisation would later become Freedom for Animals. In Britain, the first bill to prohibit performing animals was put forward to the House of Lords in 1965. It was defeated. The 1970s saw demonstrations by animal rights activists outside circuses. In the 1980s campaigns to stop animals performing at Blackpool Tower began. 1990 saw the animal performances ending at the Tower with the animal acts moving to the Pleasure Beach. Performances continued until 1997 when it was announced that circuses with animals would no longer perform on the property - an end to an era.
On reflection, much has changed in the last fifty years. Attitudes have shifted on both sides of the pond. Living conditions for sentient beings have improved. Yet in this crazy circus of a world, there is still so much to be done. And on that note, I share the following poem written in May/June 2020 when the UK was in serious lockdown whilst considering restrictions, uncertainty, handling of the pandemic (or not) by world leaders (ringmasters) and also the refugee and migrant encampments highlighted at the time.
Set Up
Iworthyor worthless - we at birth?An argument between two campspitched tents - stitched wounds - seeping - seethingseams ripped open - frayed - painted canvas - splashed bloodbrushed with death - madness - chaos - Big Top under one sky.Monsters running the show - bears dance - lions roarcracked whips - cracked lips - water fountains run drycrying out – shame – blame - out of balance - lost controlhear the thunder hear the thunder hear the thunder - here.
Thank you for reading, Kate 
J
Email This
BlogThis!
Share to Twitter
Share to Facebook