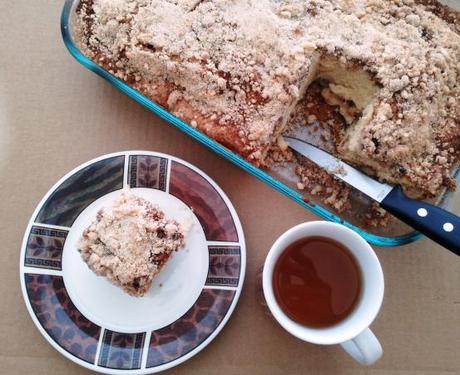 It the last week of my girls first year of school! I can't believe it's already over!! With that being said, its going to be a fun filled week. Yesterday they attended their very first field day, and they had a blast! I really hate that I missed it; I think I was more disappointed then they were.
Last night they taught me some new songs that they learned and it was so much fun YouTubing and dancing too the songs and with them; we just played all of our favorites songs and danced until they were ready for bed.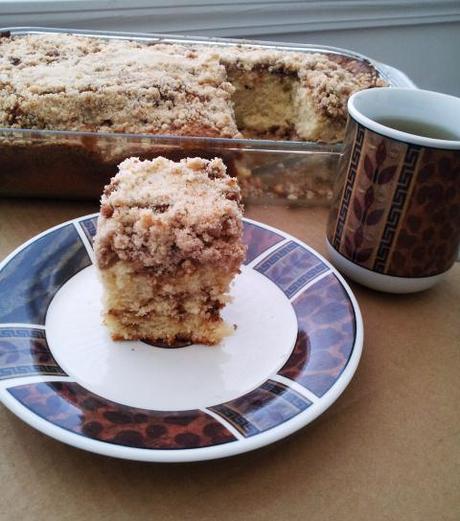 I knew this would be a fun filled week and a lot of baking so I decided to bake a coffee cake Sunday that I had been eyeballing for a while now. I knew that it would go perfect with my green tea in the mornings and I wouldn't have to worry about breakfast for this whole week.
This cake is doing exactly for me what I hoped it would do; Its day three and it's still taste just as moist as it did Day one. The streusel topping give the perfect crunch to the melt in your mouth delicious cake. This was a great choice for such a great week, I hope you all are enjoying your week as well!
J
Ingredients
:
Streusel (topping)
4 tablespoons unsalted butter, melted
2/3 cups sugar
1 cup Unbleached All=Purpose Flour
1 tablespoon ground cinnamon
Filling
1 cup light brown sugar
1 ½ tablespoons ground cinnamon
Cake
¾ cup unsalted butter, room temperature
1 ½ cups sugar
1/3 cup light brown sugar
½ teaspoon salt
2 teaspoons vanilla extract
3 eggs
1 cup plain yogurt
1 ¼ cups milk
2 ½ teaspoons baking powder
4 cups Unbleached All-Purpose Flour
Directions:
Preheat oven to 350 degrees F.Spray a 9 x 13 pan with cooking /baking spray and set aside. Prepare the streusel by mixing all of the ingredients with the melted butter in a medium bowl until well combined; set aside. Do the same with the filling, combine the ingredients in a small bowl and set aside. Time for the cake; in a large bowl you will combine the butter, and sugars and beat for about a minute. Add in the salt and vanilla and beat until well combined. Beat in the eggs, one at a time, and beating well after each. In a measuring glass combine the yogurt and milk and set aside. Combine the baking powder and flour in a medium bowl and add alternately into the butter mixture with the milk mixture, beating well until combined.
Scoop out about 3 cups of the batter and spread in the prepared pan. Add the filling on by evenly sprinkling on top of the batter. Add the rest of the batter on top of the filling and spread over the filling. Sprinkle the streusel on top of the batter.
Bake for about 50-60 minutes or until a toothpick stuck in the center of the cake comes out clean. Allow the cake to cool before serving and enjoying.
J
Recipe adapted from:
The Baker Chick