0 Flares
0 Flares
×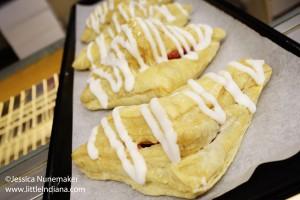 Cinnamon Spice Bakery in Centerville, Indiana
The smell of a bakery like Cinnamon Spice Bakery in Centerville, Indiana just makes me happy!
I guess it's the combined scent of fresh-baked items that just gets me right here, you know?
Cinnamon Spice Bakery
Pastries, homemade breads, cookies, and cinnamon rolls–Cinnamon Spice Bakery whips up batch after batch. Posters for cake pops adorn the shop. Now that's kind of fun!
little Indiana and family just couldn't leave this Wayne County bakery empty-handed! Not when we saw so many delicious items on display.
We browsed around and got ready for a bit of serious research. Oh, who am I kidding? We couldn't wait to grab something to snack on!
Centerville, Indiana Bakery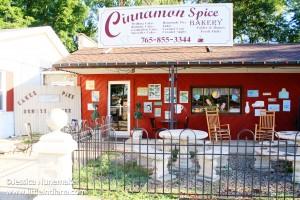 Cinnamon Spice Bakery in Centerville, Indiana
Although we are famous for grabbing non-breakfast type items early in the morning, this time we were thinking about what wonderful snacking things that we could save until after our next stop.
We had quite a few things to get knocked out of the way that morning so the boys each chose something from this Indiana bakery to snack on. The result was unanimous: chocolate cookies!
Go There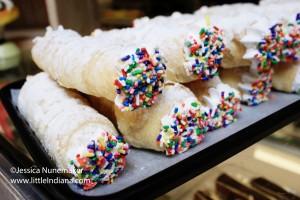 Cinnamon Spice Bakery in Centerville, Indiana
Small town snacking at its finest! There's nothing better than homemade fresh-baked pastries and donuts and cinnamon rolls first thing in the morning–except for having someone else make them for a change!
Head to Cinnamon Spice Bakery in Centerville, Indiana for a real treat in a super cute small Indiana town.
Small Towns: Destinations, not Drive-Thrus! I'm Jessica Nunemaker and THIS is little Indiana!
Find pictures in Indiana on my Flickr photostream or on the new little Indiana Tumblr blog.
Just don't forget to tell 'em that  little Indiana sent you!
Cinnamon Spice Bakery
6884 W Us Highway 40
Centerville, Indiana 47330
765.855.3344

View Larger Map
Don't miss a moment. Subscribe to little Indiana and receive instant updates to stay on top of everything "little."
little Indiana: Where to Stay, Play, and Eat in Small Towns in Indiana. Discovering Indiana's best small towns! Now get little Indiana on your Kindle.
Targeted. Relevant. Affordable! little Indiana advertising.