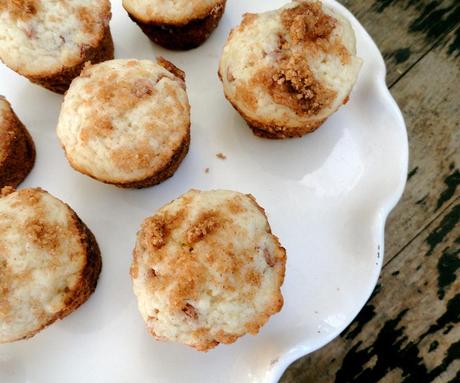 Thanksgiving is fast approaching, which is hard to believe with our temperature gauge reading almost 81 degrees Fahrenheit.


I don't think I'll grow accustomed to these warm holiday months. Despite being born in Houston, I spent my adolescence in Colorado, and

I quickly adjusted  evenings by the fireplace and Christmas Eves that brought Santa and snow.


However, I do enjoy wearing brown lace tights and a green cotton sheath a week before Thanksgiving. Even now, as I sip on soup in a too-hot apartment, I'm grateful 

I can look forward to a long walk without mittens or scarves.


Where do you live? Do you enjoy seasonal weather? Or like me, do you live in a place that stays warm longer than most?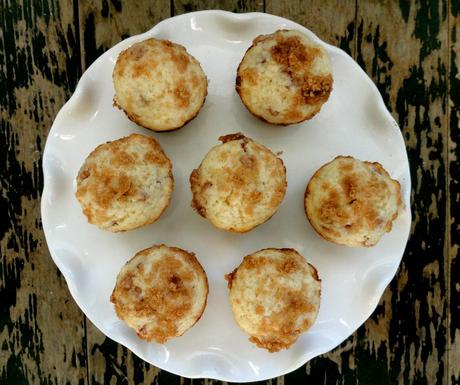 But wherever you are, the holidays are so much more than weather. Despite the warmer temperature here in Texas, I still find myself feeling festive as I bake those seasonal classics. My spice jars have been recently refilled and my pantry is bursting with bags of flour and sugar.
This fall has been the season of cinnamon.


Cinnamon Rolls.




Cinnamon Bread.




And now...cinnamon muffins (by far the easiest recipe of the bunch).




I made these cinnamon muffins for a friend's baby shower, and they were perfect snacks to munch on as we oohed and ahhed

over the onesies, rattles and baby toys. They would also be an ideal breakfast treat for visiting family or friends...and to be honest, they were even more popular than the cinnamon rolls. Wow! 


I made this batch in a mini-muffin pan, but a regular sized pan would work just as well.

The muffin is studded with cinnamon chips and a simple sprinkle of brown sugar on top lends an extra crunch. If you don't have access to cinnamon chips, don't worry...these muffins taste great with or without them. Just add an extra dash of cinnamon to the batter and you'll be fine.


I hope everyone has a wonderful week of feasting, family and friends. We'll be traveling down to Houston to spend Thanksgiving with my aunt, uncle, cousins and grandparents. I'm looking forward to my Grammi's pies and baked treats. She's truly been my baking inspiration, and so many of my recipes are in honor of her.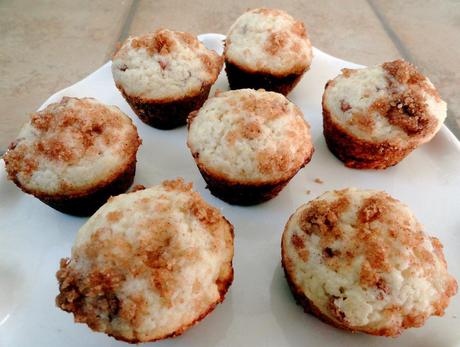 Cinnamon Muffins
1 1/2 cups all-purpose flour
3/4 cup sugar
2 teaspoons baking powder
1/2 teaspoon salt
1 teaspoon cinnamon
1/3 cup whole milk
1/3 cup vegetable oil
1 large egg
1 teaspoon vanilla
1/2 cup cinnamon chips
Brown sugar (a small handful)
1. Preheat your oven to 400 degrees Fahrenheit and grease a standard 12-tin muffin pan or a 24-tin mini muffin pan.
2. In a medium bowl, whisk together your flour, sugar, baking powder, salt and cinnamon. In a small bowl, whisk together your milk, vegetable oil, egg and vanilla. Using a large spoon or rubber spatula, fold your wet ingredients into your dry ingredients. Be careful to not overmix! Gently fold in cinnamon chips.
3. Divide evenly amongst muffins tins (I like using an ice-cream scoop for regular sized muffins). Bake in preheated oven for 10 minutes (mini-muffins) or 15 minutes (regular muffins). Test with a toothpick before removing to cool. Allow to cool in pan for 5 minutes before moving to a wire rack. 
Always,
Monet
Anecdotes and Apple Cores