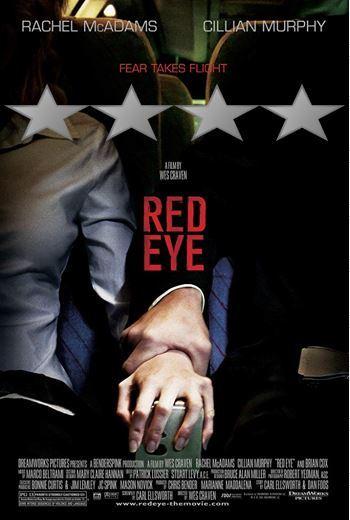 Director: Wes Craven
Writer: Carl Ellsworth (Screenplay) Carl Ellsworth, Dan Foos (Story)
Starring: Rachel McAdams, Cillian Murphy, Brian Cox, Laura Johnson, Jayma Mays, Angela Paton
Plot: A woman is kidnapped by a stranger on a routine flight. Threatened by the potential murder of her father, she is pulled into a plot to assist her captor in offing a politician.

Tagline – Fear Takes Flight
Runtime: 1 Hour 25 Minutes
There may be spoilers in the rest of the review
Verdict: Tense Thriller
Story: Red Eye starts with workaholic hotel manager Lisa (McAdams) is returning home after a family funeral, she meets a charming co-passenger Jackson Rippner (Murphy) for is heading to Miami for business. Once the flight is in the air, Jackson who just so happens to be seated next to Lisa reveals his business, the flight takes a twist for Lisa.
Jackson wants Lisa to move an incoming politician from one room to another, or he will kill her father Joe (Cox), Lisa is left in an impossible position of trying to stay ahead of Jackson's plan and not leading a politician to their death.
Thoughts on Red Eye
Characters – Lisa is a workaholic hotel manager that is has a fear of flying, who is traveling home after a funeral, she has remarkable calmness through stress related issues in life, knowing how to deal with difficult clients the best way. She has full say on everything going on within the hotel with her regular clients trusting her completely. Jackson Rippner starts off a kind friendly man, willing to step up where gentlemen might not, he is seated next to Lisa on the plane, where he shows his true colours as part of a terrorists that need Lisa to move their target. He remains calm through each of her attempts to not follow through knowing just how to get the job done. Joe is the father of Lisa, he has been remodelling his home, always there to support her, he is just going about his evening through the film. Cynthia is the slightly ditsy receptionist that Lisa supports with the difficult decisions she is going through at the hotel.
Performances – Rachel McAdams in the leading role breaks away from the known romantic comedy roles she had been doing before this film, she proves she could be a genuine star in the thriller role, Cillian Murphy continued to make a name for himself in this role, where he plays the disturbing lead villain who becomes even more frightening within the final act. Brian Cox is one of the more underused talents in the film, while Jayma Mays brings quirkiness to her role.

Story – The story is kept very simple, a man forces a hotel manager to change an appointment mid-flight and if she doesn't, he will have her father killed, this becomes a cat-n-mouse style story about both trying to stay ahead of the other. This simplistic side of this story is what makes it standout because the stakes are placed on the table early and the idea that she has no easy escape proves just how difficult her job is going to be. It does keep you on the edge of your seat waiting to see just what will happen next and isn't afraid show moments of brutal looking injury. The idea the target it a political figure helps increase the stakes too.
Mystery – This is a mystery that will keep us guessing to just how they will get out of the situation, how far Jackson is willing to go and if there is any other motivation in his plan.
Settings – Most of the film takes place onboard the plane, it shows just how difficult escape is going to be for Lisa and how she has little option to help Jackson.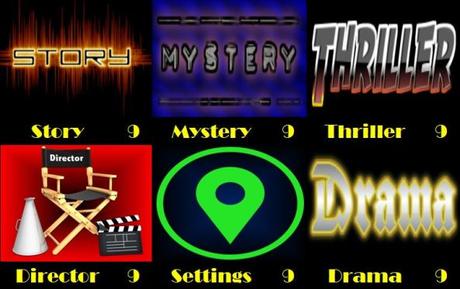 Scene of the Movie – The pen.
That Moment That Annoyed Me – We could have had an idea to about who the political figure is meant to be, how much he could change certain issues in America.
Final Thoughts – This is one of the most enjoyable thriller that you will see, it has two brilliant led performances and will keep you guessing through the film, just what will happen next.
Overall: Tense, atmospheric thriller.
Rating

Advertisements