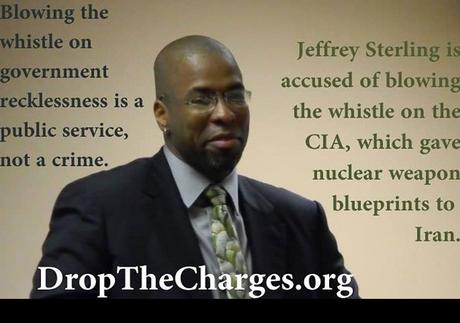 I hadn't heard this story but one CIA whistleblower, Jeffrey Sterling, "...an American lawyer and former CIA employee who was arrested, charged, and convicted of violating the Espionage Act for revealing details about Operation Merlin to journalist James Risen."  
Mr. Risen you may remember:
,,,is the author of the book State of War: The Secret History of the CIA and the Bush Administration (January 2006). The book conducted important investigations into Central Intelligence Agency activities. It states that the CIA carried out an operation in 2000 (Operation Merlin) intended to delay Iran's alleged nuclear weapons program by feeding it flawed blueprints for key missing components—which backfired and may actually have aided Iran, as the flaw was likely detected and corrected by a former Soviet nuclear scientist the operation used to make the delivery. In early 2003, the New York Times refrained from publication of the story after an intervention by National Security Advisor Condoleezza Rice with the NYT Executive Editor Howell Raines.
So Mr. Sterling "blew the whistle" on the CIA over their own illegal activities and now he's in jail. 
He's originally from our own Cape Girardeau. He also got his Juris Doctor degree from the
Washington University School of Law
in
St. Louis
.
Jeffrey Alexander Sterling was being investigated during the Bush administration. In 2010 he was indicted under the Espionage Act of 1917, one of the few people in US history whose alleged contact with a journalist was punished under espionage law.
In May 2015, Sterling was sentenced to 3½ years in prison.
So one more time, our government is found doing things illegal---against our own laws---as with Edward Snowden, it seems, someone blows the whistle, so to speak, and they end up in jail, no one else.
And check this out. According to the Wikipedia entry on Mr. Sterling:
Sterling was convicted of espionage charges on January 26, 2015. Sentencing was originally scheduled for April 24, but after learning of the sentence of no more than two years' probation plus a fine given one day earlier to David Petraeus for the felony of providing classified information to an unauthorized person, Sterling's lawyers submitted a plea that Sterling "not receive a different form of justice" than Petraeus, asking for a similarly lenient sentence instead of the 19 to 24 years imprisonment sought by the federal prosecutors.
So the white General "provides classified information to an unauthorized person" and gets probation. 
The black guy in the CIA gets 3-1/2 years?
Really?
That's what passes for justice in America?
Link:  
How Jeffrey Sterling Took on the CIA — and Lost Everything