Dr. Eowyn:
For some time now, there have been persistent rumors that CIA director John Brennan is a convert to Islam. One source is John Molloy, a friend of FOTM and Chairman of the National Vietnam & Gulf War Veterans Coalition. Now, we have a published source with compelling evidence.

If the rumors and assertions are true, Brennan is a clear and present danger to the security of the United States. So why isn't Congress investigating Brennan?

Originally posted on Consortium of Defense Analysts:
Before John Owen Brennan became Director of the Central Intelligence Agency (CIA) on March 8, 2013, he had spent 25 years with the CIA in a succession of positions, including as a Near East and South Asia analyst, station chief in Saudi Arabia, chief of staff to CIA director George Tenet, and director of the National Counterterrorism Center. After leaving government service in 2005, Brennan was CEO of The Analysis Corporation, a security consulting business. He returned to government service with the Obama administration as Homeland Security Advisor on January 20, 2009.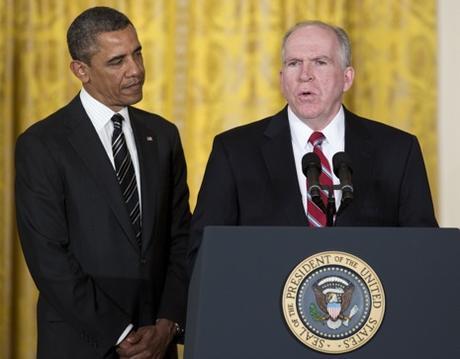 Barack Obama (l) and John Brennan (r)
Photo by Joshua Roberts/Bloomberg via Getty Images
Peter Baker and Mark Mazzetti write for The New York Times that "in the 67 years since the C.I.A. was founded, few presidents have had as close a bond with their intelligence chiefs as Mr. Obama has forged with Mr. Brennan. It is a relationship that…
View original 1,192 more words