A snooper is born.  Christmas snooper that is.  My four year old, Cyrus, has done for the first time what all children do, snoop for their Christmas presents.
Sean and I made our annual last minute Santa run, thanks to my mom and dad for watching the boys.  Later when we got back home I had some presents for my niece and nephew out.  First Cyrus was quite upset that there wasn't anything for him, then he launches into a Christmas interrogation. 
"Did you get me anything?  What did you get me? Can I have a present now? Where are the presents?
"
I thought I had answered each question respectfully well and adverted any melt downs.  But then while I was making dinner someone slipped past me yelling I'm getting something from downstairs.
"Cyrus what are you getting?"
Long pause..... response," ummm.... I'm getting something."
As I followed behind him to flip the laundry, I catch him running around scanning every corner.
"Cy stop snooping".
"I'm not, I'm sniffing", moving his nose up and down like a little bunny.  "I have the sniffies".
So it's official he has learned to snoop for his presents.  Next year we've got to step up our game and find a few new hiding spots.  Not that he found anything, but there are two large black, garbage bags stashed right in the first spot he looked, the basement.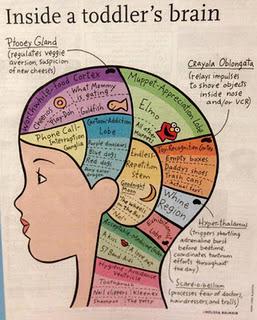 I saw this a couple of days ago on facebook (don't want to name drop you but thanks this was cute), I completely agree --with one suggested addition A Christmas Snooper Section!
The Christmas countdown pursues, almost into it's final stages!  I'm not quite sure how we made it into the middle of December.  That reindeer that ran me over left some tracks.  Today was the first day in a week I could speak and be heard, thanks to a bout of laryngitis and a slight cold.
So as I posted I had a few ideas for homemade presents and organization posts to share.  I am aiming at the most to get through the latter.  I'll hold out to January to get it together enough to pretend like I am organized.  The days to come I've got some fun homemade presents I've already finished and more on my list along with some tasty treats that need to be made.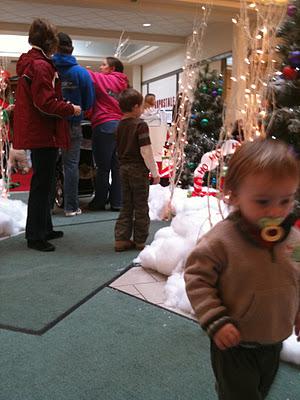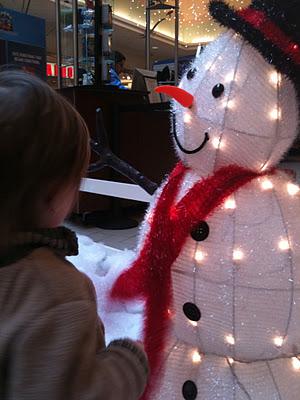 Boys waiting for Santa this year, Sage untied the snowman's scarf
I'm still hanging in there if you'd like to grab a branch and join me, 12 more days to make it through!!  Here's to making wonderful, lasting memories with the kids and Sean over the next week and a half of craziness.......

Subscribe in a reader