New to little Indiana? Subscribe for free to my RSS feed. Thanks for stopping by!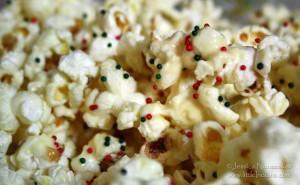 Christmas Popcorn Recipe
Does anything complement the festivity of the season more than this easy, peasy Christmas Popcorn recipe?
Popcorn gets a holiday treatment with white chocolate, a dash of salt, and a light dusting of Red and Green Christmas-colored sprinkles!
It's quick, easy, and let's you get out of the kitchen and enjoy the fun! A hit with kids and adults–and makes a great gift when combined with cute packaging.
Christmas Popcorn Recipe
Print Christmas Popcorn Recipe

This is not my recipe. It's been making the rounds on the web again recently but I do not know where it came from.

Ingredients
1/2 Cup Unpopped Popcorn
Dash Salt
1/4 - 1/2 Cup Melted White Chocolate
Red and Green Nonpareil Sprinkles
Instructions
Melt White Chocolate.
Pop Popcorn.
Pour melted White Chocolate over popped Popcorn.
Stir.
Stir in Sprinkles.
Serve!
Schema/Recipe SEO Data Markup by ZipList Recipe Plugin2.0http://littleindiana.com/2011/12/christmas-popcorn-recipe/Photos are the Property of little Indiana. Do Not Use Without Permission.
little Indiana: Where to Stay, Play, and Eat in Small Towns in Indiana. Discovering Indiana's best small towns! Now get little Indiana on your Kindle.
Targeted. Relevant. Affordable! little Indiana advertising.