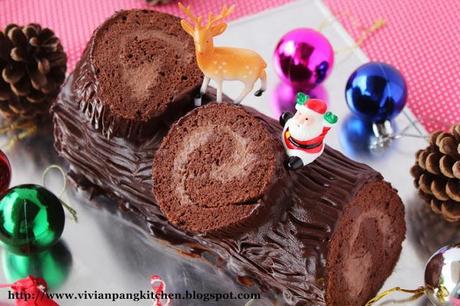 I can't believe I make log cake! I actually pretty excited looking at my 1st log cake. I used to think making log cake is hard as its look. Not until I read a log cake recipe in

Carol blog

.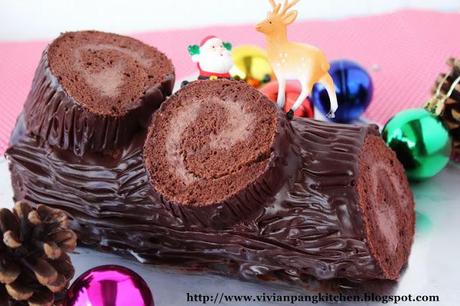 Basically log cake is 'upgrade' version of Swiss roll :DWith some extra effort the ordinary Swiss roll become outstanding festive looks cake. As we know the price of log cake selling outside is not cheap. If you used to bake Swiss roll and want to bake something for coming Christmas do consider this.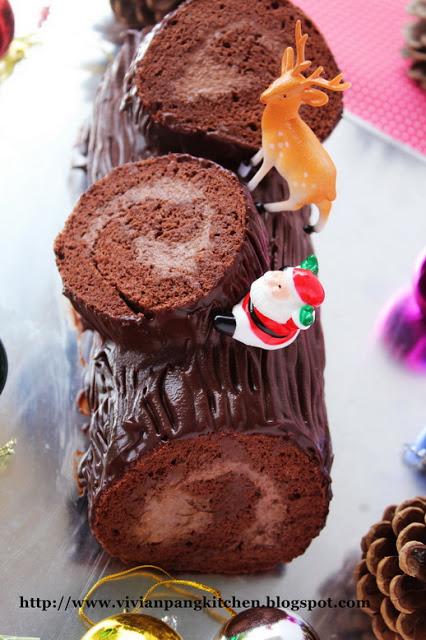 Adapted with slightly modification from
Carol
Christmas Log Cake

~ Log cake
Ingredient:

(A)
4 yolks
20g castor sugar
30g vegetable oil
30g milk

55g cake flour
15g cocoa powder
15g almond flour


(B)
4 whites
½ teaspoon vinegar (or lemon juice)
45g castor sugar


Method:
1. Whisk yolks and castor sugar till well combine. Add in vegetable oil and milk. Mix well.
2. Whisk in the sifted cake flour and cocoa powder. Follow by almond flour. Whisk till well combine.

3. In other bowl beat the whites till foamy. Add in 1/2 the castor sugar and vinegar. Continue beat till glossy. Add in the rest of castor sugar. Beat till stiff form.

4. Spoon 1/3 of the stiff whites into yolks batter. Fold to combine. Pour the yolk mixture into the remaining whites bowl. Fold till well combine.

5. Pour the batter into lined and greased swiss roll pan (
I'm using 30cm x 36cm)
. Smooth the surface with scraper. Give the pan some tap to remove big bubbles.

6. Bake in preheated oven at 180C for 15 minutes. Increase the temperature to 200C and bake further 3-4 minutes.
* I'm using steam bake method. Bake by placing a pan with hot water at the bottom of oven.

7. Once cooked, transfer the cake by lifting the baking paper (edges) to wire rack. Leave to cool (about 5 minutes).
8. Invert the cake and gently remove the baking paper. With a knife cut 2 lines (at the beginning of rolling point) but the cake is still attached to each other. Spread the filling (refer recipe below) evenly on the surface. Leave 1-2cm remain unspread.
9. Hold the cake with both hands and roll gently. When the swiss roll is rolled up, make sure the ending portion facing downward. Keep the roll in the refrigerator at least 2-3 hours before use.
~ chocolate whipped cream filling
Ingredients:
200g dairy whipping cream
60g semi-sweet chocolate (reduced from 100g)

Methods:
1. With hand mixer (low speed) beat the whipping cream till thick, at the stage where can be used for spreading (careful not to over beat!). Keep inside fridge while working on chocolate.

2. Cut chocolate into small size and put inside heat proof bowl. Melt the chocolate by placing the bowl in low simmer water. It is ready when chocolate start melting.
3. Remove from heat and stir till all chocolate melted and smooth. While melted chocolate is warm, mix into chilled whipped cream. Whisk fast till all combine.
*Chocolate must be warm or it will harden and can't mix into whipped cream.

~Chocolate ganache
Ingredients:
200g dairy whipping cream
100g semi-sweet chocolate
1 tablespoon honey
Methods:
1. Cut chocolate into a mixing bowl. Bring half of cream to boil. Pour into diced chocolate bowl. Add in honey. Stir quickly till chocolate melted and smooth.
2. Add in the other half remaining cream. Mix till well combine. Keep at room temperature till ganache become thick to use.

~ Assemble
1. Remove the chilled swiss roll from fridge. Cut a slice of cake from both sides (diagonally not straight; about 2cm thick).
2. Place the cut slices of cake on the cake to form log (use chocolate ganache to stick; make sure the cut side is clean from ganache). Refer

here

for pictures shown.
3. Carefully apply chocolate ganache to the cake. Use fork to form the pattern. Decorate the cake as you wish. The cake can be kept well in fridge for 4-5 days.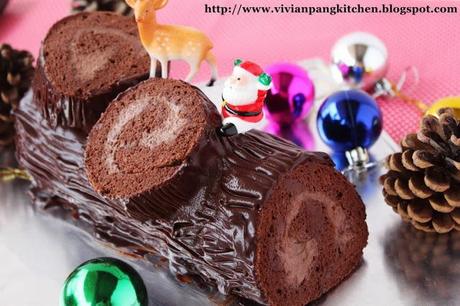 I'm submitting this post to




~

Aspiring Bakers #26 – Creative Christmas Motif Bakes! hosted by Alan of Travellingfoodies




~Recipe Box #28 hosted by

Bizzy Bakes

 

~

Made with Love

Mondays

hosted by Javelin Warrior's Cookin w/

Luv




  Wishing all a very Happy Holidays and Merry Christmas !