Welcome to the first instalment of the Christmas gift guides! Today I'm sharing with you some of my favourite finds of the year that I'm sure many would love to receive this holiday season - though you could also just treat yourself!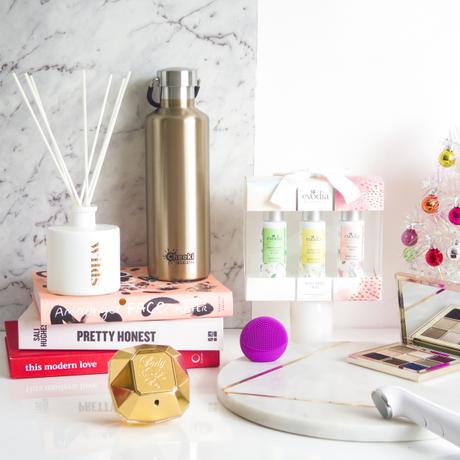 For home fragrance, the wilds Jasmine & Cedar Room Diffuser is a standout for me - for many reasons. The sleek white and gold design is stunning in any room, and the scent kick off and longevity is fantastic. The price point is really affordable for the product's quality!
A goal of mine this (and next) year is to drink more water. This Cheeki Classic Insulated Bottle in Champagne not only looks great but is insulated to ensure your drinks either stay cold for 36 hours or hot for 24 hours - making it perfect all year round! By refilling and reusing a bottle like this, you're also helping the environment.
For those who love to read, my beauty related picks include Amazinger Face by Zoe Foster Blake for its easy to read, straight to the point and beautifully designed contents. Sali Hughes' Pretty Honest is a beauty bible I think every makeup/skincare lover needs as it covers absolutely everything you need to know!
For something different, This Modern Love by Will Darbyshire is a really interesting book made up of compiled letters about the ups and downs of love and relationships. A great coffee table read.
Lady Million by Paco Rabanne is my fragrance pick. I've used it for years and adore its warm, slightly spicy yet inviting scent. Although more of a Winter scent, it's sleek gold design reminds me of the holidays!
A gorgeous scent set is the Evodia Mini Mist Trio with three perfect Summer scents - Whitsunday's Coconut and Lime, Byron Bay Frangipani and Victoria Rose. They are perfectly sized at 50ml and are perfect to pop into handbags when out at parties or when travelling.
My favourite skincare product/device has to be the Foreo. The Luna Play model is built in with 100 uses, super compact and perfect for travel! It really does make a difference when cleansing your skin so I definitely recommend you try it.
For a touch of luxe, the Bobbi Brown Caviar and Rubies Eyeshadow Palette is a stunning makeup pick. Inspired by rich jewels tones, the palette features nine shades in mattes, shimmers and metallics that are perfect for the holiday season! The shimmer shades are the standouts for me.
A product that has really transformed the way I apply skincare is the Arbonne Intelligence Genius Ultra, which gently warms skincare products as you apply it all over the skin. Using ultrasound waves, I do think it helps your skincare penetrate and therefore work better on the skin. It is an investment but one that has visibly helped my skin.

| Bloglovin' | Facebook | Twitter | Instagram |