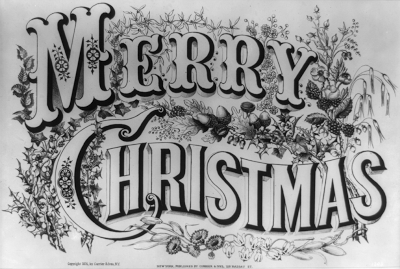 I hope everyone had a fantastic and
beautiful
holiday with their loved ones. I don't know what it was about this holiday season, but I just couldn't muster up the spirit for it. It took me forever to even put up my
Christmas
tree. I literally put my tree up like a week or two before Christmas. I knew going to my mom's house and being around the rest of my family would change that.
Everything was going according to plan for preparations for Christmas Eve. I was going to wear my cute heel booties to go with my skinny jeans and red glittery sweater... well, that really didn't happen.
I was all dressed and when I went to get my shoes from the top shelf of my closet, well I guess I reached to high. A very sharp pain coursed through my back. It was so painful. I was able to pass the pain but needless to say, I could not wear my heels. I ended up wearing my warm flat boots.
When we got to mom's house, I pretty much sat in one spot all night. But, my family is so wonderful, we still had a good time despite the fact that I couldn't get up and dance. I was however able to Karaoke my butt off sitting down while the rest of the clan danced around. LOL.
Here are some pics I would like to share with you from my Christmas Eve with my crazy but wonderful family.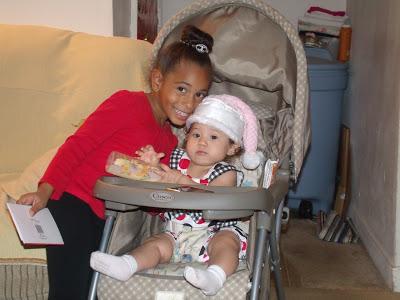 Ari with Jazlyn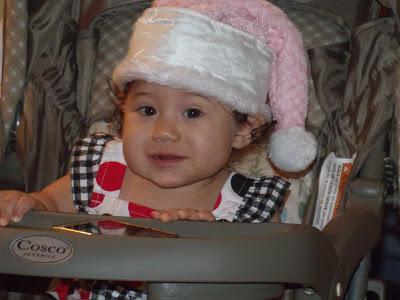 Jazlyn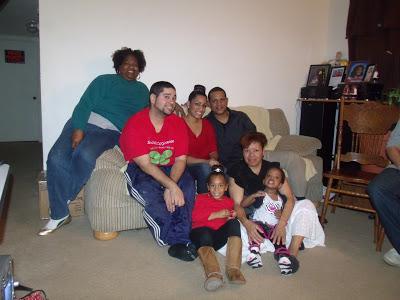 My mom's friend Ms. Butler, my brother Vincent, me, Ari, hubby, mom
& my niece Ariel
I hope you all had a fabulous time spent with family and the ones you love! Next up... a brand new year!
XOXO