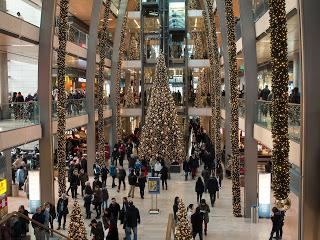 Back in December 2007 I wrote an entry on this blog about a Christmas crèche in Austria. It seems that the idea has caught on and this year we have seen a similar project launched in Carmarthen, with one to follow at the weekend in Manchester. 
Comfortable settees, magazines, sport on large TV screens and electronic games, it sounds like boys' heaven; a haven where men retreat to whilst their other halves get stuck into some serious Christmas shopping. 
To work like a crèche the men must presumably be deposited and collected by their wives or long term partners. In 2007 I pondered on the outcome if their spouse failed to collect them; in 2015 I wonder what will happen if the men quite simply don't want to leave!