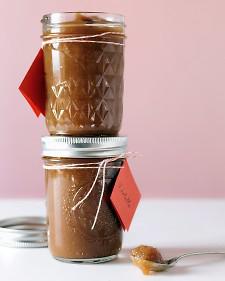 MMMmm.... Slow Cooker Pear and Apple Butter from Martha Stewart.  A couple months ago my mom gave me 2 years worth of her Martha Stewart Everyday Food mini magazines, along with a lot of tasty dinner ideas I pulled this easy version of apple butter. 
Perfect for an easy homemade gift, it didn't take too much prep and once you got everything together you could kind of forget about it for awhile.  Boy did my house smell delicious for a few days. 
Here's a link to the full recipe but basically combine equal parts pears and apples with about a cup of brown sugar, a cinnamon stick and pinch of salt.  Cook on high 4 hours, take out cinnamon sticks and process in blender, pour back into slow cooker and cook on high lid off for 6-8 hours.  Mixture will be thick and dark brown when you're done.  Pour into containers and freeze or refrigerate.
There  you go this year's DIY co-worker gift enjoy everyone!  Side note I had to remember to post this at the end of the week not to give away any secrets to this year's gift- it's so much better when you don't know what you're getting.  I am not a Christmas snooper until some others in my house. ( I wasn't going to go there but not a Christmas pooper either!) 

Subscribe in a reader