This post is an accumulation of various things that were found researching other posts.  
Many of the ideas of Christianity are heard frequently.  It seemed interesting to look at aspects of Christianity that are not as common, or the "other stuff."
The author found these things interesting and you might, also. 
Random Concepts, Christianity
1.   The phrase "God helps those who help themselves" is not found directly in the Bible.
The idea is implicit but the exact phrase is not found in the Bible. If you make bad choices in the life due to free will there are consequences. The phrase "Cleanliness is next to Godliness" is also not found directly in the Bible.
2.    Jesus death saves you from evil, but in the next world.
People say Jesus died to overcome things such as sickness and death.  This is true, but does not necessarily apply to this world.  In this world there is sickness and death.
3.   "God does not give you more than you can bear" is found in the Bible.
This depends how it is interpreted.  Some think the verse only applies to temptation (not the situation).  The verse is:  
God is faithful; He will not suffer you to be tempted beyond that which ye are able to bear, but with the temptation will also make a way to escape, that ye may be able to bear it.     - 1 Corinthians 1:13 
4.   The word "Christ" translated does not been a divine being.
The Greek word Christos means "Anointed, chosen."  Many ancient people, such as Priests, had the title "Christos" after being anointed with oil.
5.    "You would risk your life to get to Mass if you knew what it meant to God."
This is a quote from Padre Pio, who is venerated as a Saint in the Catholic Church.  It helps put things in perspective.
6.    "Life's misfortunes are not to punish you, but to give you necessary discipline."
This quote is from the book "Streams in the Desert", by Charles Cowmann.  People tend to think they are being punished when something bad happens to them.  This quote helps you look at it a different way.  Misfortunes are things God wants you to learn for your own good in the long tern.  Included in this is the idea that guilt is for self awareness and not to make you feel bad about yourself.
7   Jesus did not intend to establish a religion.
The word "Christian" did not come about until long after the Crucifixion of Christ.  He was preaching a message, but not in the sense of forming an institution.  The definition of the word "church" was intended to mean a group of believers, but it does not necessarily refer to where they meet.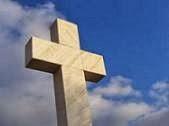 From Everstockphoto.com
8.    The true meaning of the word "holy" is to set apart for a specific purpose, and not just to externally do good works.  
The good works are for a specific purpose, which is bringing glory to God.  The term "holy" is not just focused on external things or behavior, but what they are done for.
9.    If you translate the names of the first ten generations of humans (from Adam to Noah, including God) it forms two readable, interesting sentences:    
The Man God Appointed - A Mortal Man Of Sorrow- Is Born.  The Glory Of God Shall Come Down - Instructing That His Death Shall Bring - To Those In Despair - Comfort.
While  it would be more amazing is this were a coincidence, the names form sentences at least through the first 72 generations.
10.  Christianity is in the "mopping up" stage.What does this mean?  It can be compared to World War II after the Allies took control of the coast of France.  The war was not "technically" over,  but it was only a matter of time before the Germans would be officially defeated and surrender.  It was a little less than a year as it turned out.
Similarly, Jesus defeated Satan by the Cross and his Resurrection.  The war against evil is not "technically" over until the Second Coming Of Jesus.  However, that is only a matter of time.

Do you agree with these statements?
Author:  Albert Wagner