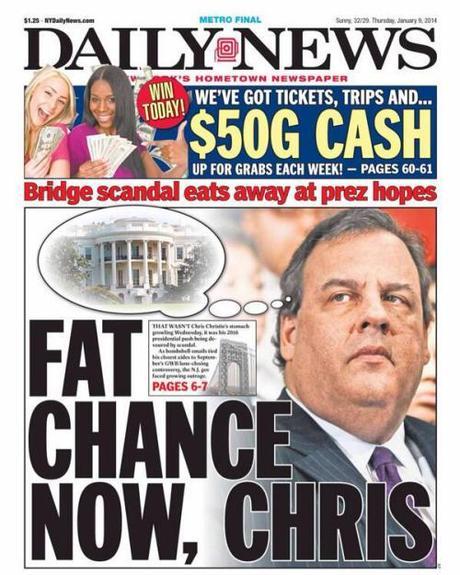 Dude you've been Un-Anointed. Bye-Bye.
Let Me Just say as of now  Christie has denied any knowledge of this scandal. But  if he did not know what his top tier aides were doing then he's a schmuck. Also I've seen and will point out something that shows me what a slimy, politician he is. See red highlight
—————————————————————————————————-
Christie Faces Scandal on Traffic Jam Aides Ordered
By KATE ZERNIKEJAN. 8, 2014
The mystery of who closed two lanes onto the George Washington Bridge — turning the borough of Fort Lee, N.J., into a parking lot for four days in September — exploded into a full-bore political scandal for Gov. Chris Christie on Wednesday. Emails and texts revealed that a top aide had ordered the closings to punish the town's mayor after he did not endorse the governor for re-election.
"Time for some traffic problems in Fort Lee," Bridget Anne Kelly, a deputy chief of staff to Mr. Christie, emailed David Wildstein, a high school friend of the governor who worked at the Port Authority of New York and New Jersey, which runs the bridge.
Later text messages mocked concerns that school buses filled with students were stuck in gridlock: "They are the children of Buono voters," Mr. Wildstein wrote, referring to Mr. Christie's opponent Barbara Buono.
The emails are striking in their political maneuvering, showing Christie aides gleeful about some of the chaos that resulted. Emergency vehicles were delayed in responding to three people with heart problems and a missing toddler, and commuters were left fuming. One of the governor's associates refers to the mayor of Fort Lee as "this little Serbian," and Ms. Kelly exchanges messages about the plan while she is in line to pay her respects at a wake.
Mr. Christie denied knowledge of the emails and said his staff was to blame. The growing scandal threatens to tarnish him at the moment he assumes an even larger position on the national stage, as chairman of the Republican Governors Association and an all-but-certain candidate for his party's presidential nomination in 2016.
While the emails do not establish that the governor himself called for the lane closings, they show his staff was intimately involved, contrary to Mr. Christie's repeated avowals that no one in his office or campaign knew about them. In fact, the emails show, several staff members and appointees worked to cover up the scheme under the ruse that it was a traffic study.
The disclosing of the emails will probably intensify an investigation into the lane closing by the Port Authority Inspector General's office, which opened a formal inquiry in December. At that time, the deputy inspector general, Michael Nestor, confirmed the investigation, and another official said the office was seeking to determine whether there was any abuse of authority or gross mismanagement.
The emails could represent evidence that government resources were used for political purposes, a potential crime. Mr. Nestor did not respond to a telephone message on Wednesday seeking comment.
On Wednesday, the normally voluble Mr. Christie was largely quiet. He and his staff had apparently been caught off-guard by the day's revelations. He canceled his one scheduled public event, where he was expected to talk about progress in recovering from Hurricane Sandy. Late in the afternoon, he issued a statement saying that he had seen the exchanges "for the first time" and casting blame on his staff for "unacceptable" behavior.
"I am outraged and deeply saddened to learn that not only was I misled by a member of my staff, but this completely inappropriate and unsanctioned conduct was made without my knowledge," Mr. Christie's statement said. "One thing is clear: This type of behavior is unacceptable, and I will not tolerate it because the people of New Jersey deserve better. This behavior is not representative of me or my administration in any way, and people will be held responsible for their actions."
His office did not respond to follow-up inquiries about whether this meant Ms. Kelly, or anyone else, had been fired. Mr. Wildstein, along with Bill Baroni, Mr. Christie's top appointed staff member at the Port Authority, resigned in December after port officials testified in a legislative hearing that the men had violated protocols and had sought to hide their plans for the lane closings from Fort Lee officials, the police and even other Port Authority officials.
The documents were obtained by The New York Times and other news outlets Wednesday. They are heavily redacted by Mr. Wildstein, who turned them over under a subpoena from Democratic legislators investigating the lane closing, making it hard to determine in some cases who is speaking.
But they indicate that Mr. Christie's staff, appointees at the Port Authority, and his campaign office were all intimately involved in discussing the growing scandal and how to react to it even as it was unfolding.
After New York appointees at the Port Authority, who had not been warned in advance about the closings, reopened the lanes four days after they were closed, Mr. Wildstein and Ms. Kelly expressed panic, but Mr. Wildstein assured her that David Samson, Mr. Christie's handpicked chairman of the Port Authority, was "helping us to retaliate."
When reporters began calling to ask about the lane closings, Mr. Wildstein and Ms. Kelly worked with Michael Drewniak, the governor's chief spokesman, to fashion a statement saying that the port was "reviewing traffic safety patterns" at the bridge and had been "in contact with Fort Lee police throughout this transition."
In fact, bridge officials testified in December that Mr. Baroni and Mr. Wildstein instructed them not to tell the Fort Lee police, or anyone else, about the lane closings before they happened. They also testified that they did not believe there had been any traffic study; none were produced after the lane closings, and any study of traffic patterns could have been done using computer models of data routinely collected at the bridge.
In early October, Mr. Wildstein wrote to Bill Stepien, Mr. Christie's campaign manager, about an article in The Wall Street Journal about the suspicious lane closings.
"It's fine," replied Mr. Stepien, recently named by Mr. Christie to be head of the state Republican party and a top adviser to the Republican Governors Association. "The mayor is an idiot, though." He added, with an apparent typo, "When some, lose some."
"It will be a tough November for this little Serbian," Mr. Wildstein replied. (The mayor of Fort Lee, Mark Sokolich, at whom that barb was aimed, is actually of Croatian descent.)
After another story a few weeks later, Mr. Stepien assured Mr. Wildstein, "For what it's worth, I like you more on October 2, 2013 than I did on October 2, 2009."
Mr. Baroni and Mr. Wildstein resigned their positions in December as the scandal began to cast a shadow over Mr. Christie's political fortunes.
I'm generally a supporter of Christie, but this type of behavior cannot be tolerated by any elected official. They work for the people they represent, including the ones who didn't vote for or otherwise oppose them.
Assemblyman John S. Wisniewski, a Democrat who has been leading legislative hearings on the closings, said Mr. Christie's statement on Wednesday suffered from a "credibility gap." He was skeptical, he said, that Ms. Kelly could sit "three chairs or four chairs away from the governor's office" and be directing such an operation without his knowledge.
"His front office is not a place where freelancers and independent actors are welcome," he said. "It's a tight ship."
"No matter who's fired or resigns, we still have questions without answers," he added.
Mr. Christie was cruising to re-election over Ms. Buono in the fall, but he and his campaign were leaning on local Democratic officials to endorse him so that he could pitch himself to national Republicans as the presidential nominee who could attract broad bipartisan support.
More than 50 local Democrats endorsed Mr. Christie, and some whispered that they feared the governor would withhold state money or favor if they did not go along.
( Hmm, Strong arming them. Thought that was illegal. OK That's a bit harsh, how about extortion?)
Mr. Sokolich, a Democrat, was among those who did not endorse him
This week, Steve Fulop, the mayor of Jersey City and a rising Democratic star, said the governor's office had canceled meetings with him in October the day that he said he would vote for Ms. Buono.
(Wow, now there's a kwinky dink.) 
The governor's office dismissed it as routine schedule changes. But the emails that came to light on Wednesday show that Mr. Fulop's reluctance to endorse the governor did not sit well with the governor's office. In one exchange, Mr. Christie's aides and the Port Authority staff talked about how they were ignoring messages from the mayor of Fort Lee, who had called Mr. Baroni to report the lane closings as "urgent matter of public safety."
"Did he call him back?" Ms. Kelly asked.
"Radio silence," Mr. Wildstein replied. "His name comes right after Mayor Fulop."
"TY," she wrote, using shorthand for thank you.
Mr. Sokolich texted Mr. Baroni, Mr. Christie's chief appointee at the Port Authority, later in September seeking to understand why the lanes were closed, and said people were saying it was "punishment."
"Try as I may to dispel these rumors I am having a tough time," he wrote.
Mr. Sokolich, in an interview on Wednesday, said he found the emails — particularly the one referring to him as "this little Serbian" — "condescending, offensive, insulting and slanderous."
"How dare you?" he added.
For weeks, Port Authority officials and Mr. Christie's office declined to address the lane closings. Mr. Baroni told other port officials that they were not to discuss the closings publicly.
After the initial legislative hearings late last year, Mr. Christie mocked the idea that he might have been involved, joking, "I actually was the guy working the cones," and then adding, "You are not really serious."
When he announced Mr. Baroni's resignation in December, he said that he had "made it very clear to everyone on my senior staff that if anyone had any knowledge of this that they need to come forward."
"They've all assured me that they don't," he said. "I've spoken to Mr. Stepien and he has assured me the same thing."
Mr. Wildstein is scheduled to testify before the legislative committee on Thursday, but he has filed a motion to quash the subpoena compelling his testimony. A judge is expected to rule on his motion in the morning.
Correction: January 8, 2014
Because of an editing error, an earlier version of this article incorrectly stated that Bridget Anne Kelly was texting with David Wildstein about children being late to school as a result of the lane closures. The documents are redacted and who was texting with Mr. Wildstein is not identified. The article also rendered the attribution for the quotes incorrectly. The unidentified person said, "Is it wrong that I am smiling?" And Mr. Wildstein responded, "No," and then added, "They are the children of Buono voters." Correction: January 8, 2014
An earlier version of this article misspelled the surname of Mr. Christie's campaign manager. He is Bill Stepien, not Stepian.
~Steve~
http://www.nytimes.com/2014/01/09/nyregion/christie-aide-tied-to-bridge-lane-closings.html