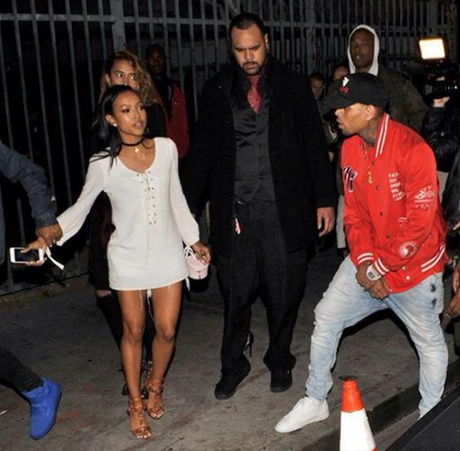 After Olivia Pope wrote that very nice letter giving us insight on what going on in Chris' head, he goes and harrass his ex-girlfriend Karrueche Tran. According to TMZ, Karruech and Christina Milian were hosting at Playhouse nightclub in Hollywood and Chris Brown showed up (-_-).
Via: Rap-Up. Com
Chris got the VIP table next to his ex-girlfriend. But she wasn't having it and stormed out of the club. Chris followed and eventually managed to get into Karrueche's SUV. However, she did not want him there and dropped him off with his friends a short time later. But around 3:30 a.m. he showed up at her house, banging and yelling to get her to open up. She eventually left and went to Norms diner in West Hollywood. Brown showed up a short time later.
Once inside the restaurant, the former couple reportedly began to argue before it escalated into a shouting match. Karrueche left and returned home without Chris.Police arrived at Karrueche's house early Friday morning around the time Chris was there. However, it's unclear if cops spoke to either Karrueche or Chris. One of Karrueche's neighbors made the call because of the noise Chris was making at her door.
Jesus come get your child because something is seriously wrong with him. This isn't normal at all. These are signs that this child needs some type of mental help. Poor Karrueche she was probably terrified especially since he's hit women before. Karrueche you need to file a restraining order against him or something. And the club was wrong as isht for letting him buy a table right next beside hers.