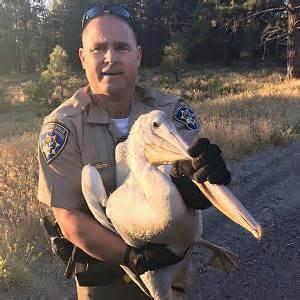 Photo courtesy of the CHP
From Sacramento Bee: A California Highway Patrol officer, a former falconer, captured a pelican wandering near westbound Interstate 80 in Truckee this week.
The CHP got a call about an injured bird on the highway. Officers arrived about 7:15 p.m. Tuesday to find the pelican on a hill beside the freeway. When CHP Officer Troy Griesemer approached the bird, it flew off between the first and second lanes on the highway, dodging a car to get to the other side, he said. The bird was not injured but appeared tired, he said.
"He looked tired from flying, so I knew I could get a hold of him," he said. "This isn't the first bird I've caught. I knew what to look for, how he was going to react and how he would try to defend himself."
Griesemer said he has caught a red-tailed hawk and eagles.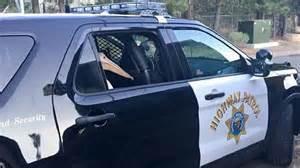 Pelican going for a ride!/CHP Photo
After Griesemer caught the pelican, it was placed in the back seat of the car and taken to the CHP office, where it sat for about an hour. The pelican was then taken to the Truckee Police Department animal shelter before being picked up by a wildlife rescue team.
Though it's not common for CHP officers to have to catch wild animals, they have rescued a fawn, an eagle and others, officials said.
Sallysue Stein, board president of Gold Country Wildlife Rescue in Loomis, said the primary reason the CHP sometimes makes animal rescues is because wounded or confused animals pose a substantial traffic risk. She said she could easily imagine a confused pelican on the side of the highway causing a wreck.  "He could have saved human lives by doing that," Stein said.
Griesemer also appeared to know what he was doing, Stein said after reviewing pictures that the CHP provided of the officer holding the bird's large beak away from his face while wearing a pair of heavy gloves.
With its stripped-down interior and cage, the back seat of a patrol car makes a pretty good substitute for an animal carrier, she said.
DCG