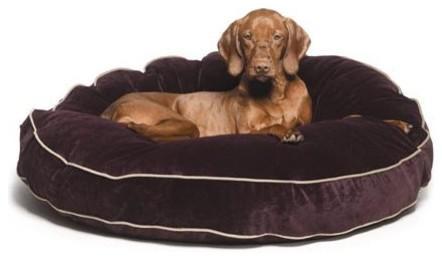 Choosing a new bed for your dog (or a bed for your new dog) is an important part of welcoming him into your family. Not only does a bed provide your dog with a sense of personal privacy, it is a place he will come to love for years to come.
Most dog beds on the market are machine washable. This is especially good for young pups who haven't yet learned how (or where) to control their bladder.
How big will your dog be?
It's important to take into account just how big your dog is or will grow to be. If you have a puppy, you might want to buy large dog beds that can accommodate his growth spurt.
If you're (un)lucky, you may have a future record-breaking large pup. Take the owners of Giant George for example, the world's biggest living dog ever recorded. Little did they know that when they brought home a 'little' great dane in 2006, that he would one day grow to be a super-large 43-inches in height and 11 kg in weight, around 45 kg more than the average great dane. Currently residing in Tuscon, Arizona, George enjoys riding around his neighbourhood in a golf cart operated by his owner, David.
For an indication of how large your new puppy will grow to be, take a look at his paws in relation to the size of his body. If his feet are particularly large, you might very well have to prepare for a herculean-sized dog!
What kind of dog bed do you want?
Dog beds have come a long way in the last few decades. Gone are the times of hard plastic beds filled with one single lonely pillow. For dogs everywhere and of any size, there is a growing range of wonderful and comforting dog beds that are waiting to be nestled in by even the most active dogs.
For example, Rectangular Cushion Pads are mattress-like dog beds that can be accommodated in households that can afford an extra large dog bed. Fully machine washable, they are an excellent choice for any dog to sleep in. If you're looking for a more traditional dog bed, a Danish Design bed offers your pooch the partially walled bed that dogs have been enjoying for decades.
What kinds of special beds are there?
For elderly dogs, or dogs that suffer from arthritis, beds with special materials are available to help them sleep better. Like human beds, some dog beds can also come with memory foam bases that ensure the most comforting experience possible for your pet. Sleeping on a memory foam bed (whether human or dog) is great for painful areas such as joints, and helps improve circulation throughout the body.
With a large variety of textures and colors available, you can also choose a dog bed that goes with the decor of your home, along with one that is right for your dog's height, weight, and sleeping needs.