How to choose the right playgroup or preschool for your child? This simple 5 step guide will help you find the perfect answer.
Today there are preschools and playgroups that advocate different methodologies to teach pre-schoolers claiming a lot of things. So with so much available in the market, how do you choose the best for your little one?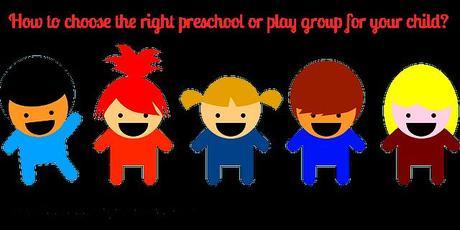 Gone are the days where the only play group or preschool (these were called nurseries) were the makeshift flat converted into the first educational institute your child attends. Times have changed.
Before I sat down to write this, I decided to ask my mom how she decided to choose a nursery for me. I had attended a nursery in the adjoining building where the lady who taught was somewhere in her mid-40s. There was no uniform or protocol unlike these days.
My mom answered that she,
Chose something that is close to home so that my grandma could monitor if needed
Said that the lady who ran the nursery had been doing so for over 15 years. So she knew how to handle 'kids'
Asked her friends. Yes she did some R&D talking to people she knew who had sent their kids to the same place
Said the teacher was 'good to talk to'. Her analysis of the teacher's persona defined that that she was indeed patient and humble
This one according to her fitted well within her budget
Well, come to think of, times have changes but these points to choose the right play school or playschool haven't.
5 Step guide to choose the right playgroup or preschool:
So here goes my 5 step guide to choose the right playgroup or preschool.
#1. Convenience and distance
Choose a play group either close to your house or your work place or day-care so that you have a chance to monitor your kid and reach there in case of anything needed. Reduce on the travel time for the kids.
Choosing something that is not on your way to work or completely in opposite direction. It is just going to add to your stress to pick up and drop the child. You may also end up missing school which isn't a good start to schooling.
#2. Go by the fame and not by the name
There are innumerable preschools and play groups that are being advertised all through. Each of them might be good in their own way but you need something that suits best for your child. Check out on their methodology, teaching methods, the teachers they recruit and the student strength or ratio.
Most of them these days have fancy names. Like we don't buy a product based on the packaging, we should not go for a preschool or playgroup just by its name. Find out more about it through reviews and history.
#3. Ask your friends
The best way to find out what suits your requirement is to talk to your friends or neighbors with kids in the same age group. Find out what they think about the different options available in your locality and what is their experience sending their kids there. Find about both the pros and cons. What maybe a disadvantage for one parent might just be what you are looking out for.
For example: There is a parent in the society who said about XYZ playgroup as "they concentrate more on outdoor activity then studies". This is exactly what I look out for when I look for a play group for my child. So perception differs. Get both positive and negative feedback.
Daily schedule which helps me multitask
#4. Talk to the people who run the preschool
Talk to the teachers, the owners and try to attend a class sometime with your child if possible. Ensure that your child is comfortable and watch out as to what the teachers do to make the child comfortable.
Patience is the key to a child's heart. Talk to your child about how he found the new place. The last place you would want to send your child is where he/she hates to go back.
#5. Cost
Do not burden yourself with a playgroup that doesn't fit in your budget.
Just because everyone is sending their child to an XYZ school doesn't mean that is the only good one in town. No one would like to compromise on the quality of education. But that doesn't mean you go over budget and cut down on other expenses that also contribute to the all-round development of your child.
13 money saving tips post baby to balance your budget
9 white lies as a mother I love to tell my daughter
Choose wisely. The things that children pick up at home are what lay the foundation.
Remember the best play group or preschool for your child is your own home
Nurseries, play groups and preschools are to give them an introduction to school like environment and make them social.
You can also read about 6 things to consider while hiring a nanny or maid. Hope this guide on how to helps you choose the best for your little one
Which are the factors that you look for in a playgroup or preschool for your child? Kindly share with me in comments.