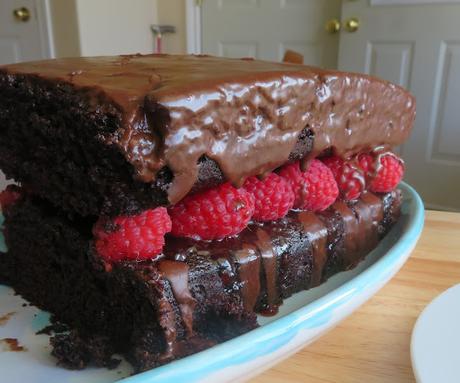 Chocolate Raspberry Cake. Prepare yourself to fall in love. This might not be the prettiest cake in the box, but it is one of the most delicious.
It also happens to be a Chocolate Raspberry vegan cake so it is something you can bake that will please all the people in your life, especially those with food sensitivities.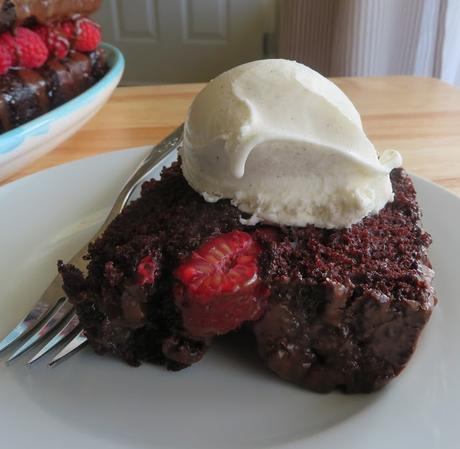 There is no dairy or eggs, and no special vegan ingredients required.  Just simple standard baking staples that you probably already have in your larder and cupboards.
Lets face it, its nice to be able to serve a cake that everyone will eat.  This is a recipe I have adapted from the baking book, Small Batch Baking, by Saura Kline.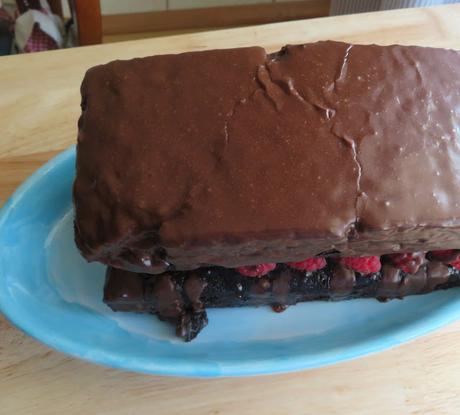 This cake actually appealed to me for several reasons.  First of all the fact that it was Vegan. 
I am not Vegan but I do have friends who are and its nice to have something they can eat as well for dessert.  Its easy to do a Vegan main, but dessert gets a bit more complicated.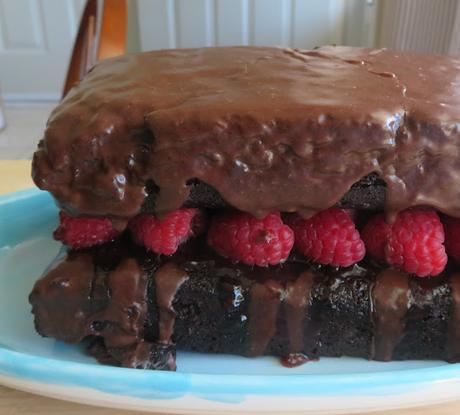 Secondly it appealed because it has that beautiful combination of chocolate and raspberries.  They are an amazing combination.
When I cooked at the Manor I used to make these lovely
Chocolate Fondant Cakes
for the ladies luncheons from time to time and they always went down a real treat when I served them sitting on a pool of raspberry coulis.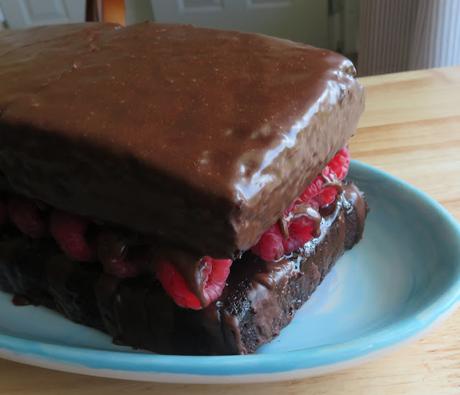 The raspberry coulis was very easy to make. I just took a small bag of frozen raspberries, (about 1 1/2 cups) and popped them into a blender along with 1 TBS of lemon juice and  1/4 cup of icing sugar.  
I blitzed them until smooth and then pressed the mixture through a fine sieve. Easy peasy and delicious! No cooking involved.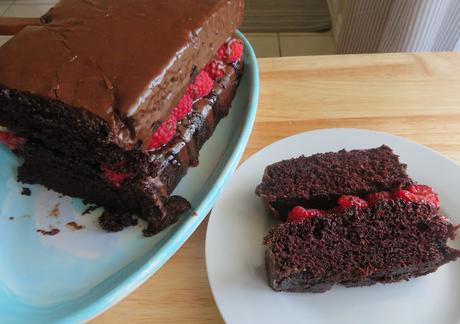 The cake for this recipe is actually very similar to one which I grew up with called Wacky Cake. (You can
find that recipe here
.) 
That cake didn't have any eggs or milk or butter in it either. In fact, upon looking at it, I would say it is pretty close to being  the same cake.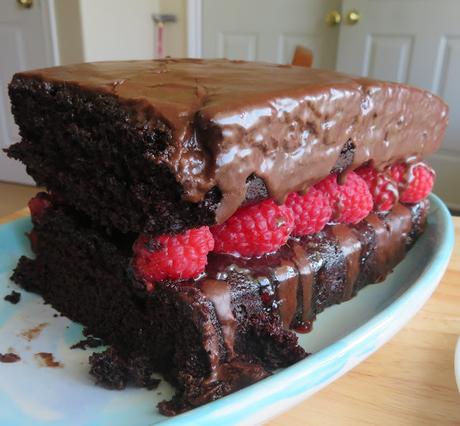 Dense moist and delicious and requiring nothing out of the ordinary to make.  Flour, sugar, cocoa powder, vanilla, canola oil, water, vinegar and soda. 
Its a great cake to make when you are low on butter, eggs and milk, and I do believe that the original recipe was developed during WW2 and rationing.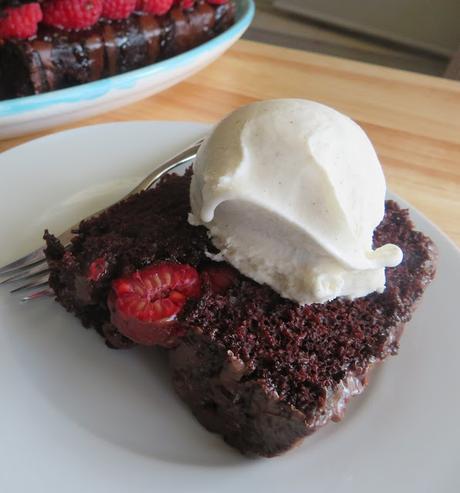 You start by making an 8 inch cake.  But you do need to plan ahead, as this cake, once baked and cooled, need to be put in the freezer for 2 hours to get really cold.
I am not sure why.  Once cold, you cut it in half so that you have two layers.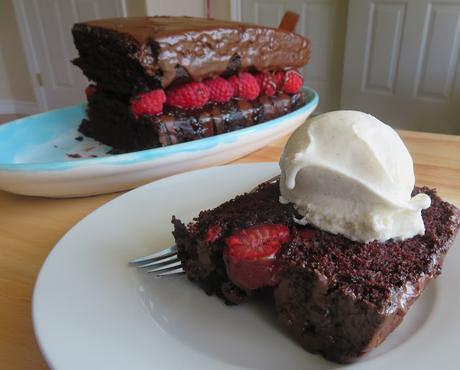 One layer gets popped onto a cooling rack. (Make sure you place the cooling rack over some waxed paper.) I place it on bottom side up.
This cake layer is spread with raspberry jam. Today I used seedless because that is what I had.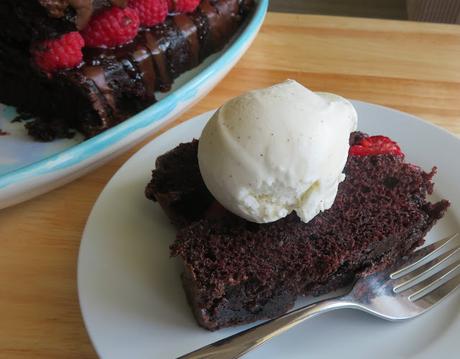 Fresh raspberries get layered onto the jam and then the other half of the cake, bottom side down against the berries.
I adore raspberries, but got car sick after having gorged myself on them once when I was a child. It was many years before I could face a raspberry, and my father was vacuuming raspberry seeds out of the carpeting in his car for years afterwards.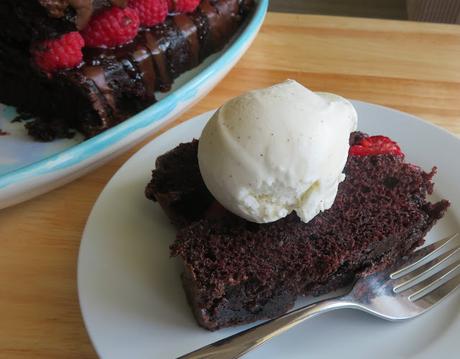 Happy to say I have outgrown my dislike of them now and really enjoy them.  I make a fabulous
Raspberry Celebration Cake
which is loaded with them. 
There are raspberries baked into the sponge and then the two layers of cake are filled with raspberry jam and vanilla butter cream.  Served in slices with berries on the side, it always goes down a real treta!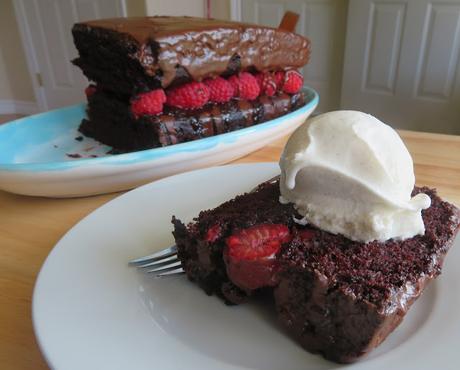 Once you have the two layers of this cake sandwiched together with the jam and berries, press the layers together lightly. Just so that everything sticks.
You don't want the layers sliding apart at any point.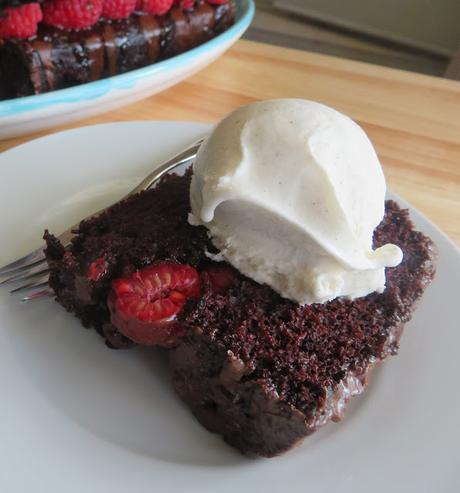 There is no frosting, but a simple chocolate glaze. This is also very easy to make.
You just whisk together some icing sugar, cocoa powder, water, vanilla and corn syrup until smooth.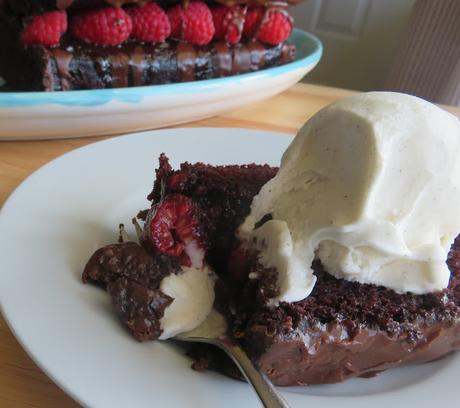 This is much easier to do if you sift the cocoa powder and the icing sugar together into the bowl.  Smooth and no lumps.
The glaze is carefully poured over the two layers of cake. (Now you know why you need some wax paper beneath the rack.  It catches the overflow.)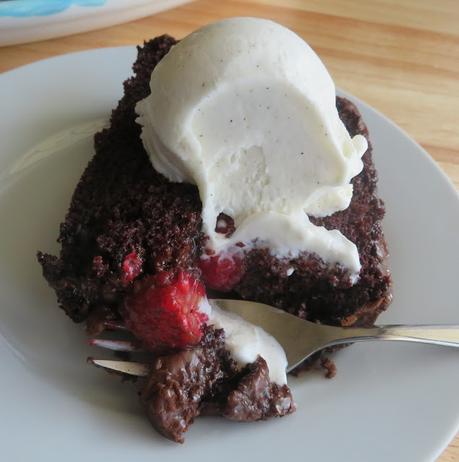 It is quite a thin glaze, so pour it over very slowly, making sure you cover the whole surface of the cake.  Do also let it drip down the sides as much as possible.
It is impossible to completely cover the sides, but do as best as you can.  It does make for a lovely rustically delicious presentation if you can see the berries and jam peeking through.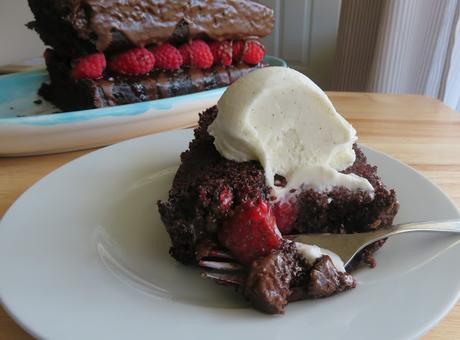 It cuts into six generous slices and went down a real treat with a scoop of vanilla ice cream on top, I have to say.
This is a simple cake, that is quick to make and really delicious.  I think it is a cake that is destined to become a family favorite, at least with the Vegans in the house!
I am not a Vegan, but I do know good taste when I taste it and this be good taste!  Pure and simple.  There is also an optional Peanut butter adaptation mentioned in the notes. That also sounds gorgeous!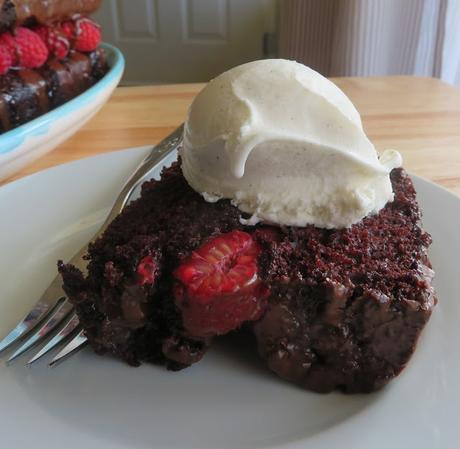 Chocolate Raspberry Cake
Yield:
makes 6 slices
Author:
Marie Rayner
Prep time: 15 Min
Cook time: 30 Min
inactive time: 2 Hour
Total time: 2 H & 45 M
Easy to make, dairy free, vegan and delicious! Filled with raspberry jam, fresh raspberries and topped with a simple chocolate glaze.
Ingredients
For the Cake:
1/3 cup (80ml) canola oil
1 tsp vanilla extract
1 cup (195g) granulated sugar
1/2 tsp salt
1 1/2 cups (210g) plain all purpose flour
1/4 cup (25g) unsweetened cocoa powder
1 tsp baking soda
1 cup (240ml) water
1 TBS white vinegar
1/4 cup (55g) raspberry jam
1 pint (170g) fresh raspberries
For the chocolate glaze:
1 1/2 cups (195g) icing sugar
2 TBS unsweetened cocoa powder
pinch salt
3 TBS water
1 TBS corn syrup
Instructions
Preheat the oven to 350*F/180*C/ gas mark 4.  Butter an 8 inch square baking tin and line with baking paper.  Set aside.
Whisk the oil, vanilla, sugar and salt together in a bowl. Sift together the flour and cocoa powder and fold this into the oil mixture.  Stir in the water and vinegar last until you have a really smooth batter.
Pour into the prepared baking tin.
Bake in the preheated oven for 30 minutes, or until the top springs back when lightly touched and a toothpick inserted in the center comes out clean.
Leave to cool in the tin and then pop into the freezer until it is very cold.
Once cold unmold from the tin and cut in half so that you have two (4 by 8-inch) pieces.  Place a cooling rack over a large piece of waxed paper. Set one half cake on top, bottom side up.   
Spread the raspberry jam evenly over the cake layer.  Top with the fresh raspberries.  Place the second cake layer on top of the raspberries, pressing down lightly, top side up.
Whisk all of the ingredients for the glaze together in a bowl until smooth. Pour this glaze slowly and evenly over top of the cake to cover all the edges. Leave to set at room temperature for about one hour.
Transfer to a serving tray and cut into slices crossways to serve.
This will keep in the refrigerator for up to three days.
Notes:
VARIATION: For a peanut butter cake, add a layer of smooth peanut butter (1/4 cup/60g) instead of the jam and berries, and adding a layer of chopped peanuts. (1/4 cup/40 grams). Top with the glaze as above. Delicious!
Did you make this recipe?
Tag @marierayner5530 on instagram and hashtag it #TheEnglishKitchen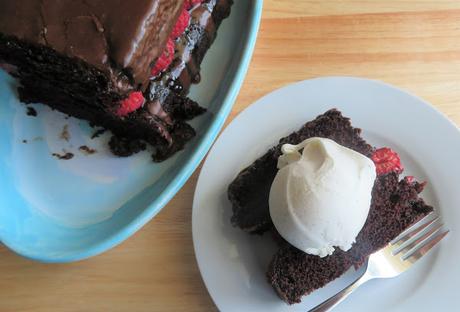 This content (written and photography) is the sole property of The English Kitchen. Any reposting or misuse is not permitted. If you are reading this elsewhere, please know that it is stolen content and you may report it to me at: mariealicejoan at aol dot com 
Follow me on Bloglovin