This Chocolate Pudding tastes just like the stuff from your childhood, except it's made much more guilt-free! This recipe is Paleo-friendly and vegan, and it's super easy to make. This post is sponsored by the Carton Council.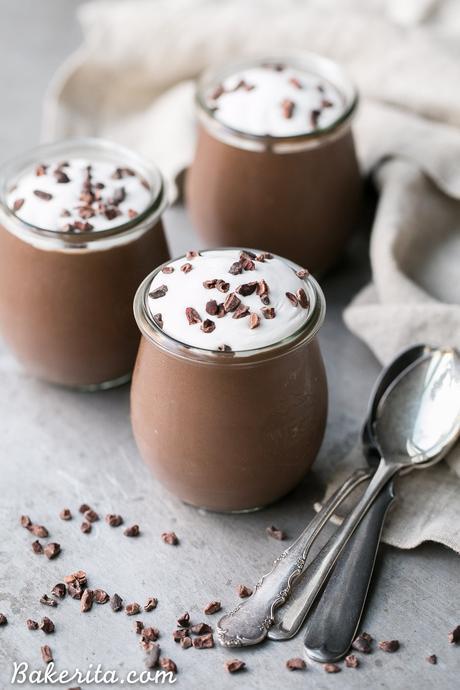 I can specifically remember the taste of my favorite childhood chocolate pudding – can't we all? It seems like chocolate pudding cups have always been a staple of childhood lunches.
The smooth, super creamy pudding, with that irresistible chocolate flavor…it was the highlight of lunch boxes everywhere. Somewhere over the years, though, I kind of forgot about chocolate pudding.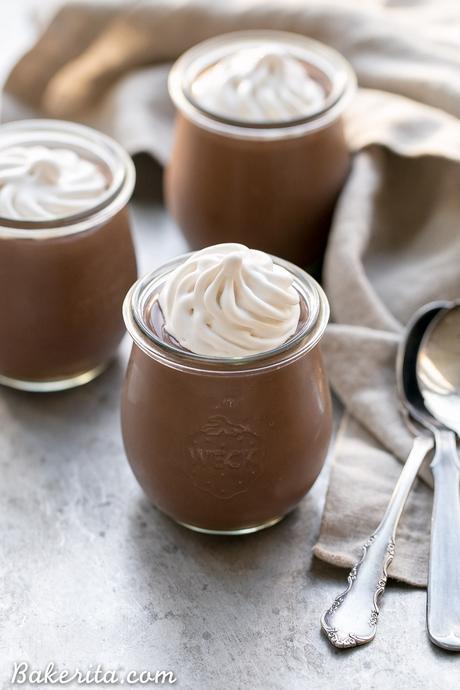 It wasn't something anyone in my family ever made from scratch, and as I got older, years went by without me tasting chocolate pudding. For whatever reason though, I got a major hankering for it one night recently and decided to make a batch to share with my family when they came for dinner.
I was craving that smooth, sweet, chocolatey goodness from my childhood, but I wanted it without all the preservatives and artificial sweeteners that come along with dairy-based food in a packaged cup.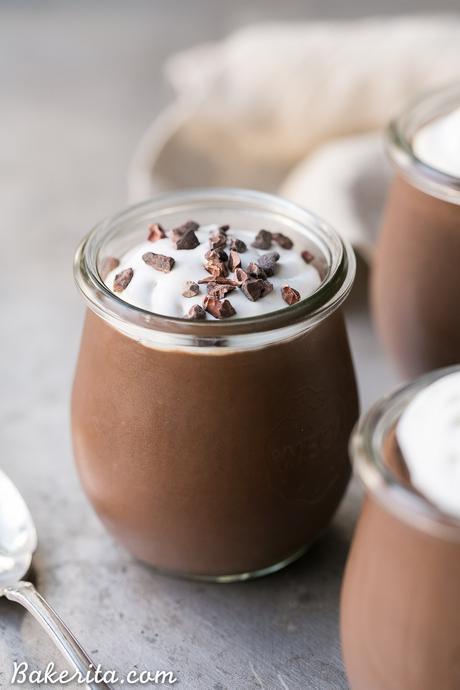 Luckily, chocolate pudding is super easy to whip up from scratch. Traditionally, it's full of dairy and eggs – milk and cream for that silky smooth base, and egg yolks to help thicken things up. However, a couple switches for some of my favorite wholesome ingredients and we've got a mean chocolate pudding made without ANY dairy, eggs, or refined sugars. WIN!
Cocoa powder provides the rich chocolatey flavor we're after in this chocolate pudding, and to make it extra deep + dark, I opted for Dutch-processed. If you can't find it, regular cocoa powder will make a superb chocolate pudding too, but the extra depth from the Dutch-processed adds a little extra something-something.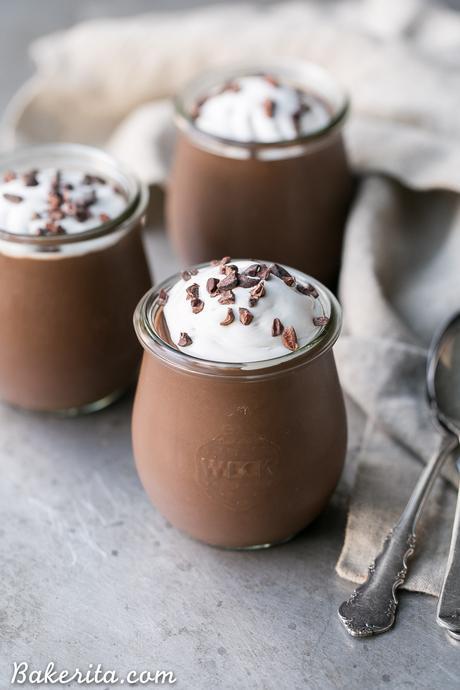 To replace the egg yolks and help thicken up the pudding, I turned to arrowroot powder. It performs similarly to cornstarch in its ability to thicken, and makes the chocolate pudding super creamy without making it gummy.
Instead of refined sugars, maple syrup is used to sweeten and a touch of vanilla adds to the flavor. And to replace all that dairy? Coconut milk! I used a combination of coconut milk beverage and coconut cream, which is more thick and creamy, to give a luxurious mouthfeel to the pudding. No coconut flavor comes through, though – just pure chocolatey goodness!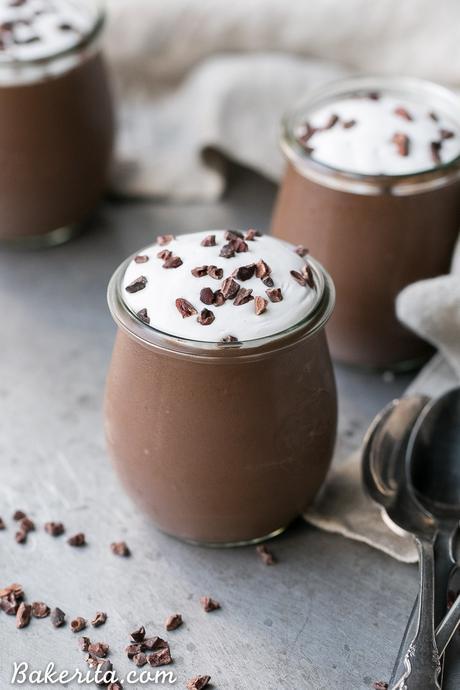 The chocolate pudding is made on the stove, and only takes about 20 minutes to whip up – not including cooling time, that is. When it's ready, I divided it into small cups and topped with a dollop of coconut whipped cream and a sprinkle of cacao nibs.
My homemade pudding cups are way healthier, just as delicious, and perfect to serve at an elegant dinner party, instead of a school lunch (though they aren't so bad at lunch either).
I also want to take a quick second to chat about recycling – my mom was always adamant about recycling, a habit she inherited from her mother. As such, I've always gone out of my way to recycle as well, and I'm always surprised at what people throw away, not even realizing it's recyclable.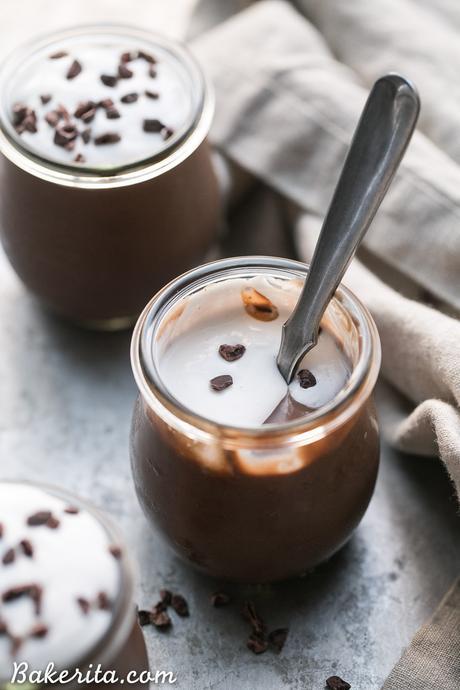 For example – all those cartons you're going to use for this recipe? Like the coconut milk carton and the smaller carton or can of coconut cream? Once they're empty, they should definitely be recycled – along with all the other cartons I know you have in your house.
My friends at the Carton Council want to encourage all of us to recycle all the cartons we use, and as a little incentive, they're hosting a Dinner Party Sweepstakes! You can enter the sweepstakes by signing up at www.recyclecartons.com/Win and can get additional entries by submitting your own carton recipe creations on Instagram using #CartonSweepstakes! I can't wait to see what carton recipes you come up with…or just share a pic of your chocolate pudding! :) Enjoy!
Facebook | Instagram | Twitter | Pinterest | Snapchat
Remember to #bakerita if you try the recipe!
Chocolate Pudding (Paleo + Vegan)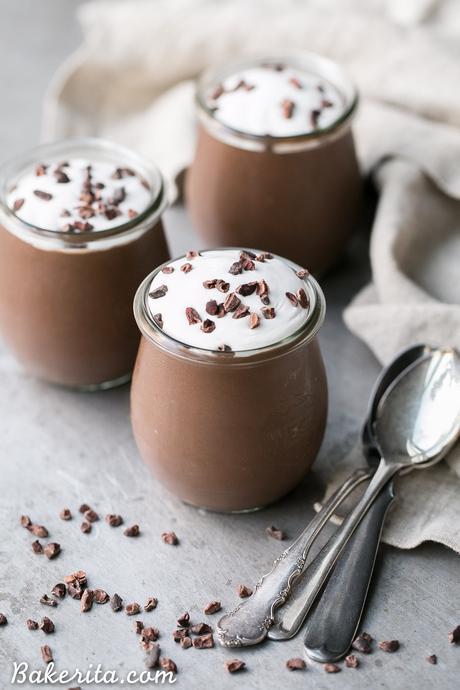 Save
Print
Cook time 20 mins Total time 20 mins   Author:
Rachel Conners
Serves:
4-6 servings
Ingredients
⅓ cup (32g) Dutch-processed cocoa powder, sifted
3 tablespoons (24g) arrowroot powder
¼ teaspoon salt
½ cup maple syrup
1½ cups Silk Coconutmilk
1 cup So Delicious Culinary Coconut Milk
2 teaspoons vanilla extract
So Delicious CocoWhip, for topping
Directions
In a medium saucepan, whisk together the cocoa powder, salt, and arrowroot powder.
In a separate bowl, whisk together the maple syrup, Silk Coconutmilk, and Culinary Coconut Milk. Slowly add the liquid ingredients to the dry ingredients, whisking constantly as you pour in the liquid to prevent clumps from forming.
Bring to a slow boil over medium heat, whisking constantly.
Turn the heat down to low and let the pudding simmer for about 5 minutes, whisking frequently, or until the pudding is slightly thickened - don't let it get too thick or the pudding will set up too firmly. It will thicken in the refrigerator. Remove from heat and whisk in the vanilla extract.
Transfer to a large bowl and refrigerate for at least 2 hours or until chilled through. Serve with So Delicious CocoWhip on top.
3.5.3226
About the Sweepstakes: NO PURCHASE NECESSARY. Open to legal residents of the 48 contiguous United States & DC residents, 18 and older.Void outside 48 contiguous U.S., D.C. and where prohibited.Ends 3/15/17.To enter and for Official Rules, including prize descriptions, visit www.recyclecartons.com/win.