I could try to write a long post here:
about how my sister-in-law introduced me to the wonder of a versatile cookie that is a sable last Christmas, a tender French sugar cookie that can be endlessly varied and which never wears out its welcome-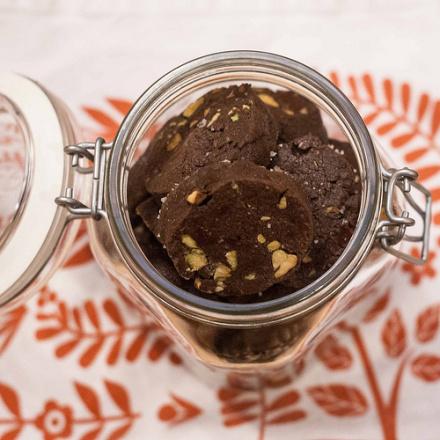 about how I finally managed to make beautifully circular roll cookies rather than flattened tires (wrap your cookie roll tightly in parchment, cut the inner tube of a paper towel roll, slide your misshapen cylinder inside and roll it to cookie perfection and chill on a flat surface in the freezer, turning a bit in the first half hour or so to make sure it sets)-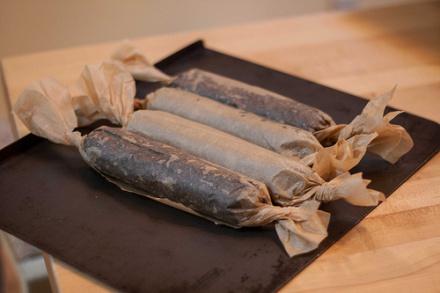 about how these cookies are beautiful and festive all on their own–studded with glistening chocolate and green pistachios–without need of mixing up seven shades of frosting nor a steady decorative hand-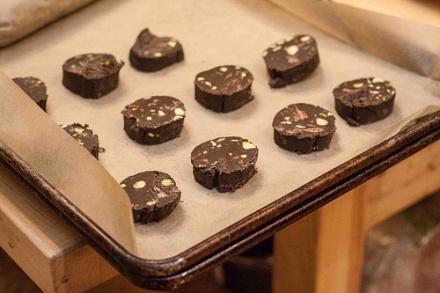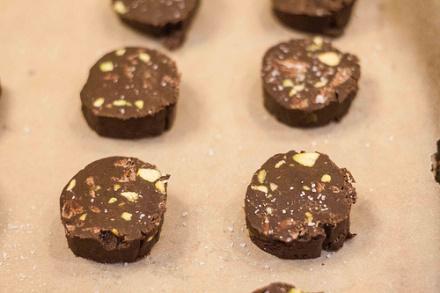 but we know I'm not so diligent about my posting these days.  I trust you prefer a slightly abbreviated post now to a mid-January missive, so it's time to get to the point and get you the recipe (from this month's Bon Appetit).    Absolutely a must make.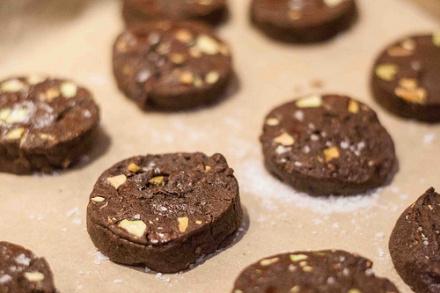 Chocolate Pistachio Sables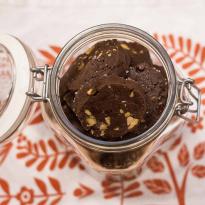 Print
Author:
Adapted from Bon Appetit
Recipe type:
cookies
Ingredients
2½ cups all-purpose flour
½ cup unsweetened cocoa powder
¾ teaspoon kosher salt
¼ teaspoon baking soda
1¼ cups (2½ sticks) unsalted butter, room temperature
1¼ cups (lightly packed) light brown sugar
1 teaspoon vanilla extract
1 large egg white
5 oz. bittersweet or semisweet chocolate, chopped
1 cup unsalted, shelled raw pistachios, coarsely chopped
Flaky sea salt (such as Maldon salt).
Instructions
Whisk flour, cocoa powder, kosher salt, and baking soda in a medium bowl.
Using an electric mixer on high speed, beat butter, brown sugar, and vanilla until light and fluffy, about 4 minutes. Reduce speed to low and gradually add dry ingredients; mix just to combine, then mix in the egg white. Fold in chocolate pieces and pistachios. (While you want these to be roughly chopped, don't worry if you have a few larger chunks. When you slice the cookies you'll cut through any too-large pieces of chocolate or nut).
Divide dough into 4 pieces. Roll each piece into an 8"-long log about 1½" in diameter, pushing dough together if it feels crumbly. Wrap tightly in parchment paper and chill until firm, at least 4 hours. (The colder your dough, the easier it will be to slice.) As I noted above, roll inside a paper towel tube to get a uniform shape, and chill immediately.
Place racks in lower and upper thirds of oven; preheat to 350°F. Working with 1 log of dough at a time and using a serrated knife and a sawing motion, cut logs into ¼"-thick rounds and transfer to 2 parchment-lined baking sheets, spacing ½" apart. Be extra careful to keep up the sawing motion near the base of the cookie log as it otherwise might tend to break off with an uneven rough finish.
Sprinkle cookies with sea salt and bake, rotating baking sheets halfway through, until set around edges and centers look dry, 10–12 minutes. Transfer to wire racks and let cool.
Notes Per Bon Appetit, the dough can be made 1 month ahead; freeze instead of chilling. Slice frozen logs into rounds just before baking. 3.2.2124