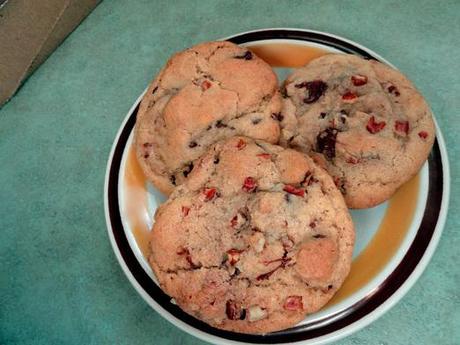 I'm an emotional person.


I cry often. I cried tonight.




After kayaking for four hours off the coast of Maine, my body felt numb. As I pulled my boat to shore (actually, I think Ryan did most of the pulling) my legs felt heavy except for a sharp pain in my right hip. My hip has been bothering me since last Wednesday (a pinched nerve, we think) and hours of rowing didn't alleviate the pain.




As I sat on a granite rock, watching the rest of my family row their boats into safe harbor, I thought about my oldest sister, Pam, and how we'll never have an opportunity to paddle together again.




When I was a little girl, my family visited

my other sister, Susanne, while she was in college in Austin. We rented two canoe boats to take out on Lake Travis, and I sat in the hull of my parent's boat as we skimmed across the lake's surface. After five or ten minutes, I pointed towards the boat that my big sisters commanded. My four year old self made it very apparent that I wanted to ride with them. And so, the two boats pulled next to each other, and my mom lifted me from their boat into Susanne and Pam's.


We sailed across the lake, three sisters, and we made it safely to shore.




Some of the best pictures we have of Pam's family were taken on the same coast of Maine, this time last year. Every morning, as I look out into the ocean, I think of Pam standing in the same spot, her straw cowboy hat shielding the sun from her freckled face.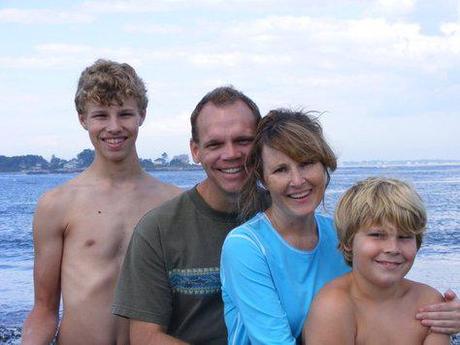 Tonight, while everyone else went out to eat lobster rolls, I stayed at home. I sat upstairs on a blue striped couch and cried for my sister, for all the years lost, for the pain that my family is trying so hard to escape from.


I don't know quite what I expected when I came to Maine. Perhaps I imagined that this trip would be full of carefree days and nights tinged with laughter.




But as I sit here, waves crashing against the rocks, I realize that this pain is too deep to fly away from. The ocean seems vast and powerful, but it isn't strong enough to wipe away the memories of my sister and my nephew.




I didn't know what recipe to share when I sat down to write tonight. But as I worked (or wrote) through these thoughts, I settled on one of my sisters' favorite snacks--chocolate chip cookies. These make think of Pam, for many reasons, but most importantly because they contain pecans. I remember the way Pam kept her nuts sealed in those plastic bags. She always tried to eat healthy, and nuts were always floating around her house.




These chocolate chip cookies are the BEST I've ever made or indulged in. I've worked on this recipe for quite some time, and I promise you, they'll knock any chocolate chip cookie recipe out of the water.




The key? An extra egg yolk, a rest in the refrigerator and the best chocolate chips and pecans money can buy.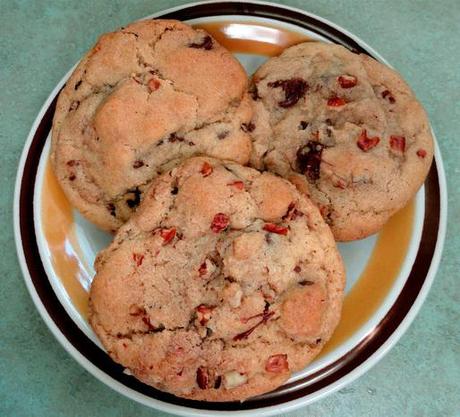 Chocolate Chip Pecan Cookies


2  cups plus 2 TBSP flour
1/2 tsp baking soda
1/2 tsp salt
1 cup packed brown sugar
1/2 cup granulated sugar
12 TBSP butter (1 1/2 sticks) melted and cooled
1 egg
1 egg yolk
2 tsp vanilla extract
1 1/2 cup chocolate chips (a mixture of milk chocolate and dark)


1/2 cup pecans (cinnamon spiced, if possible)


1.  In a medium bowl, whisk together your dry ingredients.  Set aside. 
2.  In a large bowl, cream together your melted and cooled butter with your brown sugar and granulated sugar for 2-3 minutes (longer if creaming by hand).  Add in your egg and yolk, cream until fully incorporated into batter.  Stir in your vanilla extract.
 
3.  Add your dry ingredients and mix together until combined.  Stir in your chocolate chips to taste, adding more if you prefer your cookies with extra chocolate. Stir in your pecans. Cover your bowl tightly with plastic wrap and allow to rest in the refrigerator for at least 3 hours, preferably overnight.


4. When ready to bake, remove batter from fridge and allow to sit at room temperature for 20-30 minutes. Preheat your oven to 325 degrees Fahrenheit.


5.  Scoop out batter using a 1/4 measuring cup.  Divide dough into two smaller balls and place on a greased or parchment-lined cookie sheet.  Bake in a preheated oven for 12-16 minutes. Remove when cookies are just about to turn a light golden brown (they will appear underdone, or soft).  Allow your cookies to cool on cookie sheet.  (I always take my cookies out of the oven well before they look "done" because this helps them stay soft). 
6.  Store any leftover cookies in a zip loc bag with a piece of bread to retain softness.   


Always,




Monet




Anecdotes and Apple Cores