0 Flares
0 Flares
×
New to little Indiana? Subscribe for free to my RSS feed. Thanks for stopping by!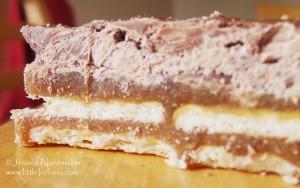 Copycat TWIX® Recipe
If I were forced to pick out what recipe really took my family by surprise, was gone in record time, and was super addicting, it would be this chocolate peanut butter bar recipe.
It's supposed to be a copycat recipe for popular candy bar TWIX® but the homemade version is just amazing!
Easy to assemble, Kid #1 and I worked together. He laid out the crackers, I poured the ingredients over the top. It was fun and the result is one of our new favorite dessert recipes. Seriously. From 2/2013 edition of Family Circle.
Copycat TWIX® Recipe
Print Homemade Candy Bars: Twix Copycat Recipe
Rating: 51
Prep Time: 20 minutes
Total Time: 1 hour, 20 minutes
Absolutely a new family favorite from Family Circle Magazine 2/2013 issue.
Make sure to cool AT LEAST one hour before digging in.
Ingredients
Pale Buttery Rectangular Crackers
1/2 Cup Milk
1 1/4 Cups Light Brown Sugar
1/4 Sugar
2 Cups Crushed Honey Graham Crackers
Topping
1 1/4 Cups Milk Chocolate Chips
1 Cup Peanut Butter Chips
Instructions
Line 13 x 9 pan with nonstick foil, leaving extra hanging over the end for easy removal.
Place roughly 25 pale buttery rectangular crackers along the bottom.
Next, in medium saucepan, melt 1/2 cup Butter over medium-high heat.
Bring to a simmer and stir in Graham Cracker Crumbs.
Simmer and stir often for five minutes.
Pour over placed Crackers and spread as evenly as you can. Work quickly!
Place another layer of Crackers in the pan.
Spread with the remaining warm mixture.
Top with another layer of Crackers.
Topping
Melt together the Chocolate and Peanut Butter Chips in a double boiler, stirring until smooth.
Spread over the top layer of crackers.
Refrigerate for at least one hour.
Later, lift out of pan and cut in 1" x 4" bars with a serrated knife.
Schema/Recipe SEO Data Markup by ZipList Recipe Plugin2.0
http://littleindiana.com/2013/03/chocolate-peanut-butter-bars-copycat-twix-recipe/
Photos are the Property of little Indiana. Do Not Use Without Permission.
Find pictures in Indiana on my Flickr photostream or on the new little Indiana Tumblr blog.
Just don't forget to tell 'em that  little Indiana sent you!
Don't miss a moment. Subscribe to little Indiana and receive instant updates to stay on top of everything "little."
little Indiana: Where to Stay, Play, and Eat in Small Towns in Indiana. Discovering Indiana's best small towns! Now get little Indiana on your Kindle.
Targeted. Relevant. Affordable! little Indiana advertising.