It was one of those days when the baking mood struck and I knew I wanted to make a variation of peanut butter blossoms. That's when I discovered this excellent Chocolate Orange Blossoms cookie recipe! It is such a delicious, delightful twist on the classic "blossom" cookie. We absolutely loved it! I think all of the chocolate orange lovers in your home will, too.
I would highly recommend that you use only fresh orange peel for this recipe. Yes, I know, the jar of orange peel from the store is so quick and easy but even if you don't have any special kitchen tools to zest an orange, you will still find it a relatively simple process, at least, once you get the hang of it! All you need to do is carefully peel off the orange peel as thin as possible (you don't want any of the white pith in it if you can help it). Then just mince it up! See how easy that was? The difference it makes is HUGE let me tell ya!
Our two boys thought this was so good. No one wanted to stay out of them. We had to exert a lot of self control with these soft cookies in the house! I'm thinking they will most likely go on our holiday cookie plate, too. I've already got the classic peanut butter blossoms and our favorite cherry blossoms cookie recipe so I know that these Chocolate Orange Blossoms will really round it out nicely! Trust me, even non-cherry lovers can't get enough of those. Year round, I will find a way to enjoy them! To keep them fresh, store in a covered container. This recipe came from the (Affiliate Link) Pillsbury: Best Cookies Cookbook: Favorite Recipes from America's Most-Trusted Kitchens
.
Chocolate Orange Blossom Cookies Recipe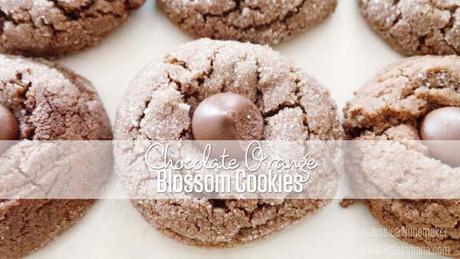 Ingredients
1/2 Cup Sugar
1.2 Cup Brown Sugar, Packed
1/4 Cup Unsweetened Cocoa
1/2 Cup Shortening
1/2 Cup Butter or Margarine, Softened
1 Tablespoon Orange Peel, Grated
1 teaspoon Vanila extract
1 Egg
1 3/4 Cups Flour
1 teaspoon Baking Soda
1/2 teaspoon Salt
Sugar
48 Milk Chocolate Kisses, Unwrapped
Instructions
In a large bowl, cream together 1/2 Cup Sugar, Brown Sugar, Cocoa, Shortening, and Butter.
Add Orange Peel, Vanilla Extract, and the Egg.
Add Flour, Baking Soda, and Salt.
Cover and refrigerate one hour for easier handling (I skipped this part because I use a small 1 1/2 teaspoon Cookie Scoop instead).
375* oven.
Shape dough into 1" balls (again, I use the cookie scoop and plop it down). Roll in sugar. Place 2" apart on ungreased cookie sheets or parchment paper.
Bake 10-12 minutes or until set.
Immediately top each baked cookie with one "kiss." Press down so the cookie cracks a bit around the edges.
Remove from cookie sheets. Eat. Repeat.
http://littleindiana.com/2015/02/chocolate-orange-cookies/
Small Towns: Destinations, not Drive-Thrus! I'm Jessica Nunemaker and THIS is little Indiana!