These intense chocolate cupcakes are very simple, but just tasty. They were included in my daughter's party snack list, because she loves chocolate:) I have chosen this light low fat marshmallow frosting for the reason that the main cake was quite nutritious already:) And by the way, kids love marshmallow!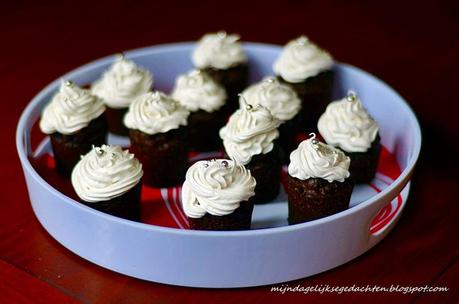 Cupcakes
125g butter
125g sugar
125g flour
5g baking powder
2 tb.s. milk
2 eggs
4tb.s. cocoa powder
vanilla
Beat butter with sugar until light. Add eggs and milk. Sprinkle with flour and baking powder and cocoa, mix until well combined. Add vanilla.
Preheat oven to 170C. Bake cupcakes (12) during 20-25 minutes. Let them cool completely.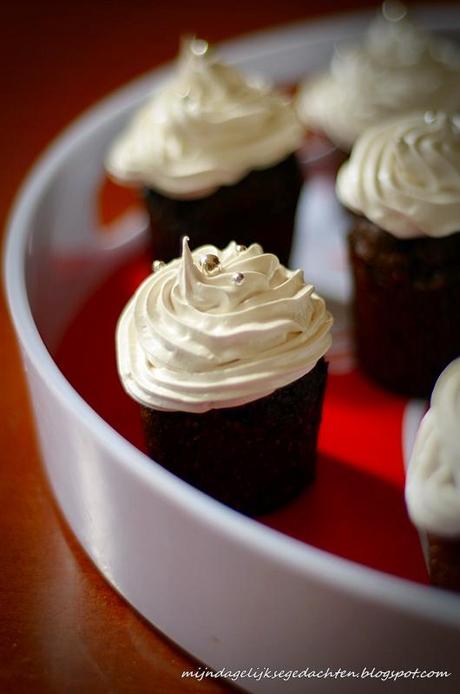 Marshmallow Cream:


150ml sugar




100ml light corn syrup (or runny honey without strong flavour)




50ml water




0,5 t.s. salt




1-2 drops lemon juice




2 egg whites




vanilla




Boil water, sugar, salt and honey during 10 minutes on medium-low heat.




Start beating egg whites with lemon juice until soft peaks. When syrup is ready add litle by little into egg whites and beat during 8 minutes until very stiff and fluffy.


Pipe this cream onto cupcakes and decorate if you like. Very easy:)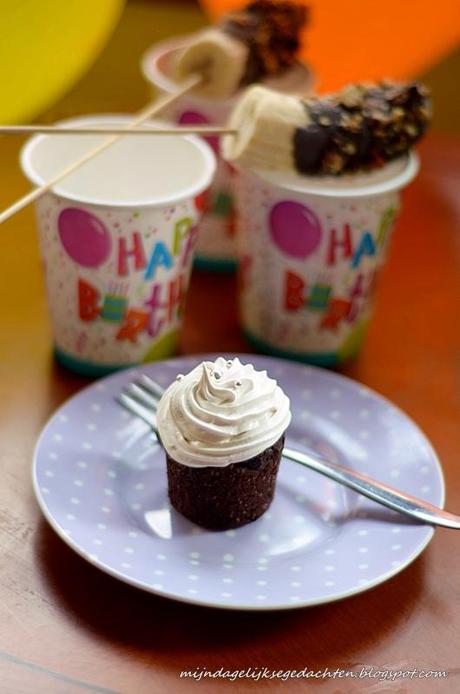 Эти шоколадные капкейки просто вкусные, хотя рецепт совсем простой. Они были включены в меню на День Рождения моей дочки, просто потому, что она любит шоколад:) А крем я выбрала более легкий, не жирный, т.к. главный торт у нас был довольно калорийный:) Ну и к тому же дети любят маршмеллоу!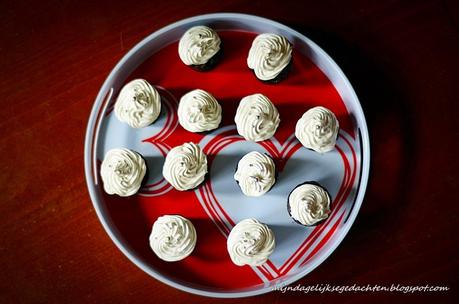 Тесто
125г слив. масла
125г сахара
125г муки
5г разрыхлителя
2ст.л. молока
2 яйца
4ст.л. какао порошка
ванилин
Взбейте масло с сахаром до посветления, добавьте яйца и молоко. Всыпьте муку с разрыхлителем и какао. Разложите тесто по 12 формочкам и выпекайте при 170С 20-25 минут. Остудите.
Крем Маршмеллоу


150 мл сахара




100 мл светлого кукурузного сиропа (или жидкий мед без сильного аромата)




50 мл воды




0,5 ч.л. соли




1-2 капли лимонного сока




2 яичных белка




ваниль




Вскипятить воду, сахар, соль и мед в течени

и

 10 минут на среднем огне.




Начинайте взбивать яичные белки с лимонным соком, покане станут пениться. Когда сироп готов, добавляйте его понемногу в белки и взбивайте в течении 8 минут, пока масса не станет густой и упругой. Крем готов.




Переложите крем в кондитерский мешок и нанесите на пирожные. Украсьте, если хотите. Очень просто:)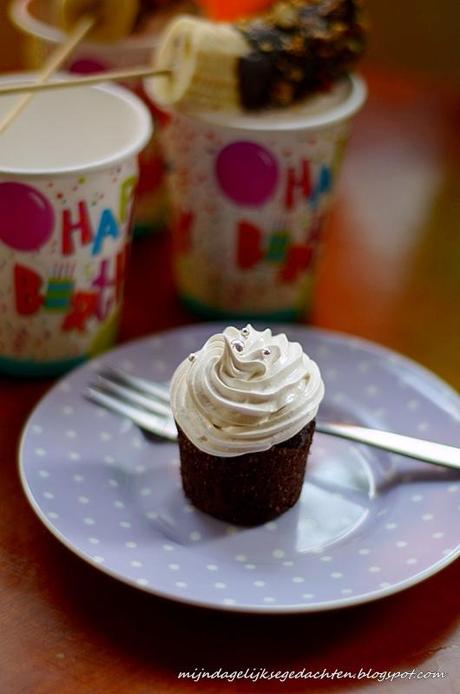 #8282598996