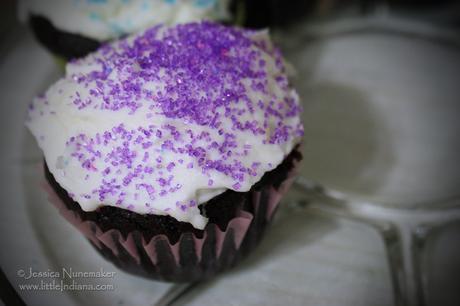 Best Cake Recipe: Chocolate Cupcakes
Though not as colorful as my Rainbow Cake Recipe, this Chocolate Cupcakes Recipe is a hit with grown-ups and kids–these are so moist and delicious!
I've been making this same recipe since I was 19 years old. Other cupcake recipes have come and gone, but none have compared to this one.
I always pair it with a Vanilla Buttercream Frosting. Yum!
Chocolate Cupcakes Recipe
Print Chocolate Cupcakes Recipe
Rating: 51
Prep Time: 10 minutes
Cook Time: 20 minutes
Total Time: 30 minutes
Yield: 1 1/2 Cupcakes (I usually get around a dozen plus one or two)
Serving Size: 1 Cupcake
These delicious cupcakes are from The Complete Guide to Country Cooking, Reiman Publications, 1998.
I know a couple of Indiana town bookstores where you could probably look for a copy! It's one of my go-to cookbooks.
Ingredients
1 Cup Boiling Water
1 Cup Mayonnaise (real mayo, not a sub)
1 teaspoon Vanilla Extract
2 Cups Flour
1 Cup Sugar
1/2 Cup Baking Cocoa
2 teaspoons Baking Soda
Frosting
Instructions
In a mixing bowl, combine Water, Mayonnaise, and Vanilla Extract.
In a separate bowl, combine Flour, Sugar, Cocoa, and Baking Soda and add to the mix.
Beat until well mixed.
Fill greased or paper-lined cupcake cups 2/3 full.
Bake 350* for 20-25 minutes or until toothpick near the center comes out clean.
Cool for 10 minutes in pan, then remove to wire racks.
Frost when cool with your favorite frosting.
Store in the refrigerator.
Notes
These should be stored in the refrigerator.
Schema/Recipe SEO Data Markup by ZipList Recipe Plugin2.0http://littleindiana.com/2012/05/chocolate-cupcakes-recipe/Photos are the Property of little Indiana. Do Not Use Without Permission.
Don't miss a moment. Subscribe to little Indiana and receive instant updates to stay on top of everything "little."
little Indiana: Where to Stay, Play, and Eat in Small Towns in Indiana. Discovering Indiana's best small towns! Now get little Indiana on your Kindle.
Targeted. Relevant. Affordable! little Indiana advertising.