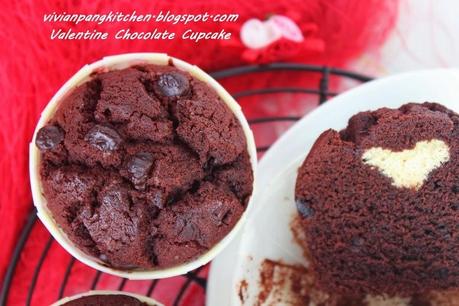 After a week of holiday at my in-law house, I'm happy to be back and busy in my kitchen. I have baked these chocolate cupcakes with an old recipe, Cocoa Condensed Milk Pound Cake. This time I bake into individual cupcake with a 'Heart' within. If you are looking something to bake for Valentine this is good to go.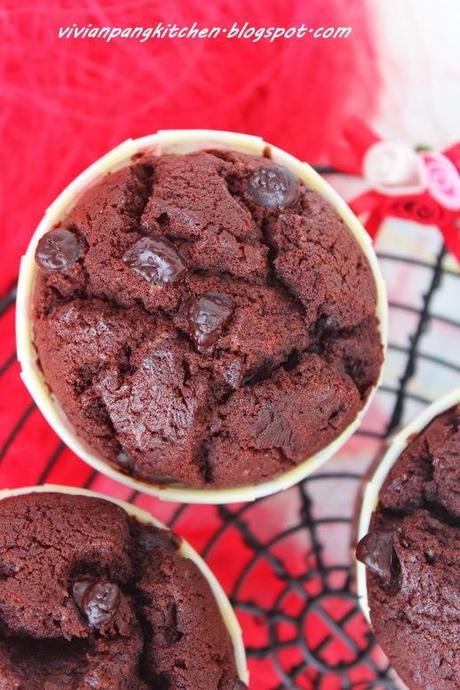 Chocolate Cupcake - Valentine Surprise
Yield 8 pieces cupcakes
Ingredients:
(A)
125g butter
40g sugar

(B)
120g condensed milk
1 teaspoon vanilla extract
120g self-rising flour
50g cocoa powder
(C)
2 eggs
(D)
8 pieces heart shapes cut out from chiffon/sponge/butter cake
Some chocolate chips
Method:

1. With the electric mixer beat butter and sugar till light and fluffy.
2. Add in vanilla extract and condensed milk. Beat till well combined.
3. Add in the sifted flour and cocoa powder. Beat at low speed till incorporate.
4. Put in eggs, one at a time and beat till well combined.
5. Dollop a batter into cupcake case. Take each heart and stand it vertically (point to the base) into the dollop of batter. Then spoon a dollop of batter on either side of the heart. With the same technique continue for all the cupcake cases. Smooth the surface and sprinkle with some chocolate chips.

6. Bake in preheated oven at 180C for about 25 minutes or till cooked.
7. Remove from oven and place on wire rack to cool.
Tip:When decorating these, make a mark on cupcake case that which way round these should be cut. If you cut in the wrong way all you get is a coloured shape and not a beautiful heart!
######################################################
For those who resident in Kuching area interested to place order, please inbox me at 
[email protected]