This Chocolate Covered Strawberry recipe is so easy, you will be churning out a classic Valentine's Day dessert to follow-up that romantic dinner with ease. First things first: wash those berries! Ideally, Valentine's Day would be during the summer, like around July, so we could use strawberries from our farmer's market. But, alas. Try to find the prettiest, ripest berries you can find for this one.
Make sure they are clean, then let them air dry so the chocolate won't slide right off. That's about the hardest part of this whole process. Really, the rest of it is just dipping them in the chocolate mixture and then setting them down and leaving them alone until the chocolate has set. See? This is actually really easy. It helps to have your wax paper set out and ready to go before you begin. Plan to chill the completed chocolate covered strawberries for thirty minutes or so until the chocolate has set and no longer has that "melty" look to it.
I think this makes a great change of pace from the typical heart day desserts or presents. After all, we aren't all fortunate enough to live close to local chocolate shops so this is the next best thing! For an extra special touch, and if you have a steady hand, you could melt white chocolate, fill a pastry bag with it, or just drizzle it over the chocolate-coated berries. It would add a nice contrasting color and an extra bit of "wow!" Store the dipped berries for up to a day in a covered container to prevent them from drying out. Transfer them to your nicest serving platter and hear the compliments roll in!
Chocolate Covered Strawberry Recipe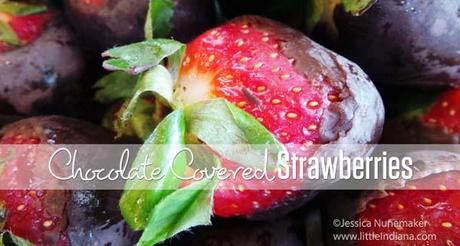 Ingredients
18 Medium-sized Fresh Strawberries, Washed and Patted Dry
1 1/3 Cups Semi-Sweet Chocolate Chips
1 1/2 to 2 teaspoons Shortening
Instructions
Melt Chocolate and Shortening in a double boiler. I use a large bowl on top of a pot of simmering water.
Dip the berry into the chocolate almost up to the very top.
Set on wax paper.
Chill for thirty minutes or until berries are "set."
They may be stored for one day in a covered container in the refrigerator.
http://littleindiana.com/2015/02/chocolate-covered-strawberries/
Small Towns: Destinations, not Drive-Thrus! I'm Jessica Nunemaker and THIS is little Indiana!