If you ask Moms about a simple thing that gives them a lot of pleasure, many of them are bound to say one thing - chocolate! There's something so deliciously inviting about soft, silky chocolate melting in your mouth and reaching all your senses. And there are so many ways to eat chocolate too - brownies, fudge, ice cream, milkshake - even muesli or trail mix! Since it's summer and we're all sweltering in the heat, we've decided to go with a sinful chocolate cookie smoothie, specially for Moms! Yes, we're all for healthy eating, but sometimes, every one needs a little treat, and this one is perfect for a hot day!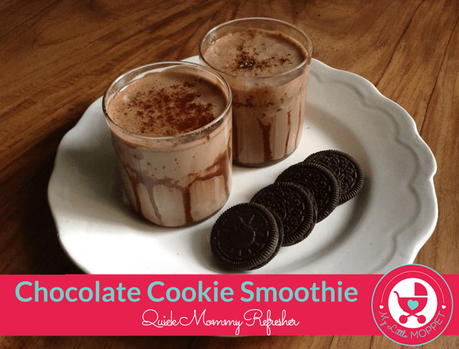 Ingredients:
120 grams cream-less chocolate cookies (I used Hide & seek, about 20 pieces)
1.5 tbsp drinking chocolate powder (You can substitute this with a few squares of a chocolate bar or 2 extra cookies)
8-12 cubes of ice (adjust the number depending upon how cold you want your smoothie)
2 cups cold milk
Sugar (optional, to taste)
few squares of chocolate to garnish (optional)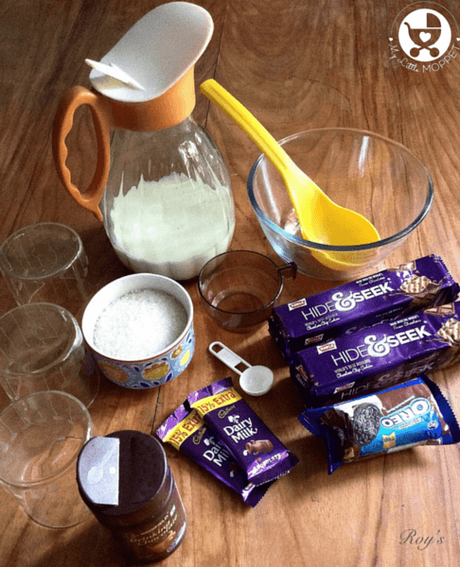 Method :
1. In a blender, blend to a fine paste the chocolate cookies, ice cubes, drinking chocolate powder and sugar (if using).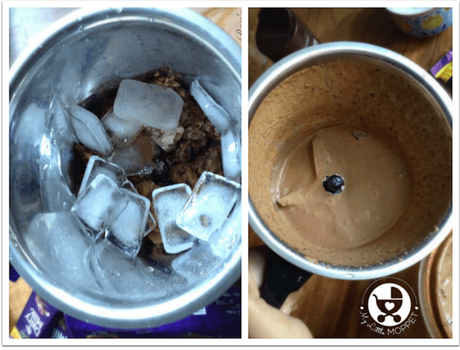 2. Add the cold milk and blend again. Adding the milk at this stage prevents it from spilling out of the blender jar.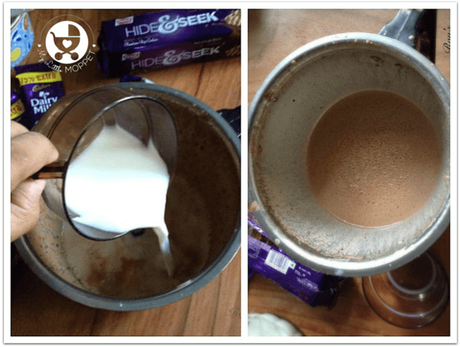 3. For the garnish: In a microwave-safe bowl, put in about 15 grams of chocolate (one small Dairy Milk) & one teaspoon of milk. Microwave till the chocolate has melted. Alternately, you can melt the chocolate on the stove-top using a double boiler method. (look for details below the recipe)
4. Use a spoon to carefully leave a trail of the melted chocolate inside the serving glasses. Pour the smoothie slowly into the glasses & top with some chocolate powder or chocolate shavings on top. Serve chilled with some cookies or any snack that you like.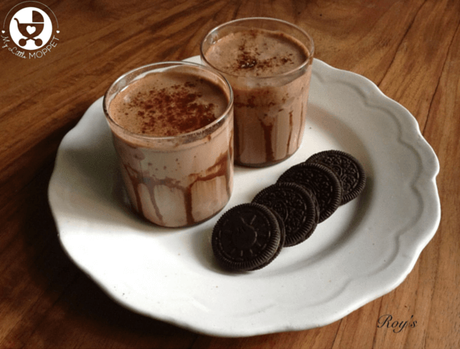 Note : For a double boiler, pour water into a high rim pan or narrow mouthed handi and keep the heat safe bowl of chocolate & milk on top of it. Make sure the bottom of the bowl gets the steam from below but doesn't touch the hot water. Touching the water below will make the chocolate grainy. Stir well.
We know that when you want to relax, the last thing you want to do is spend ages in the kitchen, which is why this recipe is so easy! The ingredients are available at your neighborhood grocery store, and all you'll have to wash is a blender and glasses. If you're planning a girl's day out or kitty party with other Mommies this summer, this can be your go-to drink!
Author
Chocolate Cookie Smoothie