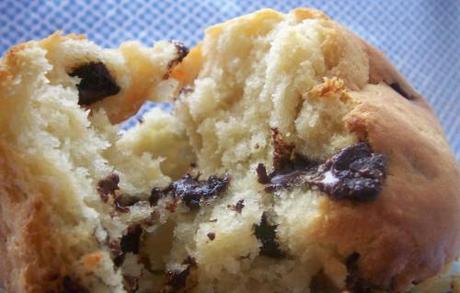 Here's a healthy little alternative to regular chocolate chip muffins.
They're more bread like in texture than a soft muffin, but they're damn filling and taste great.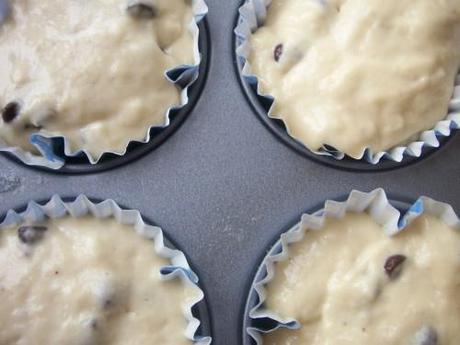 Waiting to be cooked
These pics are from a batch I made in London. Oh yes, I admit it, sometimes I don't blog in real time.
*cue gasps*
I have a couple of leftover recipes from London days, where I first started this blog. And even though I have a batch of rice crispy bars in my kitchen at the moment I could have blogged about (they're totally yummy and healthy, they'll be here soon), I wanted to blog about these.
I miss my kitchen in London. It was about half the size of my current one and could only fit one person in it, but in I felt a bit like this: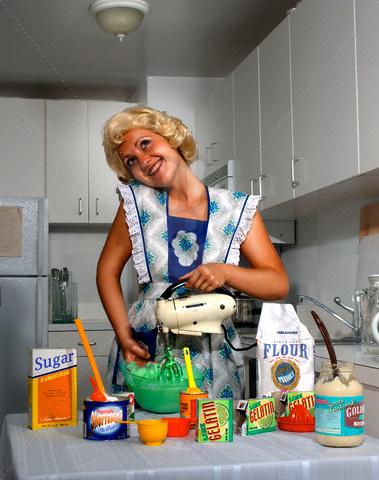 Except my neck isn't broken. Seriously, what's going on with her neck? What was I saying? Oh yea, she looks happy, that's the point. And the light in my kitchen in London allowed for easy photos.
And this is how I feel about my current kitchen: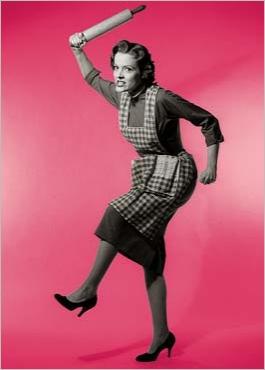 Yea. With the rolling pin and everything.
In fact, I've even gotten to the point where I think my kitchen and I are going to have to break up.  I'm not going to stop baking! That's crazy talk. But I've been looking at different apartments this weekend. Drastic times call for drastic measures.
I'm not alone here right? Do you ever not feel a place, a room or a kitchen? Can I really blame plaster and appliances? I think I can. Well, I mean, it's certainly not my fault.
And I'm nothing if not a woman of action. Don't like something…gonna fix it.
In the meantime, enjoy a muffin recipe which is low in fat, but high in taste. Just like a good 1950's housewife should be.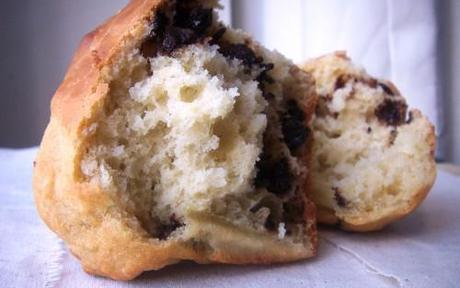 Ingredients
2 cups plain flour
1 teaspoon baking powder
1/2 teaspoon baking soda
1 teaspoon salt
2 eggs
1 cup plain fat-free or vanilla yogurt (vanilla will make it sweeter, I use plain)
2 tablespoons olive oil
1/2 cup skim milk
1/3 cup light brown sugar or maple syrup (maple syrup gives them something extra special)
2 teaspoons vanilla
3/4 cup of dark chocolate chips
Method
Preheat oven to 180 C. Grease a 12 cup muffin tin or line with patty cases and spray with cooking oil.
In a large bowl combine flour, baking powder, baking soda and salt. In a separate bowl whisk together eggs, yogurt, oil, milk, sugar (or maple syrup), and vanilla.
Add the wet ingredients to the dry and stir until just combined. Fold in the chocolate chips.
Spoon into the prepared muffin tin and bake for 20-25 minutes or until a skewer comes out clean and they bounce back to touch. Makes 12.
Healthy? 175 calories a muffin.
Storage: They freeze well, otherwise best eaten day you bake them.