&version;
When Lena from Frozen wings suggested baking Chocolate Chip Cookies from the book, The Back in the Day Bakery Cookbook for our bake along with Joyce from Kitchen Flavours, the CCC loving me was like "YAY!"
On this baking day, I was all charged up with energy. After less than an hour of stomping, dancing, mixing and baking in my kitchen, I have baked 30 of these yummy cookies...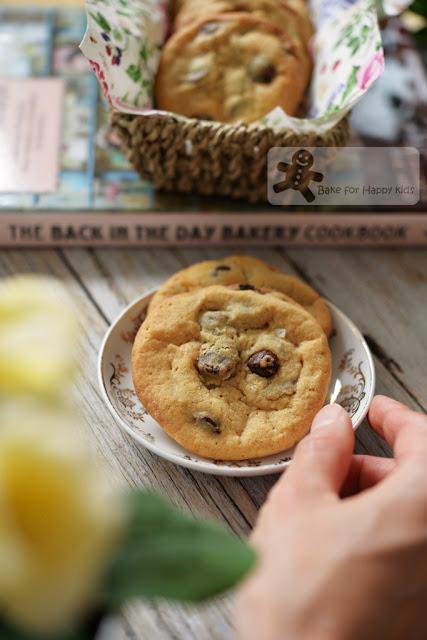 Chocolate Chip Cookies by Back in the Day Bakery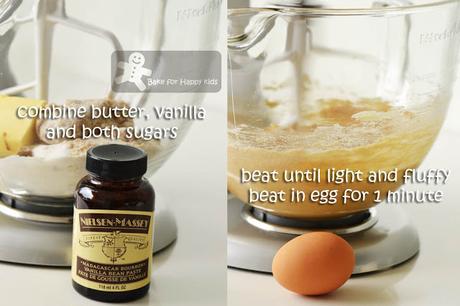 Anything differences?
Like all chocolate chip cookies, these BITDB cookies are also extremely easy to bake.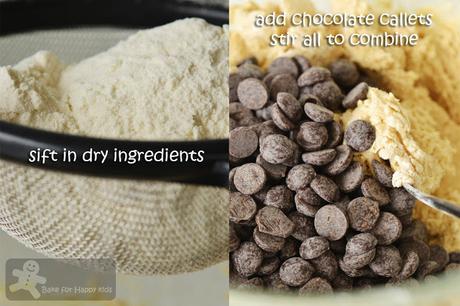 To mix, I can use either the electric mixer in low speed or just a spoon to incorporate these ingredients.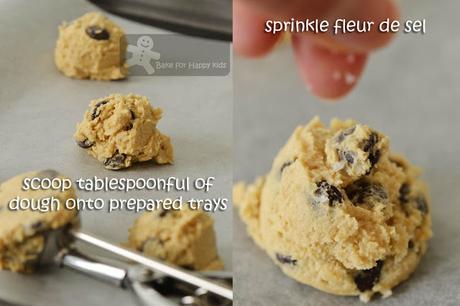 A reader said at here at the comment section that do not salt the cookies before baking!!! I see her concern of consuming excess salt in our daily diets but still like to give this fleur de sel sprinkling idea a shot...
Hmmm... Will talk more about this later :)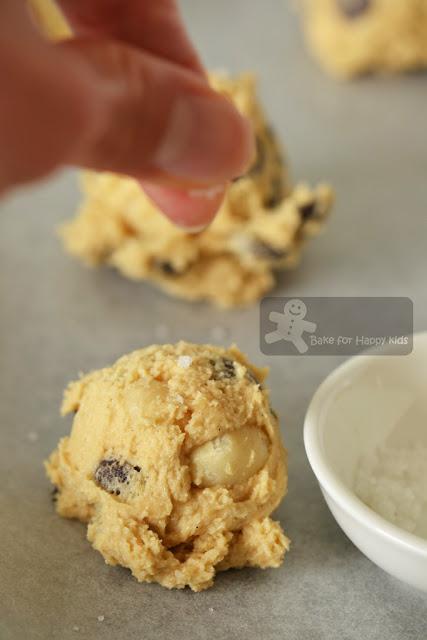 I have also added macadamia nuts into 2/3 of our cookies because I know that my husband and son would love this addition and they did!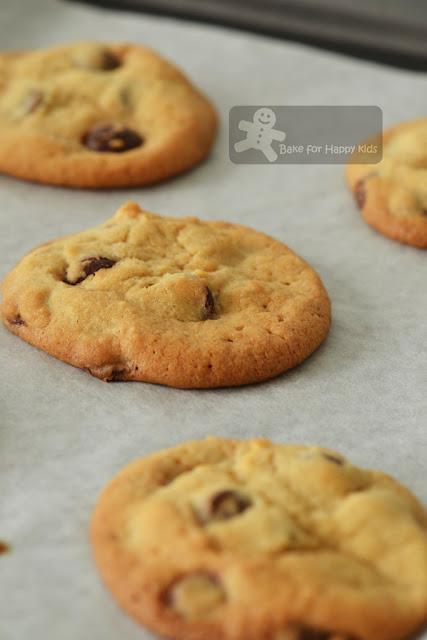 ... after baking :)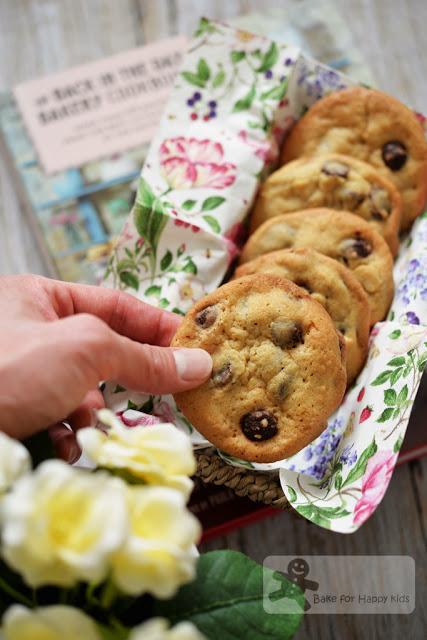 Can't wait to try these cookies!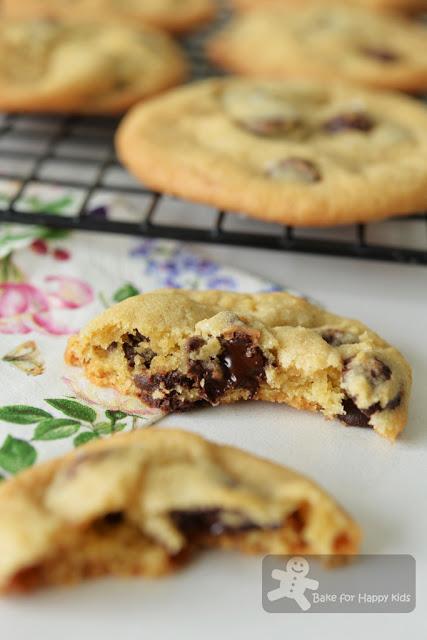 These CCC are crispy AND soft!
Whether these cookies are freshly baked or completely cooled, they are crispy on their edges and soft at their inside. So delicious!
"YAY!" My son cheered loudly when he saw these cookies... We are like mother like son!!! Well, you can imagine how much we like our CCC!
The book is right that these cookies possess the right balance of crispness and tenderness. Drum-rolls please? Oh definitely! No wonder this recipe at here said that these BITDB CCC are also known as the cookie that most likely to cause a riot if run out! Maybe the BITDB customers are very hungry! LOL!
Oh ya! Remember I said that we shouldn't be adding too much salt in our food but I still sprinkle fleur de sel on our cookies! Good thing that I did that because the addition of salt does give these CCC a 4th dimensional taste!!!
Four dimensional taste meaning that these cookies are perfectly sweet (yes that the sweetness of these cookies are just right), buttery, chocolaty plus surprisingly salty!
After eating and compare the cookies with and without a sprinkle of fleur de sel, I can't deny that this small of saltiness does enhances the taste of chocolate and sweetness and does gives the cookies an extra pleasing surprise.
Before proceeding on to this recipe, Yen, Diana and I would like take this opportunity to thank everyone who participated and linked with us at Cook and Celebrate, Chinese New Year 2016. We have a total of 223 posts linking with us and every food that you cooked and baked for your celebration is so yummy!!! Hope that you had a wonderful Chinese New Year!
Here's the recipe that is mostly from the book, The Back in the Day Bakery Cookbook by Cheryl Day and Griffith Day or here, which is half of the original amount
Make 30 medium size cookies
1 1/4 cups (185g) unbleached all-purpose flour
3/4 tsp baking powder (original was baking soda)
3/4 tsp fine salt
125g unsalted butter, soften at room temperature
1/2 tsp vanilla paste or extract
1/2 cup (100g) caster sugar
1/2 cup packed (100g) light brown sugar
1 large eggs, at room temperature
200g whole or half macadamia nuts, optional (I added 150g to 2/3 of the dough)
1 cup dark chocolate chips or chunks (I used Callebaut dark chocolate callets with 70% cocoa)
fleur de sel for sprinkling
Position two baking racks in the lower middle of the oven. Preheat oven to 350°F or 180°C. Line two baking tray with baking paper.
Combine flour, baking powder and fine salt; set aside.
In the bowl of a stand mixer fitted with the paddle attachment (or in a large mixing bowl, using a handheld mixer), cream together butter, vanilla, and both sugars on medium speed until light and fluffy, 3 to 5 mins.
Add the egg and mix for no more than 1 min; the eggs will not be fully incorporated. Turn the speed down to low or use a spoon to mix and sift in the dry ingredients in thirds, mixing until just combined, 1 to 2 mins. With the mixer running in low speed or mix with a spoon, sprinkle in the chocolate chips or chunks, mix until just combined, about 1 min.
Use an ice cream scoop or a tablespoon to scoop about 2 tablespoonful of dough and place on the prepared baking trays, leaving 2 inches (5 cm) between the divided dough to allow room for spreading. Lightly tap each cookie with the palm of your hand (optional and I didn't do that) and sprinkle the cookies with fleur de sel.
Bake the cookies, both baking trays at a time, for 12-14 mins in total, swapping the tray position and also rotating the tray in every 3 mins to sure even doneness. The cookies should be golden brown around the edges but still light in the centers. Cool the cookies slightly on the tray for about 5-10 mins, then transfer the cookies onto a wire rack to cool completely. 
Serve and enjoy or store the cookies in an airtight container for up to 3 days at room temperature.
Happy Baking
Please support me and like me at Facebook...
Here are our friends that have joined us for this bake-along. Please visit their blogs for more of their Back in the Day Bakery's CCC baking.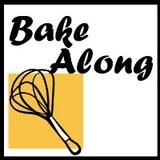 Please submit your details if you wish to link your post with this bake-along. This linking tool is open from 25 Feb to 5 Mar 2016.
An InLinkz Link-up
For our next bake-along, we are baking or roasting chicken (can be part or whole) which is to be posted on 22 March 2016. Please bake-along with us! All you need to do is to bake this recipe and link with us for the next 10 days.
Before linking with us, please make sure that: (1) Your post must be a current post. (2) Please mention Bake-Along in your post and link back to any of our hosts' Bake-Along post, (Joyce, Lena or Zoe). (3) Appreciate if you can display the Bake-Along badge in your post when linking up with us. Cheers!