0 Flares
0 Flares
×
New to little Indiana? Subscribe for free to my RSS feed. Thanks for stopping by!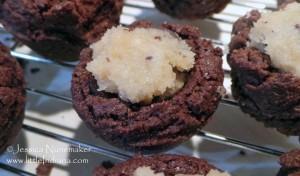 Chocolate Chip Cookie Dough Cookie Cups Recipe
Do I have an obsession with chocolate chip cookie recipes? It's an interesting question and I think we all know the answer to that one!
So–I should probably come out with it and share this fun twist on a chocolate chip cookie: chocolate chip cookie dough cookie cups.
You've probably seen these at big box mall cookie shops. Trust me, you won't want anything to do with those things after you take a bite out of this homemade goodness! Who can resist cookie dough? Certainly not me! From the Sweet as Sugar Cookies Blog.
Chocolate Chip Cookie Dough Cookie Cups
Print Chocolate Chip Cookie Dough Cookie Cups
Rating: 51
Prep Time: 20 minutes
Cook Time: 10 minutes
Total Time: 50 minutes
Yield: 36 Cookie Cups
From Sweet as Sugar Cookies Blog.
It's a little tricky getting the timing right--but once you've got it down, these are an impressive little snack!
Ingredients
Chocolate Cookie Cups
12 Tablespoons Butter, Softened
1/2 Cup Sugar
1/4 Cup and 2 Tablespoon Brown Sugar
2 Tablespoons Powdered Sugar
1 Egg
1/2 teaspoon Vanilla Extract
2 Tablespoons Milk
2/3 Cup Cocoa Powder
1 1/2 Cups Flour
1/2 teaspoon Baking Powder
1/4 teaspoon Baking Soda
Chocolate Chip Cookie Dough Filling (from Shugary Sweets)
1 ounce Cream Cheese, Softened
2 Tablespoons Butter, Softened
3 Tablespoons Brown Sugar
1/4 teasoon Vanilla Extract
1/4 Cup Flour
Pinch Salt
1/4 Cup Mini Semisweet Chocolate Chips
Instructions
Chocolate Cookie Cups
Cream Butter and Sugar.
Add Egg, Vanilla, and Milk.
Add Cocoa Powder.
Add Flour, Baking Powdered, and Baking Soda. Do not overmix.
350* oven.
Grease and flour mini muffin tins.
Fill muffin cups 3/4 full with chocolate cookie cup dough.
Bake for 10 minutes or until a toothpick inserted near the center comes out clean. Do not overbake!
While warm, make a well in the center of each cookie cup with a teaspoon-sized measuring spoon. Use your fingers to slightly enlarge and deepen the hole.
Let cool.
Cookie Dough Filling
Beat Cream Cheese and Butter until smooth.
Add Sugar and Vanilla Extract.
Add Flour and Salt.
Fold in Chocolate Chips.
Assembly
Scoop up Chocolate Chip Cookie Dough Filling and fill each Cookie Cup.
Drizzle with melted chocolate if desired.
Schema/Recipe SEO Data Markup by ZipList Recipe Plugin2.0
http://littleindiana.com/2013/02/chocolate-chip-cookie-cups-recipe/
Photos are the Property of little Indiana. Do Not Use Without Permission.
Find pictures in Indiana on my Flickr photostream or on the new little Indiana Tumblr blog.
Just don't forget to tell 'em that  little Indiana sent you!
Don't miss a moment. Subscribe to little Indiana and receive instant updates to stay on top of everything "little."
little Indiana: Where to Stay, Play, and Eat in Small Towns in Indiana. Discovering Indiana's best small towns! Now get little Indiana on your Kindle.
Targeted. Relevant. Affordable! little Indiana advertising.