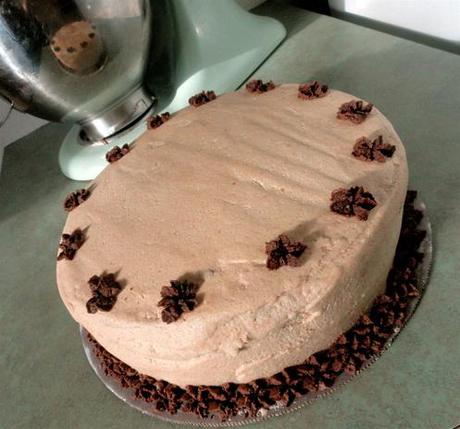 Going to my best friend's house--6 years old--and we'll watch movies and try our hardest to stay up all night. But first swimming. Her backyard pool  a needed antidote to the hot weeks of August. Our legs pump us across the cool water. We pull ourselves out of the pool to run and jump off the diving board. Hours pass as the games continue, as we imagine ourselves as mermaids exploring our castle.
We start school soon so our fingers are crossed we'll both have Mrs. Richardson.  As our hair dries, we pilfer through a box of bows Sarah keeps under her bathroom sink. She chooses pink with polka dots, I choose blue with thin white stripes. We affix the bows to our still dripping heads and take a few squirts of the expensive body lotion Mrs. Waters keeps in her bathroom.


We're asked to sit still at dinner and bowls of cool food like salads and jello are passed from one Water family member to the next. I take as much as I want because my parents aren't here to prod me to eat more of this, less of that. The wobbly jello slithers down my throat, and my lips turn bright red from the sugary dye.




But then later that evening, after we've watched Beauty and the Beast, Sarah brings me downstairs. We pull the freezer drawer open and my eyes grow wide--carton after carton of Bluebell icecream. The gold containers make my once calm stomach churn in excitement. The

flavors far more tantalizing than the bland vanilla my family purchases.


Mint Chocolate Chip, Peaches and Cream, Rocky Road...and Chocolate Chip Cookie dough.




We both know which we want. Sarah doesn't even ask. She pulls out the half-gallon of Chocolate Chip Cookie Dough, and I wonder if its rude to ask for three scoops, not two.




We sit together at the now empty kitchen table. My spoon digs in for those chunks of sweet dough. I find one, but make myself take at least two more bites of ice cream before I allow my tongue and teeth the pleasure of cookie dough introduction.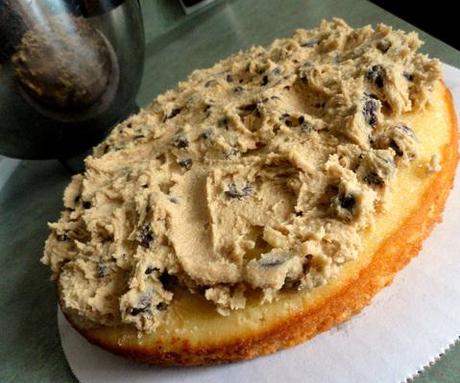 My love of cookie dough began young. Even now, I prefer a spoonful of cookie dough to a freshly baked cookie (well...most of the time).


When I heard one of my friends was celebrating her birthday, I knew a cake was in order. But when I heard about how much she loves cookies, I knew her cake would need to be special.




This chocolate chip cookie dough cake came to me during a long day at work. As I sat at my desk, typing and editing, an image of two moist layers of yellow cake sandwiching a thick layer of chocolate chip cookie dough made me smile.  When I arrived home that evening, I got to work.




The result is a simple layer cake. Two layers of yellow cake interspersed with chocolate chips, one layer of raw chocolate chip cookie dough, and a brown buttercream frosting to bring the cake together.




Yes, I know you're hungry now.


The recipe I found for the two layers of yellow cake is a keeper. The cakes are sturdy yet moist, and the recipe doesn't require much in terms of process. The cookie dough? Deliciously simple. Omit the eggs and you've got a safe batch of dough. And finally the buttercream. The buttercream retains a slightly granular texture due to the addition of brown sugar, but it spreads easily and tastes wonderful on this chocolate chip cookie dough cake.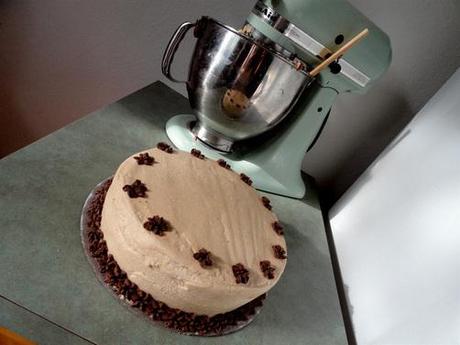 Chocolate Chip Cookie Dough Cake




*Feeds 12-16 people




Yellow Cake Layers




*Yields two 9 inch layers




2 1/4 cups All Purpose Flour




1 1/2 cups Sugar




3 1/2 tsp. baking powder




1 tsp. salt




1 1/4 cup milk




Enough oil to make the milk swell to 1 1/3 cups of milk




1 stick butter, softened




1 TBSP vanilla




3 eggs




1/2 cup chocolate chips.




1. Preheat your oven to 350 degrees Fahrenheit.




2. In a large bowl, whisk together your flour, sugar, baking powder and salt. In a medium bowl, combine your milk, vegetable oil, butter and milk. Gradually stir your wet mixture into your dry. Beat for 2 minutes.




3. Add your eggs, one at a time, beat for 2 minutes after all are added.

If desired, fold in 1/2 cup chocolate chips.


4. Pour batter into two parchment-lined and floured 9 inch cake pans. Bake for 20-25 minutes or until a toothpick inserted in the center comes out with only a few moist crumbs.




Chocolate Chip Cookie Dough


1/4 cup unsalted butter
1/4 cup light brown sugar


1/4

cup granulated sugar
1 tablespoons whole milk
1/2 teaspoons vanilla extract
1/2 cup all-purpose flour
1/2 cup mini chocolate chips


1.

In a medium bowl, use an electric mixer on medium speed to combine the butter and both sugars. Add the milk and vanilla and mix until combined. Reduce the speed to low and mix in the flour just until combined. Using a rubber spatula, stir in the chocolate chips.


Brown Sugar Frosting




1 sticks butter




1/2 cup shortening




1/3 cup brown sugar




3-4 cups powdered sugar




3 TBSP half and half.




1. In a large bowl, cream together your butter and shortening until light and fluffy. Stir in your brown sugar, beat well. Gradually add in your powdered sugar, tasting occasionally. Adjust to taste. Add as much half and half as necessary to make frosting spreadable.




To create cake: After cake layers have cooled, spread cookie dough over one layer of cake; top with other layer. Proceed to frost the cake with brown sugar frosting.




Always,




Monet




Anecdotes and Apple Cores